Learning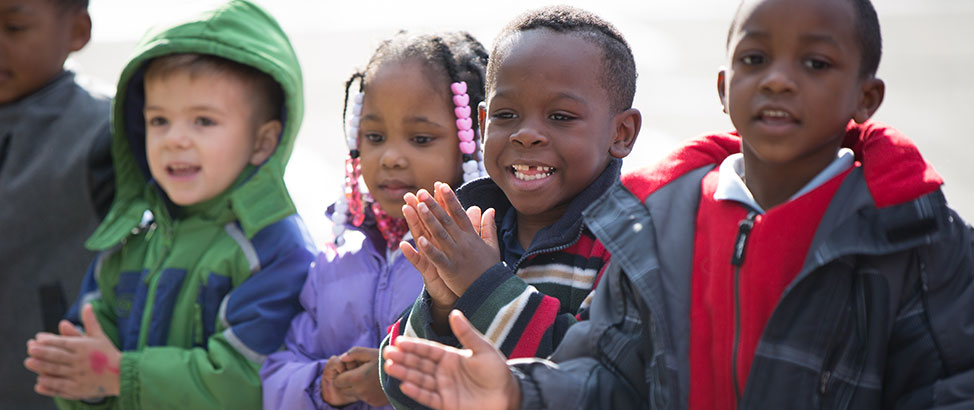 Storymobile visits Propel Elementary. Photo by Annie O'Neill
At a Glance
Family and Child Well-being
Holistic Education
Workforce Readiness
Overview
The Endowments' Learning area incorporates the activities of the foundation's former Education and Children, Youth & Families program departments. The Learning area seeks to create conditions that foster equitable opportunities for all children and their families, especially those living in vulnerable neighborhoods.
We focus on child and family well-being, holistic education and workforce readiness. The Endowments partners with communities to help build on their strengths and resourcefulness, to support existing strategies, and to inspire, seed and incubate new ideas designed for all to thrive. Our work within this strategy is guided by the following principles:
Recognize that learning happens best within the context of relationships;

Embrace a spirit of authentic collaboration by involving the community as the key agent, co-creator and producer of change;

Utilize learning from national and global models;

Promote innovation by seeking new ideas to address persistent challenges, especially in individual neighborhoods;

Consider how neighborhood lessons influence broader systems; and

Commit to ongoing assessment
Goals & Strategies
Supports children as they grow, imagine and create.
Strategies - Healthy communities exist when healthy families exist. Family and child well-being comes from supports and resources that strengthen their physical, mental, social and environmental health. The Learning Strategic Area will partner and collaborate with a variety of community agencies and grantees who contribute to this healthy and safe ecosystem in the following areas:
Maternal Health
Build effective partnerships to make the best use of resources and minimize duplication in efforts to improve maternal and newborn health.
Invest in activities that support maternal and newborn health.

Child Health: encompassing environmental, physical, social and emotional development
Work with community and grantees to define approaches to the safety, nutrition, and health of children.
Employ interventions that address environmental factors affecting the safety, nutrition, and health of young children.
Identify and support grantees that can address health promotion, protection, and disease prevention as they apply to early childhood development and education.
Promote family engagement and strengthen supports.
Collaborate with community organizations and grantees to identify consistent family engagement goals.
Develop families' knowledge and skills in financial literacy to address their specific needs (such as safety, housing, health, budget and finances, and overall well-being).
Use positive parenting practices with families such as attachment and nurturing relationships that complement the stages of their child's development.
Advance families' own learning and utilize social service agency resources to assist their educational goals.
Elicit strong family participation in their children's learning by developing skills, attitudes, and behaviors to promote school readiness at school and home.
Provide leadership development programs for participating families to cultivate and strengthen self-efficacy and leadership skills.
Endowments' point of contact: Carmen Anderson, Director of Equity and Social Justice
Supports child, adolescent and adult learning from birth through post-secondary.
Strategies - Recognizing that education with a holistic perspective is concerned with the development of an individual's intellectual, emotional, social, physical, artistic, creative, and spiritual potential. Learning will seek to engage community agencies and grantees who engage students in a teaching/learning process in the following areas:
Individualized learning – a methodology in which curriculum, use of technology and environment, pace of learning and assessing understanding are to a large degree informed by the abilities and interests of each learner and their teachers' uses of differentiated instruction.
Technology to support equitable learning opportunities – Student access to technology and digital fluency is a prerequisite for full participation in high-quality education opportunities. Goals for improved educational achievement and increased participation in science, technology, engineering, and mathematics (STEM) learning and careers will be through the integral use of technology.
Enrichment and the arts – Involvement in the arts is often cited as influencing student gains in math, reading, cognitive ability, critical thinking, and verbal skills. Consequently, arts learning should be intentionally woven into student learning experiences to further bolster motivation, concentration, confidence, and teamwork.
Youth leadership and advocacy – Youth leadership is promoted through activities and experiences that help youth develop social, ethical, emotional, physical, and cognitive competencies. Effective programs support a young person in developing self-efficacy; confidence; motivation; and the ability to analyze her own strengths and weaknesses, set personal and vocational goals, and connect them to a larger social system beyond self.
Educator development and support – Research shows that four core teaching skills essential to providing the greatest impact for student growth and achievement are creating an engaging learning environment, planning for successful outcomes, delivering relevant instruction, and analyzing and adjusting teaching practices.
Endowments' point of contact: Michelle Figlar, Vice President, Learning
Connects school and industry to help launch career pathways.
Strategies - Members of the workforce require tools, resources, approaches and policies that will prepare them for their roles, facilitate their success throughout their career, and support them in adjusting and adapting to new opportunities, knowledge, and changes occurring in the 21st century workplace. As a strategic area, Learning will support grantees and community organizations focused on workforce readiness and development, and will encourage access to appropriate data, partnerships, training, leadership development, industry-based experiences and equipment that address:
Career pathways in secondary schools – Preparation for careers requires scaffolding of coursework and work-based experiences that are aligned to student interest and ability. Consequently, this notion of a pathway can be introduced at the onset of high school, or earlier, and can be tailored to address one's learning and life beyond graduation into vocation.
Higher education collaboration – Designing a formal pipeline for the education of a community's children must take into consideration that learning is a life-long pursuit. It continues into adulthood either in a specified area where a certificate of completion, technical designation, an associate's or bachelor's degree will provide a point of entry into a variety of careers for students. Likewise, given the advances of technology and the explosion of data, collaboration between secondary schools and higher education is vital to prepare students to work in careers that solve society's needs and problems that currently exist today and/or have yet to materialize.
Building industry and educator collaboration and capacity – Industry often laments that there exists a disconnection between how schools are preparing students for life beyond education and what industry says it needs in the workplace. Creating an exchange between teachers and industry could better help each develop a clear understanding of how they might more intelligently develop students who can think, create and lead in this new world of work.
Youth employment – Youth ages 15 to 24 appear to be in greatest need of employment in many of the nation's urban areas. Aligning education with workplace experiences and opportunities and getting commitments from industry to help develop a pathway to entry level jobs for this population – if certain criteria are met – is a means to build capacity and honor in working.
Endowments' point of contact: Stanley Thompson, Director, Education
Highlighted Grantee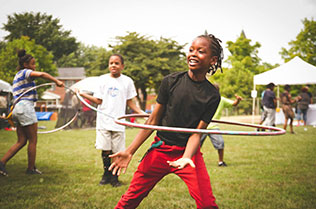 Pittsburgh Parks Conservancy
Children are home from school for the foreseeable future, but in the meantime, Pittsburgh's parks can provide a fun and informative pastime. Pittsburgh Parks Conservancy can help through its Parks Rx program, which harnesses the benefits of nature for young people with encouragement from their families, teachers, community and health professionals like those at Children's Hospital of Pittsburgh of UPMC.
Explore Parks Rx - including 20-plus free, downloadable activity sheets
Summer Youth Philanthropy
The Heinz Endowments has suspended its Summer Youth Philanthropy initiative as a stand-alone program to focus more on its support and further development of its youth advocacy efforts funded by its Learning and Creativity program areas. Our commitment is to continue to address critical needs that serve the well-being of and successful outcomes for children, families and youth in the Pittsburgh region.