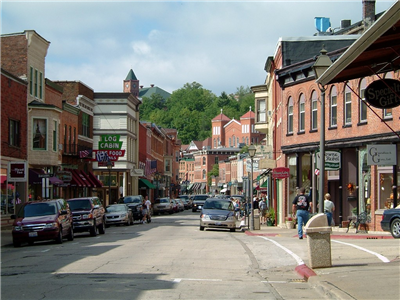 A view down Main Street
Do you really have 10,000 Friends?
Well sort of. This is a question that we get asked often. And while the name conjures some funny questions, song lyrics and interesting remarks, the answer of "well sort of" holds true. Let me explain. 10,000 Friends of Pennsylvania is a public policy education, development and advocacy entity that serves as a crossroads of organizations and individuals that share a common belief in Pennsylvania's communities and the stewardship of the Commonwealth's assets. It's those organizations and individuals who make up those "10,000"friends.
Back in 1999, the organization was created in response to the rapid and disorganized consumption of land and the negative impacts being experienced by communities and environmental assets around the state. These impacts were, and are, the result of public policies that encourage poor land use planning and development decisions.
The name 10,000 Friends was created as somewhat of a tongue and cheek response to the development of similar organizations around the country. These sister organizations, like us, work to create land use policy and encourage smart growth, or the support of responsible land use, development patterns and resource allocation. Other states for example, established "1000" friends' organizations…In Pennsylvania we figured we needed a few more friends given the scale of challenges we face.
Land use policy and improving land use decisions are at the core of the work that we do. With land as the lowest common denominator for analysis, we engage a wide and diverse set of concerns. From local and state government agencies, real estate and planning firms, and on to engineers and architects, we come into contact with a variety of "friends" that believe Pennsylvania can do a better job marshalling its resources to build stronger communities and a more prosperous state.
We recognize that land is a finite resource and that land use decisions impact our environment, our economy and the quality of life for the state's residents. Together with our friends, we work to educate decision makers about the impacts public policies may have on the Commonwealth's communities, and we advocate for creating policy that improves communities and that use our resources more responsibly. We hope you can become a friend too.
Over the next few days you'll have the chance to learn more about 10,000 Friends of Pennsylvania, our partners and the issues where we are currently focused.