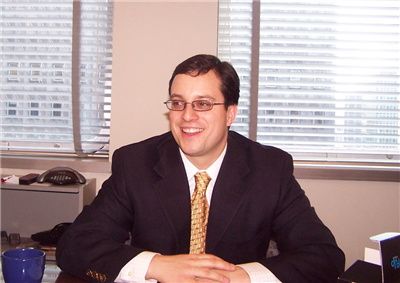 Grant Ervin, Southwestern Pennsylvania Regional Director, 10,000 Friends of Pennsylvania
Q & A with Grant Ervin
By Carmen J. Lee
Endowments Communications Officer

Policy decision making, land-use choices, and infrastructure planning and design are complicated processes for many people to follow. But 10,000 Friends of Pennsylvania not only addresses those issues, but also works to explain the impact they can have on communities and individuals. Grant Ervin, southwestern Pennsylvania regional director for the statewide nonprofit, describes what the organization is doing at the policy-making level and "on the ground" to help improve the quality of life for local communities.


Q: What has been your organization's biggest triumph of the past year?


A: We have made significant strides in two areas of our work this past year. First, we've helped deliver resources for more strategic transportation investment in Pennsylvania. Last year, we worked with the state Department of Transportation to cultivate projects and award a second round of funding through the Pennsylvania Community Transportation Initiative. PCTI is a transportation financing program that unites transportation investments with efficient land-use decisions. To date, the program has invested nearly $85 million dollars in communities across the state that are working to implement more sustainable land-use and infrastructure strategies.
Second, by using public media and documentary film, we've promoted the challenges facing cities and our developed suburban communities. We've been working with several local partners in western Pennsylvania and WQED Multimedia to organize community screenings and discussions about a two-part documentary series titled "The New Metropolis." The films look at the challenges and opportunities in developed suburban communities. In addition to the community screenings, WQED worked with us to identify programming content related to infrastructure, community revitalization and local government that the station aired last May.
Q: What has been the biggest trial?


A: Our biggest trial has been to seek resolution to Pennsylvania's transportation funding crises. Pennsylvania faces a $3.5 billion shortfall in transportation resources. Transportation investments, and the prudent allocation of those resources, can have a significant impact on the state's economy and our environment. One of our key efforts over the last year has been to encourage state leaders to fill the transportation funding gap and make more strategic use of our transportation resources. Unfortunately, many of our leaders have not been responsive to the crisis. Meanwhile, the majority of Pennsylvanians support action to improve our transportation system.
Q: What issue or event has had the most impact – positive or negative – on your organization in the past year and how have you responded?


A: The 2010 election cycle is having a significant impact on our organization and our issues. The debate over "fiscal austerity" creates both a significant challenge and opportunity for the issues 10,000 Friends advocates. On one hand, we recognize and promote the ideas that public investment is not just necessary, but required to rebuild our communities, provide for a clean environment and leverage economic investment. On the other hand, we have responsibility to be stewards of both our natural and fiscal resources. State and local governments continue to have many policies and programs that encourage land-use decisions that damage our environment and layer expenses onto taxpayers. The 2010 election created an interesting intersection for both conversations, and we are attempting to use the framework of the debate to incorporate our issues through communications materials and our advocacy efforts.
Q: What new initiatives have been started?


A: The developed, or "first-ring," suburbs are somewhat of a policy blind spot for lawmakers, investors and for a whole system of organizations working on issues related to community revitalization. Many of these suburban communities demonstrate a template for good urban design, quality housing stock and the development of community institutions – very similar to their urban neighbors. However, population changes and a lack of resources are placing serious duress on local governments, infrastructure and residents.
We are working with documentary filmmaker Andrea Torrice, creator of "The New Metropolis" documentary series; our partners at Robert Morris University's Bayer Center; and the University of Pittsburgh's CONNECT project to convene screenings and discussions around the films in Pittsburgh's first-ring suburban communities. The film screenings provide a unique opportunity to convene community leaders, educate them on the topics conveyed in the films and facilitate a focused agenda that they can then advance.
Q: What goals do you have for it next year?


A: As the western Pennsylvania regional director for 10,000 Friends, I look to do three things in the coming year: first, continue to connect community leaders in western Pennsylvania with their counterparts in other regions of the state on critical issues such as strategic infrastructure investment, regional cooperation and challenges facing our core communities; second, harness the energy in the developed suburbs, which is a critical area for building the coalitions needed to make positive changes related to a more sustainable system of investment; and third, tell the stories of the positive investments made as a result of programs like PennDOT's Pennsylvania Community Transportation Initiative. Strategic investments through programs like PCTI are critical if we are going to be responsible stewards of our environment and fiscal resources.
Q: So if your organization was a person, what type of personality would you say it had?


A: Thoughtful, optimistic and proactive are traits that I think of regarding our organization.
Q: What's one of the biggest misconceptions about your organization?


A: One of the biggest misconceptions is that we are solely an "environmental" organization. True, the environment is a core component of why we do the work that we do, but, in reality, we stand at the crossroads of a variety of disciplines and issue areas. Land use, the lowest common denominator for how we approach public policy issues, by its nature requires us to address topics related to economic and community development, local government, planning and design, and real estate development.
Q: Can you share a short story about an incident or event that illustrates the impact you believe your organization is having on your local community or the region?


A: As educators and advocates, our work to support and promote the Brookings Report "Back to Prosperity" helped to frame much of the infrastructure and land-use policy discussions by local and state government over the last seven or eight years. To be sure, many people are responsible for these advancements. However, increases in local government cooperation, multi-municipal planning and targeting investments in the state's core communities is a result of work by advocates whom we work with around the state.
In terms of "on-the-ground" illustrations of our policy development work, I would mention Point Park University's Academic Village Project. Point Park is one of the first recipients of PennDOT's Pennsylvania Community Transportation Initiative funding. The university is nearing the construction phase this spring, and when completed, you will see improved connectivity and functionality at the intersection of the Boulevard of the Allies and Wood Street in Downtown Pittsburgh. In essence, it will create a central point for an increasingly dynamic urban campus. Through our efforts working with PennDOT and transportation agencies around the state to create PCTI, such a transformational investment became possible.
Q: Could you share a short story about an individual's experience that captures what your organization is meant to be to the community?


A: There has been an "ah-ha" moment that I've seen during the screenings we have conducted of "The New Metropolis" series. That moment, when the viewer sees a community being discussed in the film and recognizes the similarities to his or her community, creates a powerful educational experience. The visual demonstration of the impact of a policy, in this case documenting how continuing to expand infrastructure erodes the viability of existing communities, generates an awareness of the impact public policies can make. Following the film viewing, we've facilitated community conversations, during which participants demonstrate the energy and passion that they have for their community.
This happened in McKees Rocks, an older, first-ring suburb where Taris Vrcek is executive director of the community development corporation. This guy has an unbelievable passion for his community and is a fourth-generation resident. The screening in McKees Rocks gave him a message to take to the people and gave them a chance to talk about issues. One person said, "I need a job." A woman told the group that she needed help getting her GED. But the film gave them a bigger context for understanding why McKees Rocks was in the condition that it's in, and what people can do to help improve the community. They were engaged in conversations that might not have happened had it not been for the screening. And Taris had this look of satisfaction as he watched the audience because people were coming to the same place. They were interested in community-building activities, saw a need for more interaction and better communication among themselves, and recognized they were part of bigger, systemic problems that were created by generations of bad decisions by political officials and developers.