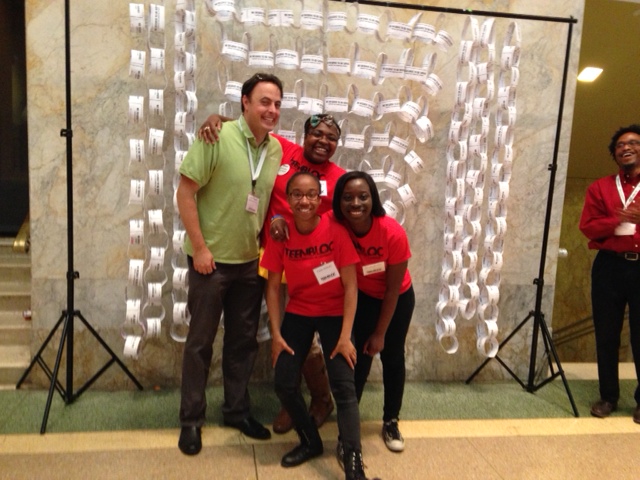 Students and the author pose in front of ballots in support of the Student Bill of Rights.
Students spoke and you listened.
Students lead call for change; Identify school-based obstacles to success
Surveys of students and administrators reveal striking inequities across district
Students called on the Pittsburgh Board of Public Education to adopt a Student Bill of Rights as a way to address systemic inequities found in this year's School Works community action research project.
Show your support for students by signing a virtual postcard to the Board.
The results of surveys done through A+ Schools' School Works program completed by over 400 high school juniors and 26 principals, counselors, and teacher leaders in Pittsburgh's nine public secondary schools demonstrated that poorer minority students face multiple school-based obstacles to college and career readiness. The key finding from the report provided was that school climate, positive discipline practices, and staff instability are concerns common at high poverty schools.
"While we know our students come to our schools with a variety of challenges, what we're seeing is that students who come to our schools with less find themselves in schools that make it harder to get ready for college or career," said Carey Harris, Executive Director of A+ Schools.
Scroll through the presentation.
This research confirmed for TeenBloc student leader, Amma Ababio, a junior at Pittsburgh Allderdice, what she and her colleagues knew when they created the Student Bill of Rights as a way to share their vision for improving education in Pittsburgh. "This vision came out of months of conversations about our personal experiences in Pittsburgh's public high schools," said Ababio. "One student talked about how he felt like a prisoner by the way the security guards treated him. Another talked about how she didn't think it was fair that her school did not have the same resources that other schools had."
Wanting change, students drafted the Student Bill of Rights to set the bar for how students should be treated and what they should be provided if they are going to graduate ready for college or career. "We realized that if we want these conditions to change, then we, as students, had to do something," said Ababio.
---
Press
School report finds 'large inequities' in Pittsburgh Public Schools
Pittsburgh Students Urge School Board to Remove 'Obstacles to Success'