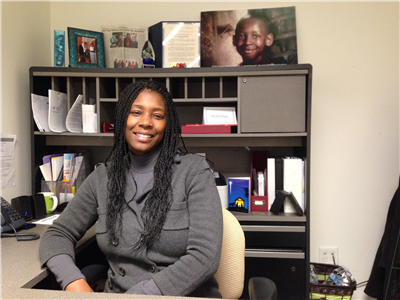 Tyian Battle, Executive Director, ACH Clear Pathways
Q&A with Tyian Battle
By Whitney W. Stack, Communications Assistant
ACH Clear Pathways is a nonprofit center for the arts located in the Hill District of Pittsburgh. The organization's mission is to provide low-cost visual and performing arts programs to the community's at-risk youth in order to nurture their social, emotional and long-term development skills. Tyian Battle, executive director, founded the organization in 2009 in memory of her son, Amon Cashmere Harris. She explains the ways in which ACH is involved in the community, notes the accomplishments of the program and students so far, and outlines her plans for the future.
Q: What was your organization's biggest triumph of the past year?
A: Operation of the program started off with a program charge of $25 per month. Parents in the community were unable to afford the cost. The board made a decision for us to seek funding through fundraisers and sponsorships so we could offer programming at no cost. The enrollment increased noticeably once the program fee had been eliminated.
The biggest triumph was obtaining funding from foundations; ACH Clear Pathways now sustains its operation through fundraising. Our organization received its first grant from The Heinz Endowments in the fourth year in operation. Funding enables us to provide quality after-school programs to youth who haven't had the opportunity to participate in the arts. Funds are used for arts programming, martial arts, digital photography, visual arts and dance.
Q: What was the biggest trial?
A: Ammon Recreation Center has provided space as an in-kind donation to ACH Clear Pathways for the past three years. Other community organizations utilize the space, which makes operating our programs difficult due to square footage being limited. Scheduling use of the center can be a challenge sometimes.
Q: What issue or event has had the most impact – positive or negative – on your organization in the past year and how have you responded?
A: ACH Clear Pathways began operation in 2010 with only 10 children enrolled for the year. By providing additional arts programming with professional teaching artists, our numbers have increased over the years. As of this year, more than 200 students have participated in programming.
In December, ACH Clear Pathways has an Expression Celebration. It gives students the chance to showcase their talent to community, friends, family and funders. This year, because the Marines' Toys for Tots donated to ACH Clear Pathways, children will receive gifts along with certificates for their participation.
Q: What new initiatives have been started?
A. This year, ACH Clear Pathways developed Creative Camp for 25 kids to engage in a full day of the arts. They worked with teaching artist James Simon, a professional artist from Pittsburgh's Uptown neighborhood. For two days a week, the children learned about the history of community art while creating a mosaic piece, which was displayed in the community as part of the Art on Gist, which is an effort to help remake Uptown by featuring public art displays.
An Urban Community Choir was developed by teaching artist Eugene Perry, a professional singer in Pittsburgh. He led the kids in focusing on vocals and musical skills, including rhythm, breathing techniques, lines and spacing, and harmony. At the end of the camp, the children performed four songs – "Put a Little Love in your Heart," Lean on Me" and "Smile by Kirk Franklin" – on July 19, which was ACH Clear Pathways Day by proclamation from the City of Pittsburgh. The audience loved the performance, and it demonstrated to the children the great outcome of their time, training and participation, and skill.
ACH Clear Pathways also collaborated with the Pittsburgh Public Schools in the "Instrumental Jumpstart Program" for students in fifth-eighth grade who participate in the school district's instrumental program. We are especially grateful for the support of Angela Abadilla, who is a senior program officer for arts education in the district.
Another new initiative at ACH Clear Pathways is our Community Service Project. Kids volunteered with Milliones Manor Senior Living. They did an assortment of chores like window washing and vacuuming. They felt good about their efforts. Kids also volunteered with St. Joseph House of Hospitality's community garden. They engaged in gardening activities such as weeding, pruning and planting. One of the children asked, "Are we going to be able to eat some this stuff when it grows?" So Tom Kneier, the director, brought them all some of vegetables from the garden to take home and share with their families.
Q: As head of this organization, what goals do you have for it next year?
A: To develop and implement a two-year strategic plan that will allow our organization to improve the quality of the programming we offer. The plan will have two parts: obtaining more funding and developing a home for the organization.
I'm also working with Mila Yochum, director of APOST (Allegheny Partners for Out-of-School Time), which is an organization that works with after-school programs for children in Pittsburgh to help the organizations become more accessible to more students in the region. Mila is helping me strategize how ACH Clear Pathways can not only offer programs to children within our organization, but also to provide programming to children at other organizations in the community.
Q: So if your organization were a person, what type of personality would you say it had?
A: Enthusiastic.
Q: What's one of the biggest misconceptions about your organization?
A: The community misunderstands ACH Clear Pathways' mission. The majority of programs offered in the Hill District focus on sports or academics and homework help. ACH is a learning center strictly for the arts.
Also, a lot of after-school programs are considered to be basically just "drop-off" places. There are parents who will sign their children up for ACH programming just because it's an after-school program. Then when their child or children refuse to participate, it makes it difficult for both parties.
Our parent agreement includes conditions and commitments when children are enrolled in the program. The agreement covers attendance and participation. Parents make a commitment that their child or children will engage in our art programming. Before a child is enrolled, I have a conversation with the parents about our structure and make them aware, "If your child doesn't want to participate, please don't force them."
Q: Can you share a short story about an incident or event that illustrates the impact you believe your organization is having on your local community or the region?
A: Residents of the Hill District love to see our youth showcase what they've learned and practiced in our programs by performing. They see that when their children go to the after-school program or Creative Camp, they're really engaging in something constructive. It's such a disadvantaged area, so watching the children perform music and dance, and then seeing beautiful artwork, like the mosaic piece students made, on public display within their community is really touching to people.
Q: Could you share a short story about an individual's experience that captures what your organization is meant to be to the community?
A: I think that it's beneficial for children to experience what it feels like to help other people, especially in their community. We are providing free arts programming, centered in the Hill District, which is such a disadvantaged area of the city. What better way for them to reciprocate and give back to their community. They can really see the results of their work. It's important for them to understand how they can help the area and the people around them. If I can instill that idea of giving back in these children and make it fun at the same time, I think that concept will stay with them. Here is one testimonial from a parent, Tajia Lee of Fort Washington, Md., that illustrates how that can work:
"My daughter Zaria Long went to Pittsburgh to visit her grandmother, Joyce Ann Lee, during the summer break. While there, my mother spoke of her interest to put Zaria into a summer program. Initially, I was very skeptical and nervous about her entering into a new environment of young people. My 12-year-old daughter had faced many challenges as a young female, and it was absolutely critical for her to be in a loving, nurturing and self-building atmosphere.
"The camp program my mother had spoken of is located in the Hill District of Pittsburgh and is called ACH Clear Pathways. I nervously gave my mother permission to enroll Zaria. Little did I know that the entire experience would begin to develop and blossom my daughter into a pillar of courage, leadership and determination.
"I called my daughter daily, and I could sense that her smile was a little brighter each day. She began to accept and understand responsibility and what it meant to own her actions. Her dialogue changed from undetermined to determined. She spoke of how she enjoyed the daily activities, field trips, arts and crafts, and swimming. Most importantly she felt comfortable, happy, spiritually fed and fueled with power to be a leader. As a parent, I initially attributed the spiritual growth and influence to my mother. I quickly learned that there were other influential additions to her transformation.
"My daughter began speaking daily of Ms. Tyian. She spoke of how she would give her daily responsibility and allow her to be a mentor to the other young girls. She said, "Mommy, she believes in me.¨ It was then that I realized that no matter how many times I told my young daughter that I believed in her, it just wasn't enough. My young seed needed to see that someone other than her mother and grandmother believed in her. Ms. Tyian was then called to duty by God.
"Since summer camp, Ms. Tyian has remained in contact with us to check on Zaria's growth. I proudly reported that for the first time in Zaria's academic tenure she has made the High Honor Roll.
"Ms. Tyian Battle, you ROCK!!!!!! Thank you for providing sunlight to my seed. I now see the rewards of your daily influence this past summer. Zaria is stronger than ever, motivated to be gold, great and successful!"