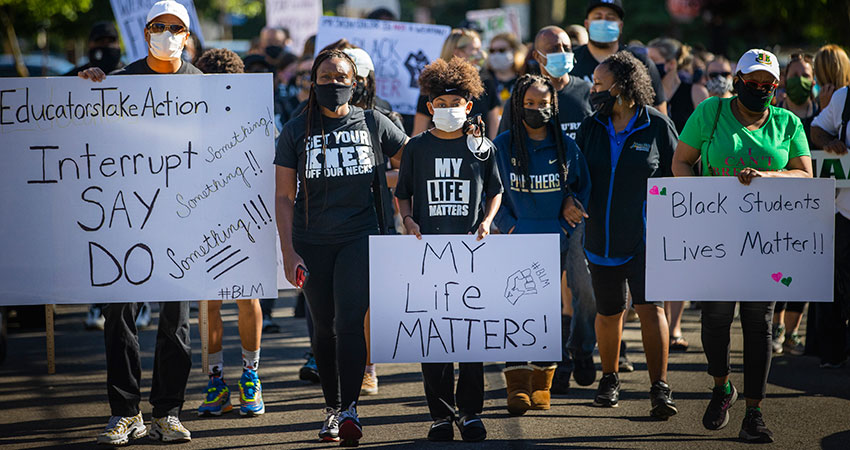 If ever there was a time of moral and ethical necessity to nurture and encourage the work of black journalists in their reporting of our nation's pressing issues of racial injustice and police oppression, now is that time. Their understanding should be valued and uplifted, not stifled. Their perspectives should be heard, not silenced.
Sadly, not so at the Pittsburgh Post-Gazette. Management of the publication that prides itself as our region's "newspaper of record" has displayed stunning insensitivity to what is going on in our nation and across the world right now, and also what is going on inside its own newsroom.
Last week, it barred two black journalists from covering local Black Lives Matter protests or related stories – one, reporter Alexis Johnson, for writing a tweet that jokingly noted the mess created by Kenny Chesney fans after a concert while referencing recent looting complaints, and the other, photographer Michael Santiago, for tweeting support of his colleague.
The Post-Gazette then doubled-down on silencing staff by pulling protest-related online stories by two other reporters who had tweeted support of Ms. Johnson, and later reposting the articles after the content was changed and the bylines removed. While managers have not commented publicly on the reasons for their actions, Ms. Johnson told other media outlets that editors ruled she could not cover protest-related stories any longer because her tweet showed bias.
Think about that for a moment. In essence what the Post-Gazette is saying to its black journalists is this: If you in any way acknowledge the insane double-standard by which black people and lives are measured in this country, you are biased. It is an indefensible position that strips this one group of journalists from their identity, their experience, and the reality of what they see through their own eyes.
The Newspaper Guild of Pittsburgh, in a statement criticizing the paper's management and defending the journalists, rightly declared the logic behind the treatment of Ms. Johnson "absurd and specious," and said the ensuing removal of the stories by the other reporters was contrary to "a long-standing policy in journalism and at the PG that you do not remove published material; it is simply unethical to do so."
The Post-Gazette's heavy-handed reaction occurs as part of a legacy of inadequate diversity and inclusion in Pittsburgh media – and a series of missteps by media management nationally. In his NextPittsburgh "On Media" column, Andrew Conte, founding director of the Center for Media Innovation at Point Park University, noted reports describing the Post-Gazette's newsroom as about 10 percent black while Pittsburgh is 23 percent black.
Mr. Conte also cited research released in October from Columbia University's Tow Center for Digital Journalism in which black journalists in Pittsburgh described frustrations such as a lack of opportunity for growth, a hostile newsroom environment, and an absence of the type of encouragement and mentoring given to their white colleagues.
Over the weekend, the Post-Gazette had the dubious distinction of being the subject of news articles by The Washington Post and the Associated Press because of its treatment of its staff. It also received a brief mention in a New York Times story, "Inside the Revolts Erupting in America's Big Newsrooms." The article examined staff complaints about the Times' publication of Senator Tom Cotton's Op-Ed column calling for the use of troops in response to Black Lives Matter protests in American cities, a dispute that eventually led to the resignation of the paper's opinion page editor.
Additionally, the story looked at the resignation of a Philadelphia Inquirer executive editor after publication of the headline "Buildings Matter Too," infuriated people inside as well as outside the newsroom, and at the departure of African American journalist Wesley Lowery from The Washington Post because of pressure from management concerning opinions in his tweets. Lowery was part of a team that had won the newspaper a Pulitzer for its coverage of police shootings.
The Post-Gazette has a sorry history in recent years in the position it has chosen to take on issues of race. Three years ago, the newspaper produced an editorial defending President Donald Trump's derogatory description of countries with predominantly black or brown citizens – and published it on Martin Luther King Day, of all days.
It's of zero consolation that the PG is not alone in American journalism in being seemingly blind and tone deaf. The fight to end racism in American society starts for each of us right where we are—in the professions we practice, the places where we live, and the organizations we lead, own, or work for. What this one publication and this one town must face is that, at an historic moment, our "newspaper of record" is failing us, our community, and most of all, its own staff.
We at the Endowments believe passionately in the value of local journalism and consider the decline of the newspaper industry a tragedy for American democracy. But we need and must demand local news media with integrity and insight, an understanding of the times in which we live, and a commitment to presenting the truth using all the resources and talent available.
Unfortunately, the Post-Gazette is falling short just when we need it most. The future is unlikely to be kind to it. As one journalist union official said bluntly in an interview on TV news last night: "The Post-Gazette is on the wrong side of history."

---

Written by:



Grant Oliphant
President