Creative Development Awards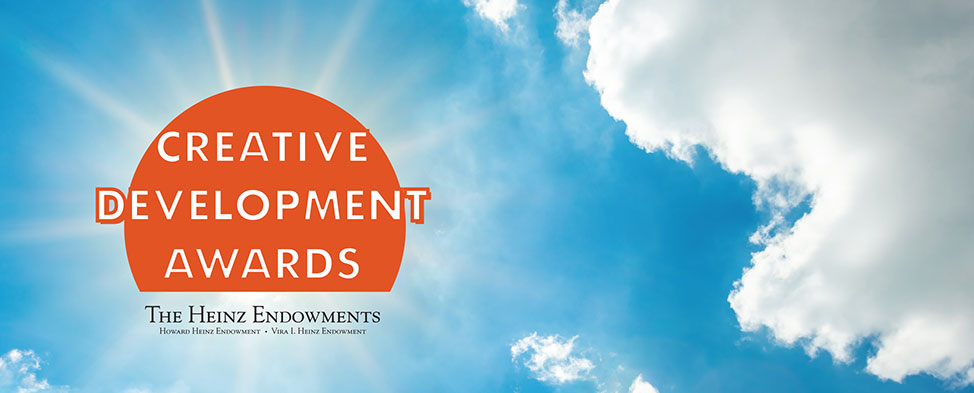 Creative Development Awards
The Heinz Endowments Creative Development Awards grantmaking program shines a light on our region's professional artists, with a particular focus on those whose artistic achievements show great promise.

This grants program is guided by the Endowments' recognition that the region's professional artists are central to its quality of life; are key definers, interpreters and critics of all aspects of our region; and represent the bedrock of our cultural institutions' work. The annual program will help advance awardees' careers through increased visibility, partnership opportunities, and financial assistance.
The Creative Development Awards program aims to:
support the creative development of professional artists in the region
create career advancement and recognition opportunities
incentivize creative partnerships among artists and local cultural organizations
increase the visibility of independent working artists in the region's cultural life.

Two types of awards will be part of the 2022 Creative Development Awards:
Creative Development Grants: Professional artists in any discipline/media and at any career stage may apply directly for grants up to $20,000 to further artistic and career goals.
Residencies at Arts Organizations: Arts organizations may apply for grants up to $35,000 to host a residency with local, national or international artists or arts administrators. Artists working in all media are welcome. It is expected that three residencies will be awarded in 2022.

Read the program guidelines, including application instructions.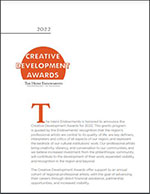 All applications and support materials must be submitted online via the program's SlideRoom page. To begin, you will need to create a SlideRoom account using the steps outlined in the above link. Once you have an account, you may start and complete your submission in the same session or save your work and finish later.
Zoom information session and office hours: A Zoom information session about the program will be held on July 7 from 2 - 3:30 p.m. If you would like to attend, the credentials are: Meeting ID: 894 9820 1893 / Passcode: 837818. This session has been recorded for those who were unable to attend the live meeting. Watch the ZOOM session here. In addition, flexible office hours will be available to answer questions about the program throughout the application period. You may schedule an appointment at CDA@heinz.org.
All applications must be submitted by 11:59 p.m. on Wednesday, August 17, 2022. All applicants will be notified of results by the end of November 2022.
Contact the Creative Development Awards team at CDA@heinz.org and include "Creative Development Awards" in the email subject line.