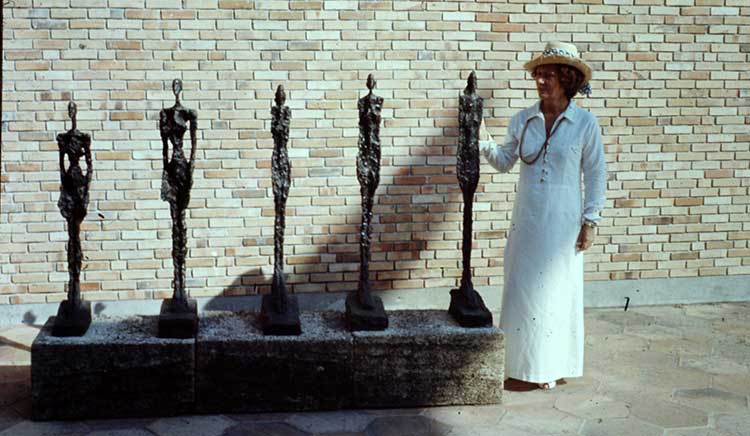 PITTSBURGH, Pa., March 30, 2018 – With deep sadness members of the Heinz family and The Heinz Endowments advise that Drue Heinz, the widow of the late H.J. Heinz II of Pittsburgh, Pennsylvania died peacefully at Lasswade, Scotland early today (March 30, 2018).
Born during World War I in England on March 8, 1915, Drue Heinz was widely respected in the United States and in Great Britain for her imaginative and generous support of the literary and visual arts. Her particular interest was Anglo-American literature and the individual writers who create it.
Believing it was necessary to encourage talent, to recognize achievement and to foster publication of current and emerging authors, she developed a coherent vision of complementary programs and implemented them with great sensitivity to focus on the work itself rather than the philanthropy. In all areas of her giving, she worked quietly but tirelessly to design and support programs that would be well-managed and continue into the future.
She endowed the Drue Heinz Literature Prize at the University of Pittsburgh, a national prize which every year since 1980 has provided for publication of a collection of short stories; and she sponsored an ongoing lecture series which brings prominent authors to Pittsburgh to speak.
In 1971, with the encouragement of her dear friend, American poet and literary book publisher, James Laughlin, she co-founded Ecco Press. In addition to ANTAEUS magazine which she published until 1994, Ecco republished many out-of-print books of outstanding literary merit during those years. She served as Publisher of The Paris Review from 1993 until her retirement in 2008.
Over the years, Mrs. Heinz was an active board member of the Metropolitan Museum of Art, the MacDowell Colony, the Pierpont Morgan Library, the American Academy in Rome and served on the International Council of the Museum of Modern Art.
In Pittsburgh, she joined the Board of Directors of the Howard Heinz Endowment in 1973, which later became The Heinz Endowments, and became Director Emeritus in 1994. She was also a member of the Board of Directors of the Carnegie Museum of Art where she founded the Heinz Architectural Center in honor of her late husband. She was a long-time resident of Sewickley, Pennsylvania.
Among her many achievements, Drue Heinz was closely involved in the Endowments' initiative to develop Pittsburgh's Heinz Hall in 1971 and its efforts to create Downtown's Cultural District under the visionary leadership of her late husband in partnership with the city's corporate, cultural and political leaders.
Drue Heinz was stepmother to the late Sen. John Heinz who died in 1991. Teresa Heinz, Chair Emeritus of The Heinz Endowments, said: "Drue was a very private person but she came to know an amazing group of people in her life. She was smart and passionate and deeply interested in art, literature, and especially poetry.
"That passion and support made her interesting and helped her make a substantive contribution in ways she cared about, especially on issues like art and beauty. I was so appreciative when despite many health challenges she managed to travel to my sons André's and John's weddings. She was the sort of proud woman who kept her own counsel but what she did share was strong and precious."
André Heinz, Chairman of The Heinz Endowments, said: "Drue was always a bit of a mystery to me in my childhood, which is not surprising considering the difference in age and the international life that she and my grandfather enjoyed, but as I became an adult and gained increasing insight into her life, I discovered a very private person with very outward interests, notably in literature, art, architecture, philanthropy and her friendships.
"During one London visit, she explained to me that one reason she was so productive was that she found sleep rather elusive, so in its stead, she read books. On another, also well into what for most of us would be considered 'our later years', as the clock passed 6 or 7, she asked me if I was busy that evening, to which I replied not, whereupon she grabbed my arm and said 'We're going out to dinner then' and a few turns around the block later found us in a fabulous Japanese restaurant with some friends of hers discussing the world.
"We each in our own way find how best to remember and honor those who have touched and been a part of us; for my part I feel I shall continue to discover her presence in the world that informed her zeal for life, and to which she gave back in return."
In the UK, Drue Heinz was a Trustee of the Royal Academy of Arts and a Founding Council Member of the Rothermere American Institute at Oxford. She endowed the Drue Heinz Chair in American Literature at St. John's College, Oxford and as a member of the London Library, she created an endowment there to develop its literary collections.
The Hawthornden Literary Retreat at Lasswade, Scotland, which she founded in 1983 as an international retreat for writers was the capstone of her philosophy. Knowing that writers need a place to work without distraction, she created a retreat near Edinburgh in the home where William Drummond lived and worked in the 17th Century. Hawthornden, overlooking Roslin Glen, is her true memorial. And the writings of the men and women who have worked there and who will work there in the future are a living legacy to her belief in the lasting power of literature.
"Drue Heinz was the great literary philanthropist of our time," said Jonathan Galassi, President, Farrar, Straus and Giroux, New York. "The institutions she created and/or supported – among them The Drue Heinz Prize, Antaeus, The Ecco Press and The Paris Review in the United States and the Hawthornden Prize and Hawthornden Castle in the U.K., to name only a few – are monuments to the seriousness and long-standing of her commitments; but it was her personal involvement, her long friendships with J. Laughlin, George Plimpton, and countless writers and editors, that made her generosity so impactful.
"We can visit museums like the Metropolitan in New York and the National Portrait Gallery in London and walk in the Drue Heinz galleries, but the support of literature is a less visible, subtler, indeed more selfless undertaking. Drue did it more consistently and with more thoughtfulness than anyone else."
Richard Armstrong, formerly The Henry J. Heinz Director, Carnegie Museum of Art and currently, Director, Solomon R. Guggenheim Museum and Foundation, said: "Drue Heinz was a rare and generous patron and friend: opinionated yet inquisitive, grand but blessed with a common touch. Through her thoughtful charities, she shared her love of art and respect for the written word with Pittsburgh and the world."
In July of 1995, Mrs. Heinz was named an Honorary Dame Commander of the Most Excellent Order of the British Empire. In 2002, she was elected as an Honorary Fellow of the Royal Society of Literature.
Lord Gowrie, former Arts Minister in the British Government and author of three books of poetry, said: "Drue Heinz always described herself, and thought of herself, as a Foundation Administrator. She loved and mourned her husband Jack and dedicated her long widowhood to the disposal of her share of Heinz Family wealth in ways Jack and she inaugurated during their long and happy marriage.
"Four cities – Pittsburgh, New York, London and Edinburgh – were the principal beneficiaries. She added the villa on Lake Como in Northern Italy, which she bought on Jack's death. Here she held literary "Conversations", flying in writers from all over the world. Literature was her first love among the Arts. In material terms, it was the poor relation as she well knew from the large gifts she made to museums, libraries and other corporate bodies.
"By a miracle of fate, the great avant-garde publisher of New York's mid-century publishing house, New Directions, was James Laughlin. He had been a close friend of Jack Heinz at Yale. Drue and he bonded over poetry, and for over two decades, when most major New York publishing houses had cut back or abolished their poetry lists, her Ecco Press was the major publisher of poetry in the U.S.A. The magazine Antaeus, which she founded, and The Paris Review, which she rescued for her friend George Plimpton, provided outlets for poets and their work. Her own interview with Ted Hughes, later Britain's poet laureate, in The Paris Review was a model of its kind.
"Drue Heinz was a poor sleeper and until her sight began to fail she read most of the night, catching up while other people ate breakfast. Writers as distinct as Tom Stoppard, Norman Mailer, John Le Carré, Joseph Brodsky, Edna O'Brien and Seamus Heaney became close friends. While Jack still lived, she turned the small and magical castle of Hawthornden, outside Edinburgh, into a writer's colony. Britain lacked an institution like Yaddo in the United States. At the age of one hundred and over, she still attended talks and readings at the Summer Edinburgh Book Festival and ferried authors to and from Hawthornden for her annual lobster supper in style. Modest, even frugal, in her own tastes, she was the most generous hostess imaginable. She was the tireless and demanding Chief Executive of her own giving and a funny, unforgettable, erudite woman."
In Pittsburgh, Drue Heinz "was a powerful and thoughtful influence on cultural development in so many ways," said Janet Sarbaugh, Vice President of Creativity Programs with the Endowments. "As an Endowments' Board member, she played a key role in shaping Pittsburgh's cultural district, and especially in guiding its focus on quality design and public art. I was extremely privileged to have had the chance to work with her during her time on our Board."
"She cared deeply about the city's cultural institutions, and her influence and support carried on long after she stepped down from an active role with the Endowments. She truly infused the city with new ideas about the importance of supporting and championing individual artists, well before the issue was prominent among arts supporters. We owe Mrs. Heinz a huge debt of gratitude for her lifetime of work as an arts champion, internationally and in her adopted city of Pittsburgh."
Mrs. Heinz is survived by her daughters, Wendy Mackenzie and Marigold Randall both of New York City, her five grandchildren: Alexandra, Ian, John, Natasha and Stephen, and six great grandchildren. Funeral services will be private.