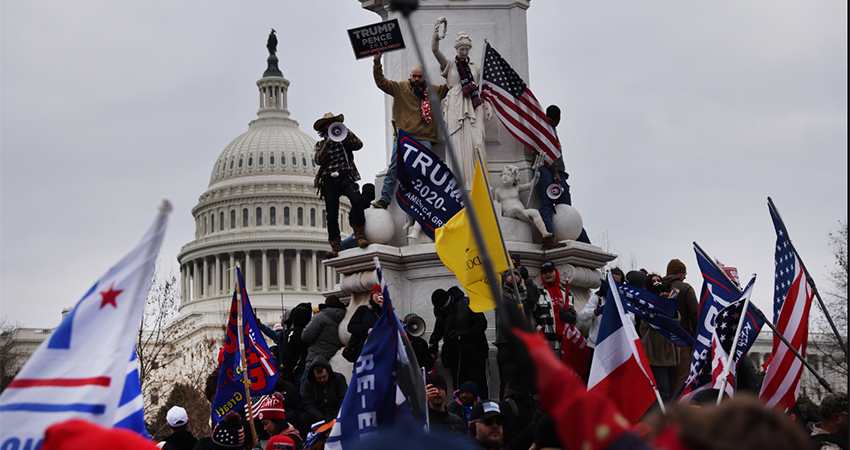 The U.S. Capitol is dear to me as a symbol, as it is for most Americans, but it is also dear to me as a place. Decades ago, when I had the great privilege to work there for a true public servant, U.S. Senator John Heinz, I always felt a sense of awe and reverence when I would enter that building. It never grew old. What happened on January 6 shook me deeply, and like many I condemned it as the sin against America it so obviously was.
But it is not enough merely to condemn that violent insurrectionist assault on the beating heart of American democracy. That is the lowest of low bars, already grasped even by many of those complicit in the attack as they have realized the damage it has done to their reputations and to their misbegotten cause.
The invaders shouting "This is MY house!" as they besieged and plundered it utterly missed the fundamental truth that it is OUR house, the collective repository for the rights and dreams of all Americans, not just a few. The intent behind the break-in was to break democracy, to disenfranchise fellow Americans, to stop the certifying of the people's will in mid-process.
As my colleague Jim Canales at the Barr Foundation and many others have pointed out in recent days, words matter. Confronted with a moment like this, it is vital to speak the truth out loud. We must call what happened what it was: an attempted coup, and an act of profound malice against our system of self-rule.
We must call out the incitements and lies that made American democracy their target: the unsupported claims of a stolen election, the violent rhetoric, the efforts to undo the people's most basic right to have their vote counted. We must unflinchingly note the ugly disparity in the way that law enforcement responded to this overwhelmingly white group compared to how Black and racial justice protestors are treated. We must call out those responsible.
And we must go beyond words. A friend of mine conjectured recently that if 2020 was a year of crisis, we should expect 2021 to be a year of crisis-in-action. As January 6 revealed with tragic clarity, the challenges that confronted us in 2020 and many long before didn't suddenly fade with the turn of the calendar. They are as present as ever.
What can be different in 2021 is what we choose to do about it. We can make this a year of even greater action, of renewed faith in our collective capacity to do something positive about the perils we face. A time of self-honesty and of rising up to deal courageously with the reality before us. No more denial. No more pretending. No more looking the other way.
Countless sages throughout history have taught that the measure of us all—individuals, community, country and humanity—is not the cards we are dealt, but how we play them. We do not endure and prevail by denying reality, but by having the integrity to face what challenges and discomforts us and to demand justice in the face of its opposite.

At this pivotal moment, we each must ask ourselves, wherever we stand, in whatever roles we might play, what we can contribute to the process of turning this around. For philanthropy, even though it springs from many different traditions and philosophies, there are many paths we can take.
We can follow the example of leaders like Stephen Heintz at the Rockefeller Brothers Fund and invest in efforts to rebuild democracy here at home, in America, recognizing that the civil society we serve depends on healthy democratic institutions. We can support fair districting, voters' rights and participation, an accurate Census, civics education and a deeper understanding of how democracy actually works in our own country.
We can listen to leaders like the Ford Foundation's Darren Walker and Libra Foundation's Crystal Hayling and find ways to do the hard work of racial justice. The task of building a society truly for everyone is democracy work. Persistent injustice and inequity undermine the sense of a collective good upon which democratic systems rest. We can build understanding that the gravest threat to our Republic and to public safety lies in white nationalism and the terrorism it willingly embraces, not in fairness and in treating others as we would like to be treated.
We can heed the warnings of leaders like the Knight Foundation's Alberto Ibarguen, that democracy fails in the absence of good information and robust journalism. We can support nonprofit journalism that is trying to fill the gaping news holes left by empty newsrooms and shuttered news outlets. We can hold up real journalists as agents for democracy and truth.
We can internalize the message of leaders like Walker and A.W. Mellon's Elizabeth Alexander when they say the same of artists and the role of the arts and culture in our society. We can support the power of art to inspire, to tell the many different stories of America, to challenge our assumptions, to build our understanding of each other and of who we are struggling to become as one diverse people.
If we believe that on the other side of truth lies reconciliation, we can listen to the wisdom of leaders like Einhorn Collaborative's Jennifer Hoos Rothberg and promote principles of human kindness, civility, and seeing ourselves in others. We can listen to leaders like the Equal Justice Initiative's Bryan Stevenson observing how proximity can heal us of our biases, and support programs that bring Americans together across our many lines of difference.
As the historian Rutger Bregman wrote recently in his magnificent book Humankind, "evil does its work from a distance." The antidote to that evil is simple human contact. Philanthropy can and must make it our job to shorten the distances of space, opportunity, experience, culture and understanding that turn us on each other. We can support policies and programs designed to share prosperity more broadly again, in communities both rural and urban, creating pathways of hope for people regardless of what Zip Code they live in.
There is so much more to be done—but, importantly, it can be done.
I am proud that the Endowments is active in all these ways. I am also keenly aware of the long and challenging road ahead for our country and for our planet. But I take enormous inspiration from all those around us who still believe in the idea of this nation and who work every day, in ways both great and small, to realize its promise for everyone. That spirit can never be undone by an attack on a building, no matter how special or sacred.
In 2020 I found myself thinking often of Albert Camus' statement that "in the midst of winter, I found there was, within me, an invincible summer." As we enter a new year, our commitment at the Endowments is to celebrate and uplift that spirit of promise and light. We will meet crisis with action, cynicism with hope, denial with truth, and division with community, in full faith and confidence that all those we are privileged to support, partner and work with are the very hope and model our country so desperately needs.

---

Written by:



Grant Oliphant
President