h Magazine
Latest Issue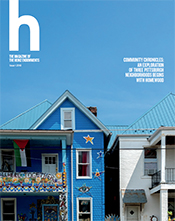 h Magazine - Issue 1, 2018
Date:
8/24/2018
Magazine Issue:
Issue 1, 2018
In a three-part series, h magazine travels to the Pittsburgh neighborhoods of Homewood, Hazelwood and the Hill District, where The Heinz Endowments and other philanthropies are partnering with residents and local organizations to build on assets and expand opportunities. The first stop, in this issue of h, is Homewood, a neighborhood at the eastern end of the city where entrepreneurs and artists are working to redefine the community.
Also included in this issue is "Technology Shift," which discusses efforts underway to ensure that, as technology advances, local workers don't get left behind and "The Write Place," detailing the work of City of Asylum, which provides sanctuary for writers who have been persecuted in their home countries and creates community for those who want to explore art from around the world.
Note: This is the complete issue, and because of the file size, may take a few minutes to download. Individual sections of the magazine can be found below.
Table of Contents
h Magazine - Issue 1, 2019 - Inside & Table of Contents
Technology Shift
In the Neighborhoods
15208
Strengthening Family Ties
Entrepreneurial Energy
In the House
Growing Green Activists
State of the Arts
The Write Place
h Magazine - Issue 1, 2018 - Here & There