h Magazine
Latest Issue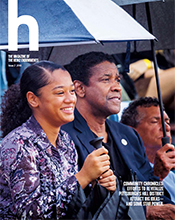 h Magazine - Issue 2, 2018
Date:
12/27/2018
Magazine Issue:
Issue 2, 2018
In a three-part series, h magazine travels to the Pittsburgh neighborhoods of Homewood, Hazelwood and the Hill District, where The Heinz Endowments and other philanthropies are partnering with residents and local organizations to build on assets and expand opportunities. The second stop, in this issue of h, examines initiatives to revitalize Pittsburgh's Hill District.
Also included in this issue is "Singled Out," which details how Heinz Endowments-funded research showing racial disparities in local school suspension rates is boosting efforts to use alternative approaches in evaluating and addressing student behavior, and "A Beautiful Neighbor," commemorating the 50th anniversary of "Mister Rogers' Neighborhood."
Note: This is the complete issue, and because of the file size, may take a few minutes to download. Individual sections of the magazine can be found below.
Table of Contents
h Magazine - Issue 2, 2018 - Inside & Table of Contents
In the Neighborhoods
The Hill
Views from the Hill
Uptown Aspirations
Art Imitating Life
Help and Hope
Keeping House
Hill Streets
To Learn & to Blossom
Guiding to Greatness
Singled Out
A Beautiful Neighbor
h Magazine - Issue 2, 2018 - Here & There