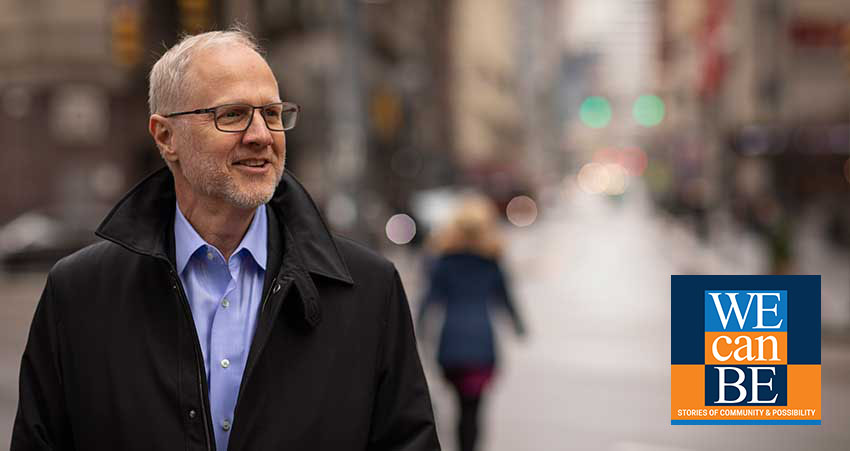 We are defined not by the challenges that are thrust upon us, but rather by how we react to those challenges. When rabid dishonesty, inequity, racism, and looming environmental catastrophe are revealed, how do we respond? Do we zigzag around these issues, or do we face them head-on with honest conversation, analysis, and concrete action?
When we launched The Heinz Endowments' "We Can Be" podcast in the spring last year, our aim was to offer a unique opportunity for listeners to experience 30 minutes of intimate, candid conversation about big issues of the day with some the most accomplished, caring and action-oriented individuals in the social change arena. The first episodes in Season 1 included guests who spoke honestly about immigration, the NFL's "take a knee" policy, fracking's effects on rural communities, and environmental racism.
As we were wrapping up our first season and beginning preparation for Season 2 of "We Can Be," we had no idea of the horrible events that would unfold before our eyes. The killing of unarmed African American teenager Antwon Rose II – and last week's acquittal of a former East Pittsburgh police officer – brought a laser-like focus to the issues of bias and race. Then in late October, the shooting of 11 congregants at the Tree of Life Synagogue in the Squirrel Hill neighborhood of Pittsburgh made the issues of gun violence, anti-Semitism and xenophobia startlingly real.
When Season 2 of "We Can Be" launches on March 27, you'll hear the first of a two-part episode that focuses on the unique perspectives of three of the Jewish leaders who are guiding their community in the aftermath of the shooting at Tree of Life synagogue. You will hear their personal stories, and learn how the bridges they've built – and continue to build – with Muslim and black communities have brought comfort and understanding.
In the episodes that follow, we will address the issues of bias and police violence that the shooting of Antwon Rose II brought to the forefront when we speak with Sybrina Fulton and Jasiri X. Sybrina is the mother of Trayvon Martin, the 17-year old Sanford, Fla., boy who in 2012 was fatally shot by a neighborhood watch coordinator after he deemed Martin "suspicious." The incident has tragic similarities to the one that took the life of Antwon last June.
We recorded Sybrina and Jasiri X's episode late on a quiet winter evening as final preparations for the trial of Antwon's accused shooter were being put in place, making it especially poignant and timely. The conversation itself was transcendent, with moments of quiet reverence and fervent hope as Sybrina talked about her "process with God" in the days and months that followed her son's death, and her shift from parent to activist. "I speak for and from Trayvon Martin," she said. "I speak for the other mothers who cannot."
Jasiri X works with young artists who use their talent to bring focus to social justice issues, and he explained his belief that the surge of youth activism sparked by Trayvon's death seven years ago is indeed creating positive change. "Our young people are energizing the movement," he said. "The injustice of Trayvon's death sparked activism that continues to forge ahead, and open eyes, minds and hearts."
As we launch Season 2 of "We Can Be," I am hopeful you, too, will find moments of hope, amazement, and inspiration from each episode. In addition to Sybrina and Jasiri X, our new season includes episodes with "There Are Black People in the Future" artist and cultural producer Alisha Wormsley, and the endlessly energetic Dr. Chris Howard, one of the youngest university presidents in the United States.
You'll learn about the journey of Emily Collins, the founder of Fair Shake Environmental Legal Services, the nation's first legal defense consortium devoted to helping those of limited means fight environmental abuses. You'll also dive into the world of Kelly-Strayhorn Theater Executive Director Janera Solomon as her historic neighborhood travels through a time of disorienting change.
Just as I did, you'll want the conversation with Very Smart Brothas co-founder and "What Doesn't Kill You Makes You Blacker" author Damon Young to never end.
Join me each Wednesday beginning March 27 for a new episode of "We Can Be," as we ask the best, brightest and most interesting individuals in our community and country what they believe we can be. Together, we'll learn, be moved and become energized to act.
"We Can Be" is the podcast of The Heinz Endowments, and is hosted by Endowments President Grant Oliphant. New episodes are available each Wednesday on your favorite podcast sites, including iTunes, Google Play, Stitcher, Podbean, and at www.heinz.org/podcast.
---

Written by:



Grant Oliphant
President