Just Arts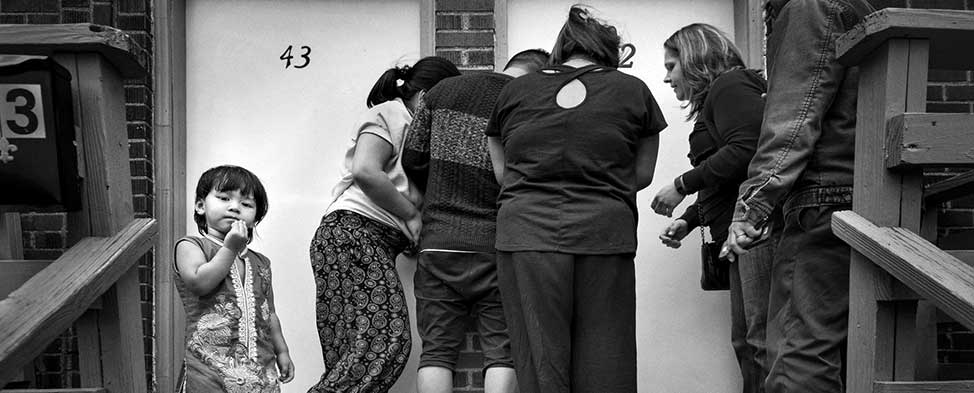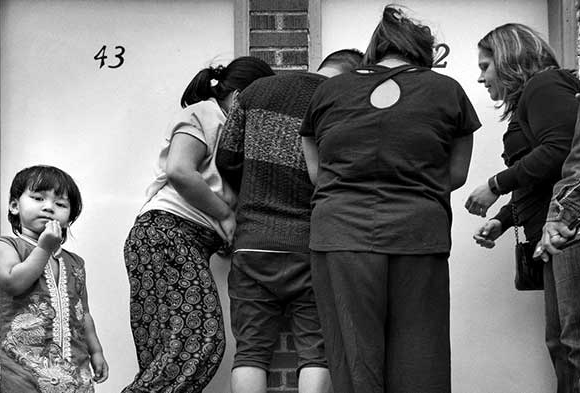 "Keys," © Scott Goldsmith/TDW, 2017, part of Out of Many: Stories of Migration exhibition at American Jewish Museum, Pittsburgh, Pa.
Rooted in The Heinz Endowments' aspirational vision for a Just Pittsburgh, the Just Arts program supports the development of a more inclusively imagined future through art. A collaborative grantmaking initiative including all three of the Endowments' strategic areas — Learning, Sustainability and Creativity — Just Arts bolsters the creation of artistic work and cultural programming that responds to critical social challenges and instances of injustice in the Pittsburgh region.
At the heart of the Just Arts program are the values shared by the leadership, staff and programs of the Endowments. In his 2016 blog, "Just Pittsburgh," Endowments President Grant Oliphant defined a Just Pittsburgh as an imagined future within which citizens "would want to remove the deeply ingrained barriers that disadvantage some of us simply because we are...somehow [viewed as] 'other.'"
Mr. Oliphant expounded upon this vision by stating that racism, gender-based violence and discrimination, and poverty are not solely issues owned by individuals directly affected by the injustices but rather are challenges that "demand a shared response to a dynamic that diminishes us all."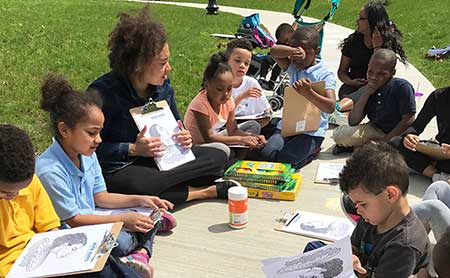 In this spirit, Just Arts is both a program and a process, incorporating significant community input from an advisory committee composed of regional artists, community members, activists and youth. The program supports artists or groups of artists that collaborate with community, neighborhood or resident groups in the creation of art that provides a platform for critical discourse and learning about systemic social change.
The Just Arts program is the result of a natural progression in the Endowments' history of supporting art that engages communities around challenging topics. Examples include Brian Cohen's "Out of Many: Stories of Migration," a photography exhibit that illuminates the immigrant experience in Pittsburgh; Tammy Thompson's "We Wear the Mask" documentary, which provides accounts of Pittsburgh poverty; and Alisha Wormsley's "The Well: River Roots" community art project, which according Ms. Wormsley's site, proves "art can knit together the lived experience of neighborhood identity with long-term and sometimes abstract principles of community development." All embody the essence of Just Arts.
The Just Art program supports new work that exposes and challenges what "is," and contributes to a rich body of creativity that embraces the intersection of art and justice. Artists that informed and inspired the creation of Just Arts include Amiri Baraka, Nikki Giovanni, Ntozake Shange and others of The Black Arts Movement; Augusto Boal and Theatre of the Oppressed; Cleve Jones' NAMES Project AIDS Memorial Quilt; and, more recently, Ai Weiwei and his "Laundromat" exhibit, which meticulously displays 2,046 articles of clothing abandoned by refugees who were forced to evacuate the Greek island of Lesbos.
These bold voices are among those that believe artists should not be confined to silos that limit expectations of their contributions to society. In ways large and small, artists can call attention to what it means to be human and spur us to be humane. Accordingly, Just Arts project proposals that address injustice, contribute to healing, and offer inspiring, imaginative perspectives on seemingly intractable challenges are of particular interest, as are those that have a high degree of cultural integrity, clarity of vision, and potential to disrupt by exposing what has been hidden.
Just Arts grants vary in amount, based on each project's proposed scope, and can range from small awards of $1,000 to $10,000 to large awards of up to $150,000.
Significant upcoming Just Arts dates include:
July 9, 2019 @ 12:00pm Optional public information session, Hill District Carnegie Library
July 19, 2019 @ 12:00pm Optional public information session, Hazelwood Carnegie Library
July 26, 2019 @ 12:00pm Optional public information session, Homewood Carnegie Library
August 1 @ 11:59pm Letters of Inquiry (LOI) due
September Full applications are invited by Just Arts team
November 30 Notification of funding decisions
To learn more about Just Arts, read the complete program guidelines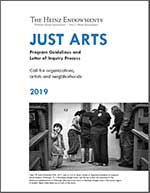 Questions?
For Heinz Endowments staff assistance, please contact Cindi Stueber at 412-338-2693 or via email at cstueber@heinz.org
Photos:
Top of page - "Keys," © Scott Goldsmith/TDW, 2017, part of Out of Many: Stories of Migration exhibition at American Jewish Museum, Pittsburgh, Pa. A Bhutanese refugee family uses the key to their new apartment in the Brentwood neighborhood of Pittsburgh; they previously lived in a Beldangi refugee camp in the Damak region of eastern Nepal where there are no locks on the doors.
Image 2 - Artist Alisha Wormsley guides Larimer community youth in creativity exploration as part of her "The Well: River Roots" project; image courtesy of the artist.