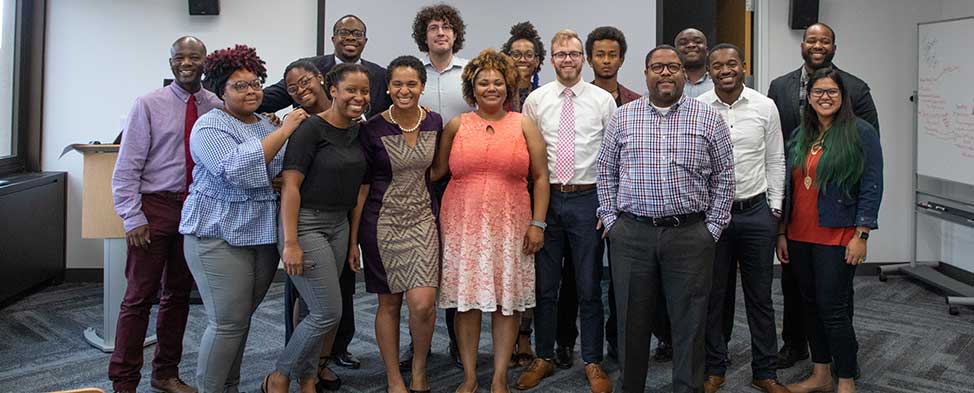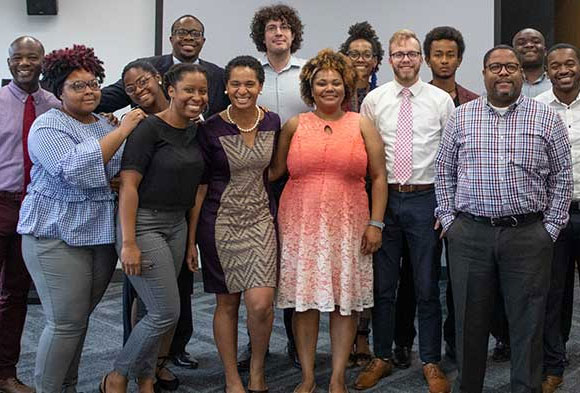 The Heinz Fellows program was developed to train individuals who would help improve urban public education by making it more demographically representative, culturally responsive, and academically stimulating and rigorous. In so doing, each Fellows cohort tries to reflect the racial demography of the Pittsburgh Public Schools student population, which is 53 percent African American and 47 percent non-African American.
Over the years, the program has expanded the career paths it encouraged participants to pursue, adding education advocacy and grass roots community organizing to the original emphasis on the teaching profession. The Fellows are individuals whose exceptional achievements indicate they will be – or already are – the leaders Pittsburgh and other communities need to push for public schools that provide children with an education that can guide them to a successful future.
Pittsburgh Miller African-Centered Academy Pre-K through 5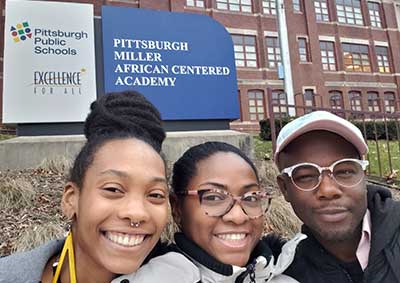 Rhea "Flow" Calhoun has devoted a great deal of time learning and working towards a career in education, some of which has led to public recognition, such as receiving Pittsburgh Public School's Outstanding Student Teacher award in 2017. She has served as a mentor, tutor and student teacher in educational settings, and earlier this year helped seven high school girls plan and develop a youth justice podcast. Her primary research focus is assessing the sustainability of elementary nutrition education programs in low-income urban schools. To complement and ground this research, she has worked with 412 Food Rescue as a nutrition instructor and a curriculum partner in program development. Her long-term goals are to combine education and health to empower residents of low-income urban communities to live longer and healthier.
A native of Chicago, Ill., returning Fellow Imani LaGrone graduated from Denison University last year with a bachelor's degree in psychology and a concentration in neuroscience. Imani was active on campus, supervising her peers as a resident assistant and working as a social media assistant at Denison's Campus Leadership and Involvement Center. Imani also was engaged in the greater Chicago community, where she interned at Rush University Medical Center and at Chicagoland Pediatric Partners.
An artist and entrepreneur, Donovan Snype has extensive experience in marketing and communications, business development, and event planning and management. Hailing from Charleston, S. C., he has earned two bachelor's degrees – one in psychology from Florida A&M and the other in information technology and visual communication from the University of Phoenix, Ariz. Ten years ago, he launched Dark Warrior Design, a company that specializes in visual storytelling, relationship marketing, communications and more. Donovan's work has taken him into a wide array of professional spaces: Verizon, Belk, Kia, Wells Fargo — and a mortuary.
Above: Miller Fellows (L to R) Rhea "Flow" Calhoun, Imani LaGrone (Senior Fellow), Donovan Snype
A. Leo Weil Elementary Pre-K through 5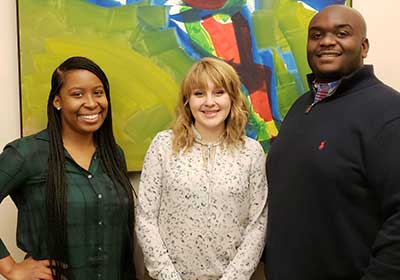 A graduate of Pitt for both undergraduate and master's degrees, Victoria Bleiweiss has cultivated an expertise in special education and fluency in American Sign Language. She has augmented her bachelor's in applied developmental psychology and master's in instruction and learning with hands-on experiences as a special education teacher in a middle school life skills classroom as well as in an elementary literacy classroom. Victoria served as a curriculum developer and special education director for Girls Write Pittsburgh, and is the founder and president of Panthers for Caitlin's Smiles, a program that provides help and support to children and families dealing with chronic and life-threatening illnesses.
Pittsburgh native Mark Brentley Jr. is participating in the Heinz Fellows Program for a second year after previously serving as a Pennsylvania state constable. Mark graduated from Clarion University with a bachelor's degree in liberal studies and pursued a career in youth development as a court/school liaison and later as a truancy advocate specialist. Between these positions and his most recent role as a state constable, Mark was a supervisor at Shuman Juvenile Detention Center.
A lifelong Pittsburgh resident, Kayla Edwards-Scott's studies and work have revolved around policy, literacy development, and community organization — and at times she has found ways to integrate these passions. Kayla graduated from Delaware State University with a bachelor's in political science. While in college, she trained with the Henry Clay Center for Statesmanship in the Martin School of Public Policy at the University of Kentucky as well as with the Ella Baker Child Policy Training Institute in Knoxville, Tenn. While at DSU, Kayla co-founded and served as president of The Movement, a student organization that supported and advocated for black students.
Above: Weil Fellows (L to R) Kayla Edwards-Scott, Victoria Bleiweiss, Mark Brentley Jr. (Senior Fellow)
University Preparatory at Margaret Milliones 6-12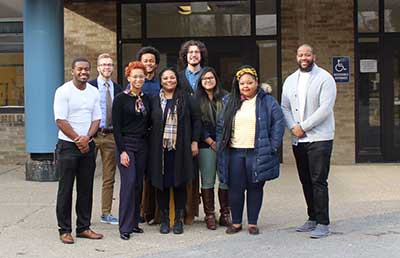 A Pittsburgh Public Schools alumnus, Daniel Dzodin graduated from Taylor Allderdice High School and later received his bachelor's degree in humanities from the University of Pittsburgh. Since then, Daniel, a second-year Heinz Fellow, has worked as a research assistant at UPMC and later as an intake and program coordinator at the Greater Pittsburgh Literacy Council.
George Fields is a native of New York City's Bronx borough. He earned a bachelor's in communication from Seton Hill University and an associate's degree in business administration from Monroe College. While in school, he developed business skills working at Nike, Costco and WAMO100. George's volunteer experience includes serving with the Blackburn Center Against Sexual and Domestic Violence and a Christmas toy drive. When he's not working, George is a professional DJ and a personal trainer. He serves as a mentor and public speaker, and aspires to become a public figure.
Linguistics aficionado Stephanie Michelle Fitzhugh has focused her studies on English, French and German languages, and has applied this knowledge as an educator, writer and performer. She earned her bachelor's from the University of Pittsburgh, double majoring in French and German languages and cultural studies, which included a semester abroad at the European Business School in Östrich-Winkel, Germany. Stephanie Michelle is the author of the sci-fi/fantasy trilogy "The Travellers." Other notable achievements include acting in a German theater performance for which she also provided ambient music as well as designed the 16-page program.
Jamaal Gosa has devoted much of his energy over the past decade to helping others as a counselor for student campers, a health awareness peer educator, and a peer advisor. In 2014, he founded the peer-mentoring group Creating Higher Standards to help guide and motivate students to gain access to campus resources at Indiana University of Pennsylvania. Jamaal earned both a bachelor's and master's from IUP, specializing in adult education and communications technology. Throughout his career, he has blended his passion for equity in education with promoting healthy life choices among students in elementary school through college.
An innovator and leader, Pittsburgher Braná Hill has developed a portfolio of communications and marketing skills. While in pursuing a bachelor's in communications digital media and a minor in music and speech communication at Clarion University of Pennsylvania, she was president of the Black Student Union as well as a student senator. Braná co-founded the QUEENS organization, which empowered and provided mentorship for young African American/black women. She brings with her a wealth of experience in social media and marketing, event production and public speaking. Her mission is to empower, encourage and enrich the educational experiences for women of color.
Aisha Hughes, a Pittsburgh native and second-year Fellow, graduated from the University of Pittsburgh with a bachelor's degree in Africana studies. Before joining the Heinz Fellows Program, Aisha was an intern at Higher Achievement, where she taught a class about digital citizenship at the organization's Homewood site.
Santa Clara, Calif., native Romina "Ro" Miller has been building upon her post-baccalaureate studies in psychology and public health by pursuing a doctorate in developmental psychology at the University of Pittsburgh since 2015. She has cultivated extensive research skills through coursework and research projects in Pitt's Developmental and Motivational Lab as well as with Santa Clara University's Resilient Families Project. Her research to date has focused on student resilience and mindsets, which has included both quantitative and qualitative research methods.
While pursuing a bachelor's in psychology and minor in education studies at Allegheny College, Aliquippa native Andy Nunn applied what he was learning as an educator and as a leader at several learning institutions, from creating curricula at St. Benedict Education Center to serving as a teaching fellow at Breakthrough San Francisco. In January 2018, Andy was appointed to a full-time position as a legislative fellow on the Urban Affairs Committee of the Pennsylvania House of Representatives, where he researched, drafted and defended legislation that would require the state teacher education programs to include a multicultural educational component. He has developed and taught courses in science, math and English language arts.
Joshua Niko Orange hails from Detroit, and brings with him a wealth of experience around municipal policy as well as community outreach. In 2017, he served as a legislative policy intern for the Detroit City Planning Commission, and in January 2018, began working as a legislative policy analyst for the Detroit City Council. Josh completed a bachelor's in urban studies with a minor in French at the University of Pittsburgh, and has an impressive set of linguistic skills: He is fluent in French, adept in Spanish and Turkish, and has basic proficiency in Greek.
Above: UPrep Fellows (L to R) George Fields, Andrew Nunn, Brana' Hill, Joshua Orange, Stephanie Michelle Fitzhugh, Daniel Dzodin (Senior Fellow), Romina Miller, Aisha Hughes (Senior Fellow), Jamaal Gosa