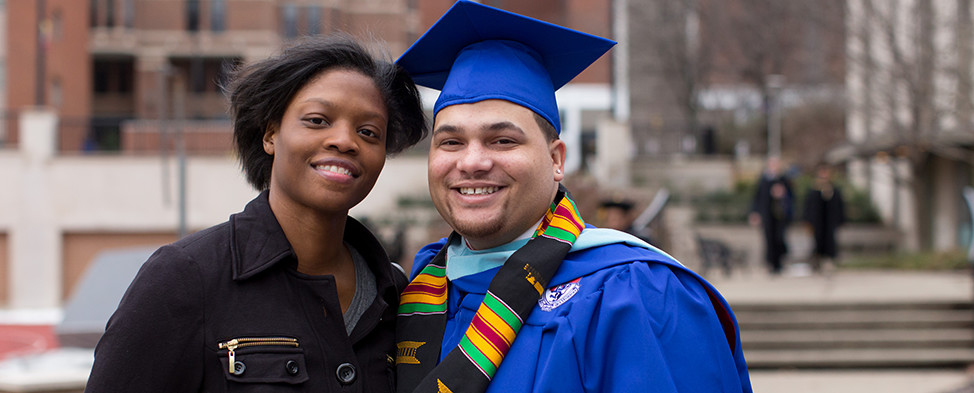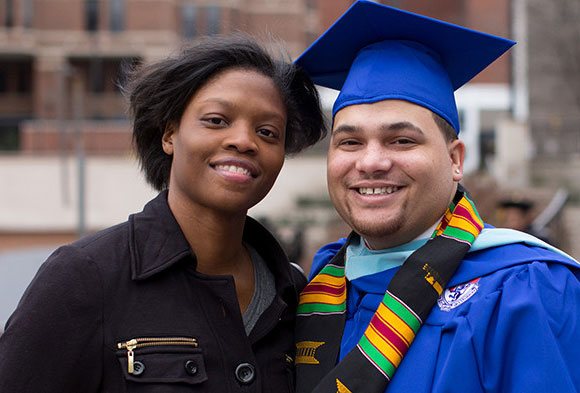 Heinz Fellow, Matthew Tansey, at his Duquesne University graduation. Photo by Joshua Franzos
The yearlong Heinz Fellows program offers 15 individuals interested in urban education the opportunity to serve as role models and mentors to students in the Pittsburgh Public Schools while expanding their own knowledge, skills and leadership acumen in an urban context.
The Heinz Fellows Program is designed to provide 15 individuals with learning and development opportunities designed to help them effectively understand and respond to students in an urban context. The fellows serve as role models and mentors to Pittsburgh Public Schools students while receiving training aimed at creating pathways to three vocational options: eventual entry into the teaching profession, education advocacy work with a nonprofit organization, or grass roots community organizing. University of Pittsburgh's Center for Urban Education (CUE) is hosting and providing the programming, which focuses on helping the fellows develop five competencies:
Understanding the urban context
Tutoring and teaching
Mentoring and social support
Participatory action research
Arts and technology
Fellows are recruited nationally to reflect the racial demography of the Pittsburgh Public Schools student population, which is 53 percent African American and 47 percent non-African American. Participants receive stipends to cover living expenses. For more information about the fellowship and the application process, go to http://www.cue.pitt.edu/heinz.
The current Heinz Fellows program is an outgrowth of a similarly named two-year initiative created in 2011 to encourage more black men to become teachers and to provide role models and mentors for black male youth in city schools. During the four years of that effort, nearly 20 men completed the program, which also included enrollment in a master's degree program.