Equity & Research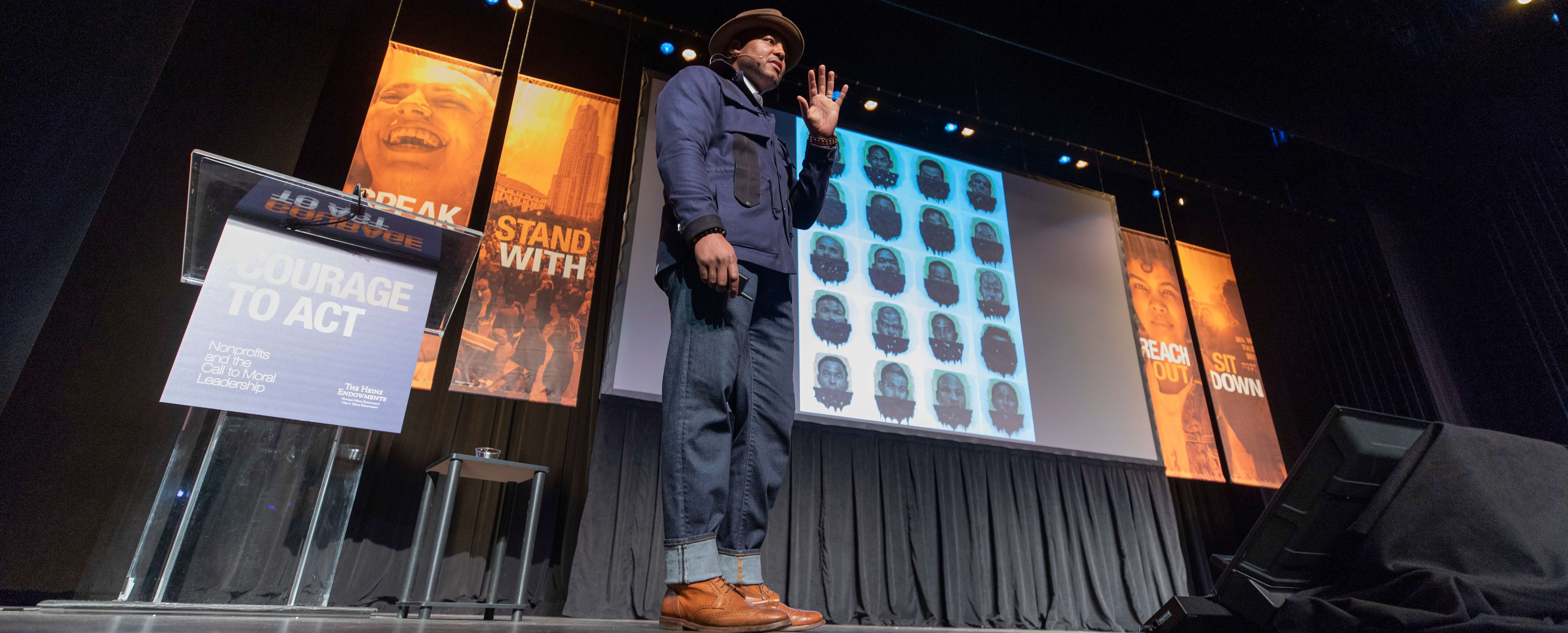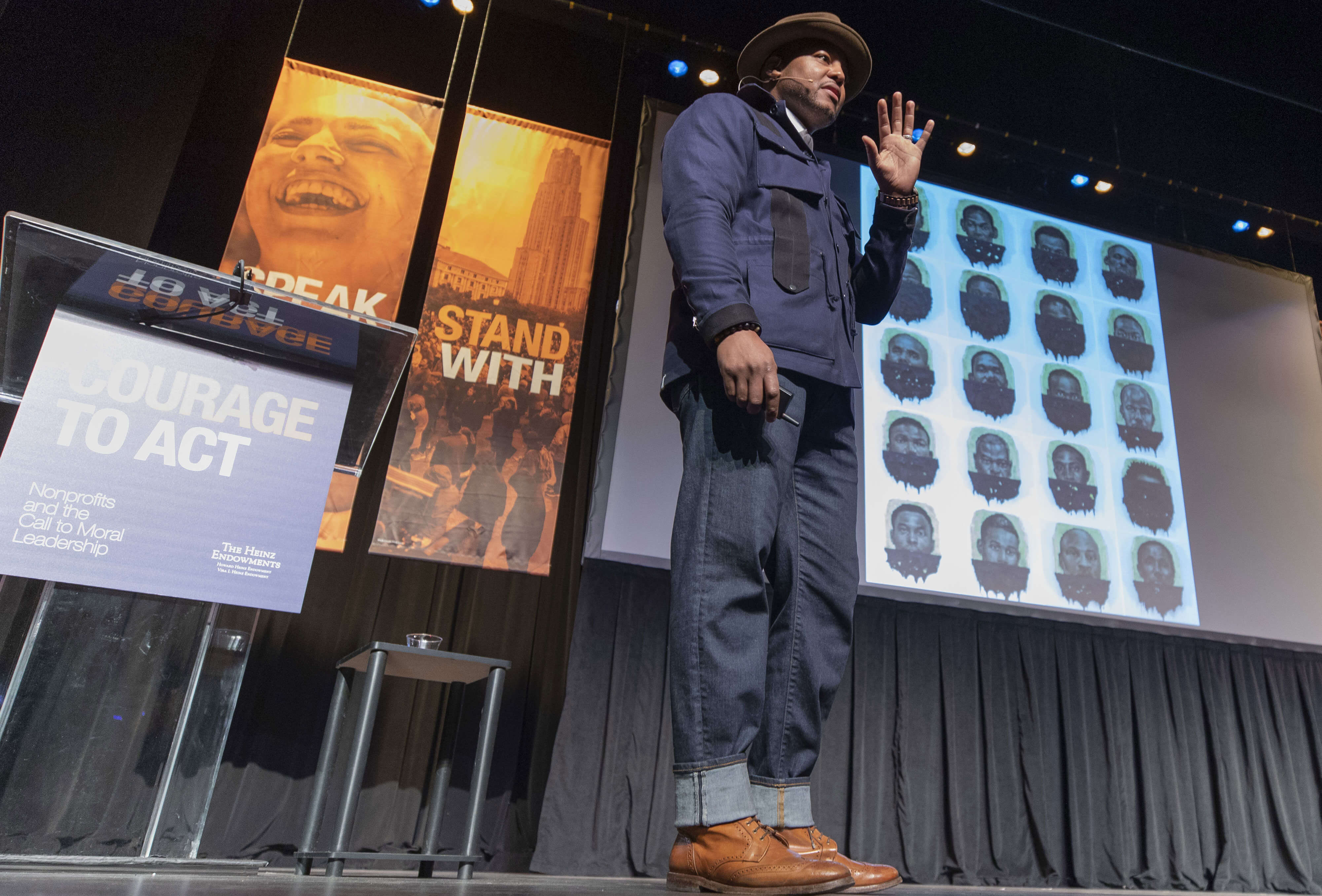 Photo by Joshua Franzos
Overview
Early in 2016, The Heinz Endowments introduced the concept of a "Just Pittsburgh" to the public as a term to describe some of the major challenges and aspirations for the Pittsburgh region. An unexpectedly widespread conversation was sparked about what the concept represents and our community's hopes and ambitions for the future.
From the Endowments' perspective, a Just Pittsburgh would be a place that is unafraid of difference and embraces all with an open heart and mind. It would be intolerant of hiding behind one Pittsburgh that is celebrated in "best of" lists while letting a second Pittsburgh languish in poverty and discrimination.
Today, we use "Just Pittsburgh" as an aspirational vision of the region, a Pittsburgh where everyone is treated with fairness, dignity and respect, and where everyone has an equitable opportunity to reach her or his fullest potential and to thrive.
The Endowments' equity agenda is an outgrowth of the Just Pittsburgh vision. It is an intentional, focused effort to address the historical structural barriers, disparities in opportunity, bias and racism that affect far too many.
To rectify these long-standing issues, we must work differently. Every sector must be transformed to become more open, inclusive and equitable, and to create environments that are healthy and sustainable. This includes how we at the Endowments use our resources; voice; convening power; and partnerships with grantees, government and community allies.
For our foundation, this effort also means that we must listen to and engage with community residents in ways that honor their understanding about the assets and resources in their communities, and respect their views about the needs to be addressed that will strengthen families and build security.
Our equity agenda explicitly integrates the goal of advancing a Just Pittsburgh into the Endowments' grantmaking as a guiding principle for all our work, although a core ethical commitment to equity has always been at the heart of the foundation's mission. We are working to create a just community, and we are doing that through our focus on the critical pathways of sustainability, creativity and learning.
Even with a distinct agenda in place, we realize that a Just Pittsburgh is a long-term work in progress. As former Endowments President Grant Oliphant said in a blog post, "If we are willing to dream of a Just Pittsburgh, we can create it — we simply have to want to try."
Scholarship Opportunity Women of Color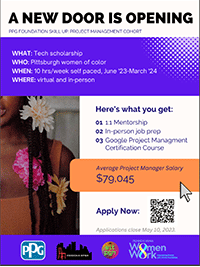 The scholarship program is designed for women who are interested in developing their project management skills and preparing themselves for the job market. The program offers a comprehensive training curriculum that covers various aspects of project management, including project planning, budgeting, risk management, and team management. Participants will also receive career development support, including resume building, job search strategies, interview preparation, and 1:1 mentorship. Applications due May 10!
Learn more
Videos now available from Fall Programs on Race + Disability
PeoplesHub and FISA Foundation, The Heinz Endowments and The Pittsburgh Foundation are sponsoring a series of webinars as part of a broader effort to address the intersection of race and disability. Please join us as we learn to face our history and move forward together in more just, fair and inclusive ways.
Race + Disability: Continuing the Conversation - FREE Virtual Conferences
Keynote: Understanding Disability as Political in Anti-Ableism Work, Presented by Dustin Gibson, Director of Access, Disability and Language Justice at PeoplesHub
Panel Discussion: Strategies to Fight Ableism in a Moment of Opportunity and Despair
Developing Analysis and Shifting Culture: The Journey of Practicing Disability Justice
Bender Leadership Academy Digital Accessibility Initiative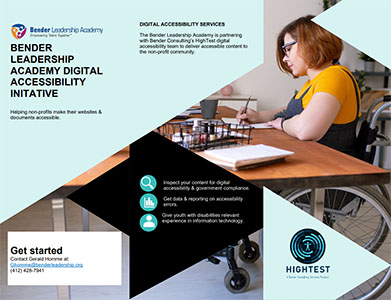 The Bender Leadership Academy is partnering with Bender Consulting's HighTest digital accessibility team to deliver accessible content to the nonprofit community. Reach out for help in making your website and documents accessible. Get started!
2021 Webinar Series || Race + Disability
The Black Lives Matter movement has held up a mirror, inviting us to see the many ways racism divides our country and profoundly shapes the experiences of people of color and of white people. FISA Foundation, The Heinz Endowments and The Pittsburgh Foundation sponsored a series of webinars, as part of a broader effort to address the intersection of race and disability. Please join us as we learn to face our history and move forward together in more just, fair and inclusive ways.
Recordings of past programs:
Race + Disability Check-in
If you've been attending our programs and working on addressing diversity, equity and inclusion efforts in your work, please join us for this interactive lunchtime conversation. You'll be able to talk with and hear from peers who are also working on strengthening anti-racism and anti-ableist practices.(Recording of panel discussion)
Race, Disability, Organizational Culture, and Social Change: Promising Practices from Centers for Independent Living
Historically, disability services were designed to accommodate a singular identity: person with a disability; all other aspects of an individual's experience were considered secondary. But structuring services that ignore the lived experience of racism has created and exacerbated inequities within disability services. Treating disability as race-neutral has also created unwelcoming and sometimes unsafe working conditions for people of color with disabilities who are on staff. This session will explore promising practices in cultivating a welcoming and equitable culture, designed to include people of color with disabilities who are both consumers of services and staff offering support. Presenters represent various Centers for Independent Living. All panelists are multiply marginalized people with disabilities who are recognized for their efforts to advocate for equity in both the provision of supports and the leadership of staff. (Recording of Promising Practices)
Race + Disability Deep Dive: Three sessions addressing abuse of people of color with disabilities
Session 1 – Meeting the Needs of Human Trafficking Victims with Disabilities. People with disabilities (including autism and intellectual disabilities) are at high risk for both sex and labor trafficking, with many cases including an element that is unique to people with disabilities: traffickers stealing their government benefits, such as Supplemental Security Income or Social Security Disability Insurance. This session will explore the issues facing victims of trafficking who have disabilities, including the unique ways they are trafficked and implications for service providers. (Recording of Deep Dive - Session 1)
Session 2 – From Classroom to Dorm Room: Serving Survivors with Disabilities on Campus. Undergraduate students who have disabilities are nearly twice as likely as those without to report sexual violence. However, survivors with disabilities have been historically excluded by campus programs designed to prevent abuse and support survivors. This session will provide an overview on the barriers that student survivors with disabilities face in seeking out and receiving services on campus as well as solutions that educational institutions can implement to meet the needs of all students who experience sexual assault. (Recording of Deep Dive - Session 2)
Session 3 – Transformative Justice in the Lives of Survivors with Disabilities. With high rates of victimization and incarceration, people with disabilities have an elevated likelihood of having contact with the criminal legal system. This contact can be deadly, with 50% of people killed by police in the United States having a disability. This long history of being harmed by the state-sponsored justice system has led people with disabilities, and specifically people of color with disabilities, to seek alternative ways to heal and promote accountability. Transformative Justice (TJ) was created by and for people from marginalized communities to respond to violence when calling the police may not be a viable or safe option. (Recording of Deep Dive - Session 3)
Race + Disability Deep Dive: Addressing the school-to-prison Pipeline for students of color and students with disabilities
School-to-Prison Pipeline: Examining the Role of Police in Schools and the Impacts of Policing on Students of Color and Students with Disabilities.
Nationally and locally, Black students and other students of color are being harshly punished, arrested and issued citations at school for behavior that is not very different from white students. Students with disabilities are being excluded from the classroom through suspensions and expulsions and referred to the police for manifestations of their disabilities. Arrest rates for Allegheny County public school students are more than double the state average and 3.5 times the rate of Philadelphia. This session will share new local data on disparities in school arrests by race, gender and disability status. Presenters will explore the consequences for students when police become involved in non-criminal disciplinary matters and discuss the steps school administrators can take to better define the role of police and to limit police involvement to criminal matters.
(Recording of Policing Impact)
Dismantling the School-to-Prison Pipeline for Students of Color and Students with Disabilities
In schools across the United States, Black students and other students of color are being harshly punished, arrested and issued citations at school for behavior that is not very different from white students. Students with disabilities are being excluded from the classroom through suspensions and expulsions and referred to the police for behavioral manifestations of their disabilities. Students of color who have disabilities experience compounded harms of racism and ableism.
Most of the infractions that result in criminal charges are minor and do not threaten school safety. When police become involved in non-criminal disciplinary matters, the consequences for students, particularly students of color and those with disabilities can be profound and long-lasting. A panel of experts, including civil rights attorneys, scholars and advocates will explore these issues in more depth and propose changes in policy and practice that can build public schools that are safe, affirming, and inclusive for all students.
(Recording of School-To-Prison-Pipeline)
Materials from the session:
Inside-out work: Embedding racial equity in organizational culture
In recent years, many organizations have expressed a commitment to racial equity and justice and taken important first steps. Truly integrating this commitment into the fabric of a nonprofit's mission takes leadership, intentionality, and tangible, practical work. The journey requires authenticity, vulnerability, and a willingness to make mistakes, learn and do better. Please join us for this engaged conversation between Michelle McMurray, Vice President of Program and Community Engagement at The Pittsburgh Foundation, and Tricia Gadson, CEO of Macedonia FACE, about what it takes to embed equity into organizational culture. Speakers will share progress that organizations have made in this area and note challenges associated with this work.
(Recording of Embedding Racial Equity)
Race + Disability: Fostering Cultural Humility in Disability Services
This workshop is designed to provide tools and strategies to increase multicultural awareness, knowledge, and the skills necessary to effectively work with and relate to ethnically and culturally diverse clients receiving disability services. Topics covered include intersectionality, disability justice and advocacy, implicit bias, cross-cultural communication, and microaggressions. Cultural humility will be introduced as a process to help build authentic cross-cultural relationships and will provide a culturally relevant strategic approach to reducing disparities. Presented by Dr. Channing Moreland, director of the Wellness Pavilion at the University of Pittsburgh Community Engagement Center in Homewood.
(Recording of Fostering Cultural Humility). Note: you have to scroll down to the bottom of the page.
Race + Disability: Understanding Intersectional Oppression
Disability occurs in every ethnic and racial group, yet it is often presented as a "white person's experience." This workshop will explore why this is so and will dig into the intersection of race and disability and present ableism as a social justice issue. Learn why experiences of disability faced by historical figures of color are often overlooked, and explore the current struggles of disabled people of color. Presented by national experts Andraéa LeVant, Rosemary McDonnell-Horita and Sofia Webster, all of whom were involved in the Obama Netflix documentary Crip Camp.


2021 State of Black America, The New Normal: Diverse, Equitable & Inclusive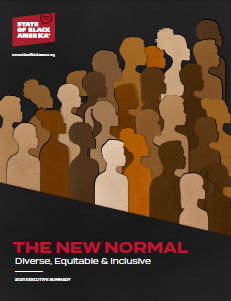 The State of Black America is the signature reporting of the National Urban League. The 2021 State of Black America, The New Normal: Diverse, Equitable & Inclusive, continues to build on the Urban League's COVID-19 reporting and asks: "Where do we go from here?" As the risk of infection and death plummets, there is an overwhelming desire to "get back to normal." Given the litany of disparities that defined our pre-pandemic "normal," we cannot—and must not—return to our inequitable status quo. We are called to reimagine and forge a new, diverse, equitable and inclusive normal.
Racial disparities in the Pittsburgh region
Reports on racial disparities in the Pittsburgh region by Ralph Bangs, Ph.D., depict persistently poor quality-of-life conditions for Black residents in areas such as employment, homeownership, education, and poverty and arrest rates. The findings are bleak, but they also can be motivation for equally persistent efforts to address inequity and injustice.
Current Education Data by Race in Pittsburgh, Ralph Bangs, PhD, Feb. 23, 2021
Pittsburgh's Deplorable Black Living Conditions, Ralph Bangs, PhD, Feb. 23, 2021
Black-White Disparities in Arrests in the City of Pittsburgh, Ralph Bangs, PhD, Feb. 23, 2021
Study finds life-without-parole sentence for second-degree murder costly & ineffective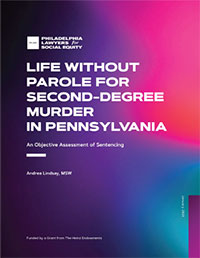 Mandatory life-without-parole sentences for second-degree murder in Pennsylvania ruin lives and cost taxpayers billions without improving safety, according to the report "Life Without Parole for Second-Degree Murder in Pennsylvania: An Objective Assessment of Sentencing." Philadelphia Lawyers for Social Equity (PLSE) conducted the sentencing study, which was commissioned by Lt. Gov. John Fetterman and funded by a grant from The Heinz Endowments.
Webinar Series || Disability Inclusion & Access: Moving Forward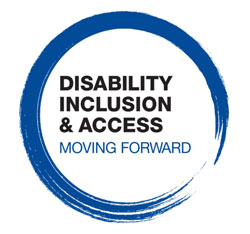 The Heinz Endowments and the FISA Foundation convened nearly 250 nonprofit and foundation leaders launched Disability Inclusion & Access: Moving Forward, an initiative aimed at encouraging foundations and nonprofit organizations to commit to basic accessibility improvements that would make programs and services more welcoming. The event was the first step in the foundations' efforts, which also include a directory of online resources, upcoming webinars (see below) and a small grants program in 2020.
FREE How-to Webinar Series - Short (one hour) webinars, free of charge, to address common accessibility issues:
Session 1: Disability 101: Understanding the Terms of Engagement
Cultural Factors and Considerations when Engaging with People with Disabilities
(Recording of Session 1)

Session 2: Website Accessibility: The Ramps and Rails of the Digital World
Why Basic Website Accessibility is Important for Your Organization
(Recording of Session 2)

Session 3: Document Accessibility: Can You Read This?
Creating Accessible Documents, Brochures, PDFs, Flyers, Reports and more
(Recording of Session 3)

Session 4: Social Media Accessibility: Our Network Depends on it
Accessible Social Media Posts and Campaigns
(Recording of Session 4)

Session 5: Disability Smart Events: Welcoming, Not Simply Accommodating
Accessible Planning for Conferences, Workshops, Galas, Staff Meetings and More
(Recording of Session 5)
Equity Initiatives in the Pittsburgh Region
Despite the challenges in ensuring equity for all in our society, the encouraging news is that efforts to increase equity and address unfair practices and systems are underway in the Pittsburgh region and beyond. The Heinz Endowments is providing this list of ongoing equity initiatives in our region so that readers will be aware of what is happening locally and can engage in their areas of interest.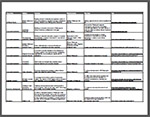 Equity Initiatives

Having informed conversations about equity and following up with meaningful action may seem daunting, but you don't have to do it alone. There are a myriad of resources available to help guide discussion, identify areas that need attention, and formulate a plan to achieve your equity goals. Click here for more information.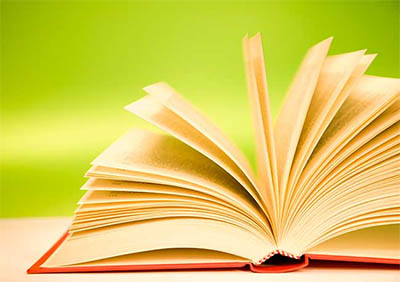 What We're Reading
In "So You Want to Talk About Race," Ijeoma Oluo guides readers of all races through subjects ranging from police brutality and cultural appropriation to the model minority myth in an attempt to make the seemingly impossible possible: honest conversations about race, and about how racism infects every aspect of American life.
Buy the book