Equity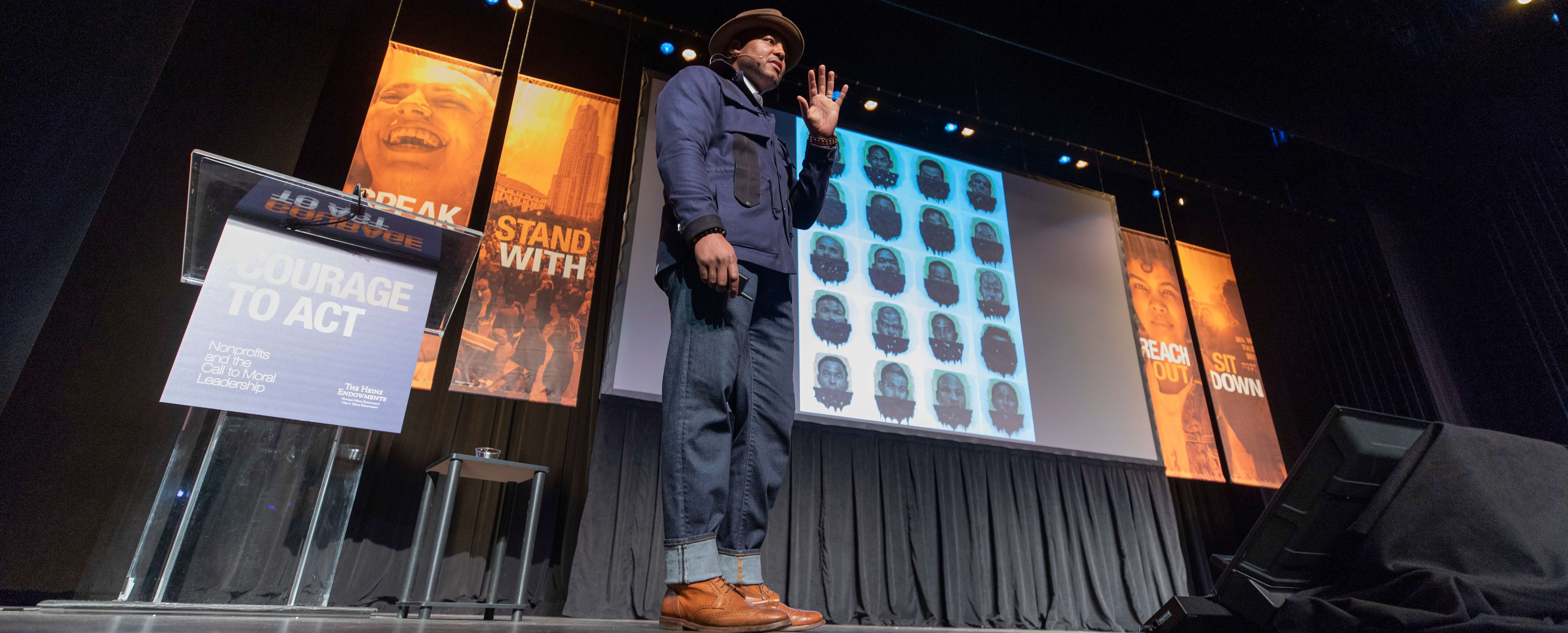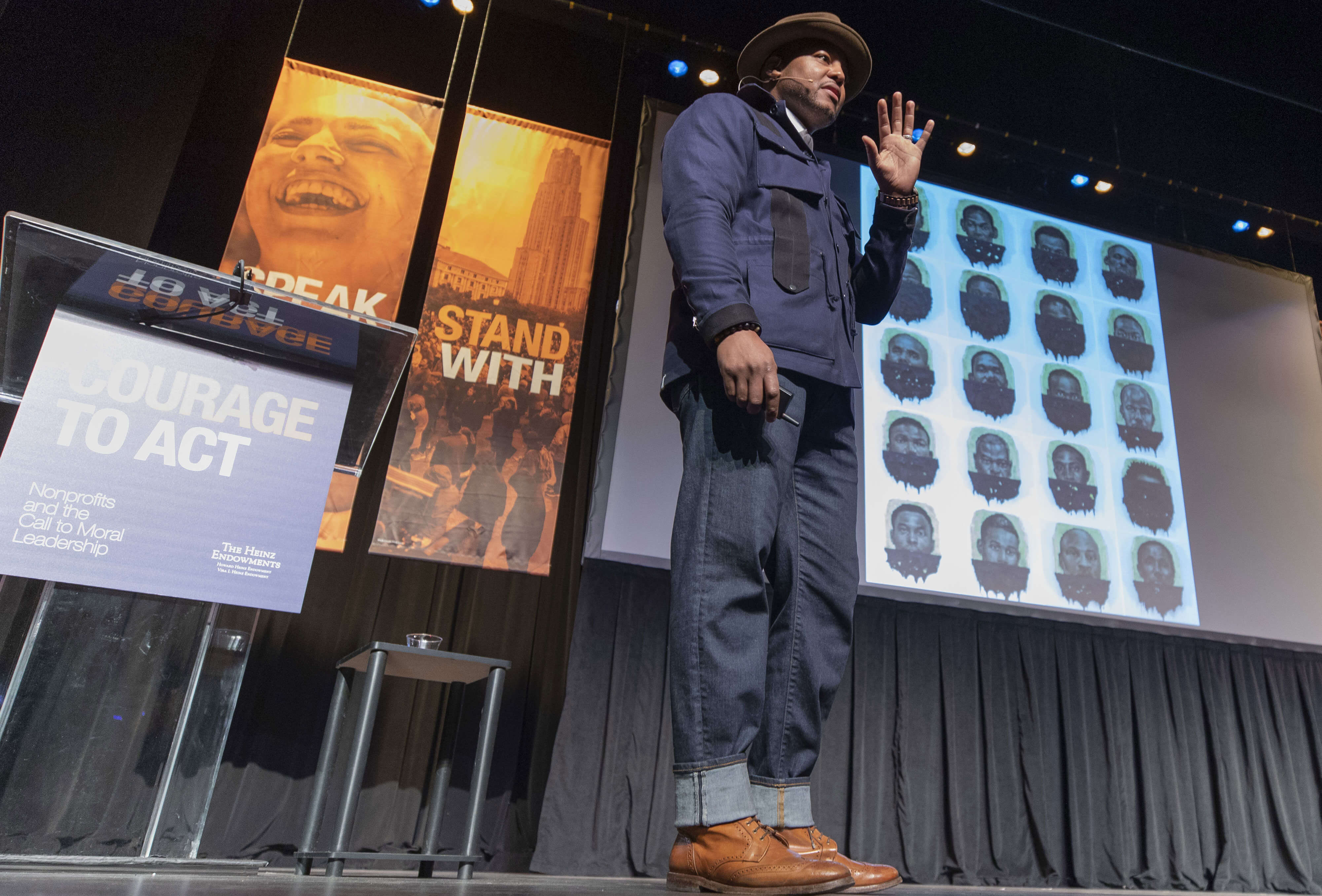 Photo by Joshua Franzos
Overview
Early in 2016, The Heinz Endowments introduced the concept of a "Just Pittsburgh" to the public as a term to describe some of the major challenges and aspirations for the Pittsburgh region. An unexpectedly widespread conversation was sparked about what the concept represents and our community's hopes and ambitions for the future.
From the Endowments' perspective, a Just Pittsburgh would be a place that is unafraid of difference and embraces all with an open heart and mind. It would be intolerant of hiding behind one Pittsburgh that is celebrated in "best of" lists while letting a second Pittsburgh languish in poverty and discrimination.
Today, we use "Just Pittsburgh" as an aspirational vision of the region, a Pittsburgh where everyone is treated with fairness, dignity and respect, and where everyone has an equitable opportunity to reach her or his fullest potential and to thrive.
The Endowments' equity agenda is an outgrowth the Just Pittsburgh vision. It is an intentional, focused effort to address the historical structural barriers, disparities in opportunity, bias and racism that affect far too many.
To rectify these long-standing issues, we must work differently. Every sector must be transformed to become more open, inclusive and equitable, and to create environments that are healthy and sustainable. This includes how we at the Endowments use our resources; voice; convening power; and partnerships with grantees, government and community allies.
For our foundation, this effort also means that we must listen to and engage with community residents in ways that honor their understanding about the assets and resources in their communities, and respect their views about the needs to be addressed that will strengthen families and build security.
Our equity agenda explicitly integrates the goal of advancing a Just Pittsburgh into the Endowments' grantmaking as a guiding principle for all our work, although a core ethical commitment to equity has always been at the heart of the foundation's mission. We are working to create a just community, and we are doing that through our focus on the critical pathways of sustainability, creativity and learning.
Even with a distinct agenda in place, we realize that a Just Pittsburgh is a long-term work in progress. As Endowments President Grant Oliphant said in a blog post, "If we are willing to dream of a Just Pittsburgh, we can create it — we simply have to want to try."
"Unspeakable" Black Lives Matter
"Unspeakable" is a 60 second PSA that assembles diverse individuals of the Deaf community to collectively proclaim through American Sign Language that Black Lives Matter.
Watch the PSA and then answer the call to action:
Share & Amplify Black Deaf Voices to be included in more conversations of diversity.
Learn more about ASL/BASL to be more inclusive citizens.
Support organizations that champion the Deaf and Disabled through volunteering, donations and training.
Learn more at: www.unspeakableBLM.org
Written + Directed by Emmai Alaquiva
Produced by Ya Momz House, Inc./OpticVoices
Virtual Book Tour
"Know Your Price: Valuing Black Lives and Property in America's Black Cities," by Andre M. Perry
Last month, author and Brookings fellow Andre M. Perry released his new book, "Know Your Price: Valuing Black Lives and Property in America's Black Cities." On June 11, Brookings, in partnership with The Heinz Endowments, brought the virtual book tour to Pittsburgh. Andre and his fellow panelists discussed the historical basis and present-day implications – particularly in the face of the COVID-19 pandemic – of the devaluation of black communities. Through profiles of places like his hometown, Wilkinsburg, Pa., as well as Detroit, Birmingham, Ala., New Orleans, Atlanta, and Washington, D.C., Perry highlighted the important themes covered in his book, including the social, economic, and political assets of black-majority cities as a means of empowerment that must be understood to build black prosperity. Watch the recorded webinar.
Panelists:
Andre Perry, David M. Rubenstein Fellow in the Metropolitan Policy Program at the Brookings Institution and author "Know Your Price: Valuing Black Lives and Property in America's Black Cities"
Juan Garrett, Executive Director, Riverside Center for Innovation
Sonya Tilghman, Executive Director, Hazelwood Initiative
Brentin Mock, Staff Writer, Bloomberg CityLab
Karris Jackson, Chief Operating Officer, POISE Foundation
Grant Oliphant, President, The Heinz Endowments
Webinar Series - Disability Inclusion & Access: Moving Forward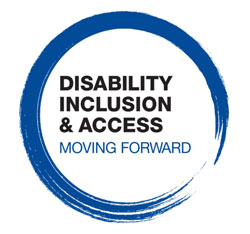 The Heinz Endowments and the FISA Foundation convened nearly 250 nonprofit and foundation leaders on Nov. 21 to launch Disability Inclusion & Access: Moving Forward, an initiative aimed at encouraging foundations and nonprofit organizations to commit to basic accessibility improvements that would make programs and services more welcoming. The event was the first step in the foundations' efforts, which also include a directory of online resources, upcoming webinars (see below) and plans for a small grants program in 2020.
FREE How-to Webinar Series - Short (one hour) webinars, free of charge, to address common accessibility issues:
Session 1: Disability 101: Understanding the Terms of Engagement
Cultural Factors and Considerations when Engaging with People with Disabilities
Recording of Session 1

Session 2: Website Accessibility: The Ramps and Rails of the Digital World
Why Basic Website Accessibility is Important for Your Organization
Recording of Session 2

Session 3: Document Accessibility: Can You Read This?
Creating Accessible Documents, Brochures, PDFs, Flyers, Reports and more
Wednesday, February 12, 2020; 2:00-3:00PM ET
Recording of Session 3

Session 4: Social Media Accessibility: Our Network Depends on it
Accessible Social Media Posts and Campaigns
Recording of Session 4

Session 5: Disability Smart Events: Welcoming, Not Simply Accommodating
Accessible Planning for Conferences, Workshops, Galas, Staff Meetings and More
Recording of Session 5
2018 Pittsburgh Equity Indicators Report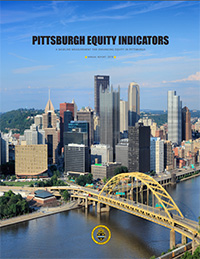 The City of Pittsburgh's second annual Pittsburgh Equity Indicators report revealed some improvements in equitable access to opportunities and outcomes among city residents, but the findings overall revealed ongoing disparities in Pittsburgh based on race, gender and income.
The first report, released last year, provided a baseline analysis of 80 indicators measuring gaps in outcomes experienced among Pittsburghers in 2017 for four major domains: health, food and safety; education, workforce development, and entrepreneurship; housing, transportation and infrastructure; and civic engagement and community. The Equity Indicators analysis is part of the ONEPGH Resilience Strategy, which has identified racial and economic inequity as a chronic stressor affecting Pittsburgh's resilience.
In this year's report, which looked at indicators for 2018, city and overall scores were about the same as they were for 2017, suggesting that Pittsburghers were still experiencing inequitable access to opportunities and outcomes. There were in improvements in some areas, such as public safety, student success and discipline, infrastructure quality and investment, and civic engagement. But these were in contrast results showing greater inequality in other areas, including health outcomes, household income and poverty.
You can find more on the Pittsburgh Equity Indicators report here.

Equity Initiatives in the Pittsburgh Region
Despite the challenges in ensuring equity for all in our society, the encouraging news is that efforts to increase equity and address unfair practices and systems are underway in the Pittsburgh region and beyond. The Heinz Endowments is providing this list of ongoing equity initiatives in our region so that readers will be aware of what is happening locally and can engage in their areas of interest.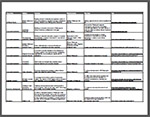 Equity Initiatives
Grantee Race Equity Communications Workshop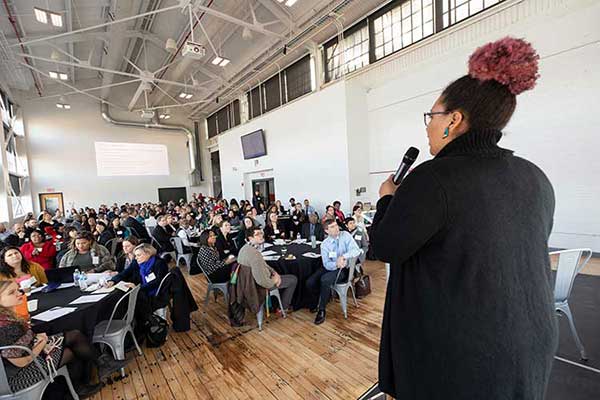 More than 280 people participated in The Heinz Endowments' first equity communications training for grantee organizations over two sessions in February and April at the Energy Innovation Center in Pittsburgh's Hill District. The training was led by Vanice Dunn, equity director for Provoc, a leader in communications analysis, strategy development and branding. As part of the Endowments' efforts to more authentically infuse equity into its philosophical approach and daily practice, the foundation is partnering with Provoc to bring an equity-rooted focus to the communications practices of the Endowments and its grantees.
"This is the first of a series of opportunities designed to engage our grantees in a process to create safe spaces for them to gain a deeper insight into key equity-related issues and to provide skill-building training," said Carmen Anderson, the Endowments' director of Equity and Social Justice. "The hope is that together we can increase our momentum and progress towards addressing some of the seemingly intractable issues that challenge our region. Our goal is a thriving region for everyone."
Additional training sessions may be offered in-person or virtually, based on the insights and needs that surfaced during the workshops. Those findings also will guide the development of tools and resources that the Endowments will make available to grantees later this year. (Photo by Joshua Franzos)
Nonprofits and the Call to Moral Leadership: Courage to Act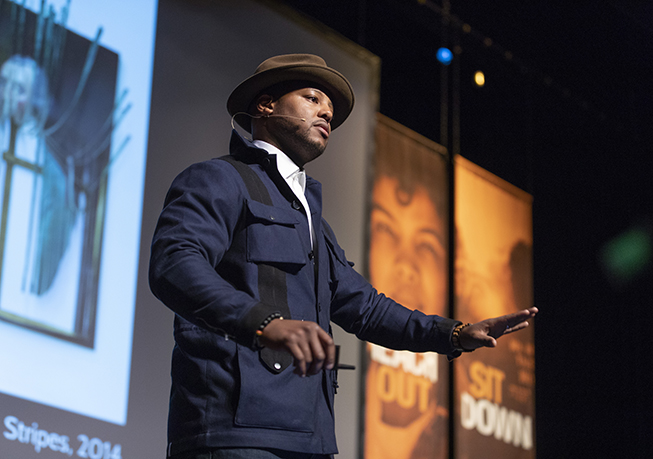 Heeding the Call: What Does Courageous and Moral Leadership Look Like?
Endowments nonprofit grantees urged to stand for their values and a just society
By Carmen J. Lee
It was a story describing an all-too-familiar moment in today's polarized America. Artist and MacArthur genius grant recipient Titus Kaphar told an audience of nearly 400 how an enjoyable day showing museum displays of his art to his younger brother turned sour when New York City police stopped and frisked them on the unfounded suspicion that they had stolen art from a gallery.
But Mr. Kaphar's point was not just to express outrage over racial profiling. As keynote speaker on Nov. 14 for The Heinz Endowments-sponsored seminar "Nonprofits and the Call to Moral Leadership: Courage to Act," he also was highlighting one of the many tasks before nonprofit leaders attending the event.
"How do we get a community to engage in democracy when they feel democracy is not working for them?" he asked the crowd at the August Wilson Center for African American Culture in Downtown Pittsburgh. "We have to make this work. We will not be able to convince my brother to go vote when democracy is not working for him, when no matter who gets elected he feels his community doesn't change…when it's injustice for one, it's injustice for everybody."
For the second consecutive year, the Endowments invited foundation grantees to a Call to Moral Leadership gathering at the August Wilson Center. More than a dozen speakers and panelists encouraged attendees to use their skills, expertise and platforms to defend their organizations' values and missions while supporting the individuals they serve.
With divisions in the country growing deeper, the rhetoric more heated, and the consequences more violent, the seminar hit even closer to home than last year's event because of local tragedies. These have included the Oct. 27 massacre of 11 people at the Tree of Life synagogue in Pittsburgh's Squirrel Hill neighborhood and the shooting death of Antwon Rose II, an unarmed 17-year-old, by a suburban Pittsburgh police officer.
The national landscape has been no less grievous. Between the first Call to Moral Leadership gathering in October 2017 and the second this year, the country has been awash in alarming and often heart-wrenching events: other mass shootings, from a bar in Thousand Oaks, Calif., to Marjory Stoneman Douglas High School in Parkland, Fla.; the cries of immigrant children torn from their families; and attempts to restrict marginalized populations from voting or being counted in the 2020 census.
Throughout the day, seminar participants addressed the question: What can we do?
Speakers offered several recommendations that included common themes such as acknowledging and respecting the humanity of others, calling out wrongdoing regardless of the consequences, modeling the behavior desired for others, studying the past to correct current mistakes and avoid more in the future, and collaborating across differences for the common good.
Sharon Alpert, President of the New York-based Nathan Cummings Foundation, described the efforts her organization has made in these areas as "radical solidarity."
"We join forces with those who see a better world, who have creative ways to motivate hearts and minds towards justice, and who know how to organize and mobilize so that we have the power when it comes time to push," she said. "When we stand together, we are strong. And when we do that, when we decide we will not allow anyone to divide us with hate and fear, that is radical solidarity."
For Dr. Rich Benjamin, anthropologist and author of "Searching for Whitopia: An Improbable Journey to the Heart of White America," the work of nonprofits could be energized if they viewed it as a calling. Using other religious allusions, he said moral leadership means serving others in practical ways to create "the beloved community" and employing what he termed "a ministry of presence," which he described as "a way of being as well as a way of doing, showing up for one another."
Challenging the group to commitment and accountability was Dr. RaShall Brackney. The Pittsburgh native became Chief of Police in Charlottesville, Va., this summer after a national search for a new top law enforcement officer in the wake of a violent white nationalist rally in the community last year.
"You hold the power, you can reshape and contour the narrative of Pittsburgh, Charlottesville and the nation through your courageous and moral leadership," she said. "When you leave this space, are you willing to stand for something, protest for something, kneel for something, and, more importantly, believe in something even when it means sacrificing everything?"
Rev. Tim Smith, Founder, President and Executive Director of the community organization Center of Life and pastor of Keystone Church of Hazelwood, led a panel of local faith leaders who offered both religiously influenced and pragmatically motivated advice. Mr. Smith joined Rabbi Ronald B.B. Symons, Senior Director of Jewish Life at the Jewish Community Center of Greater Pittsburgh, and Rev. Dr. John C. Welch, Pittsburgh Theological Seminary's Vice President for Student Services and Community Engagement, and Dean of Students, in urging audience members to not only be involved in social justice efforts, but also to learn from different communities now about addressing trauma rather than waiting for the next tragedy.
Four Pittsburgh youth activists inspired the audience with both their appreciation for the adults and older peers who have been role models and their earnest enthusiasm for making a difference in the world.
"Youth are not just future leaders, we are leaders today," said Peyton Klein, who led the discussion. Peyton is a junior at Pittsburgh Allderdice High School and Founder and Executive Director of the Global Minds Initiative, a student-led movement to combat cultural intolerance and discrimination in schools. "Moral leadership must be inclusive of those of all ages."
Other seminar speakers included Jamaica Johnson, a junior at Pittsburgh Creative and Performing Arts 6-12 (CAPA); Marina Godley-Fisher, a Pittsburgh Allderdice student; Javin Lee-Lobel, a Pittsburgh CAPA student; Pittsburgh Mayor William Peduto; Endowments Director of Equity and Social Justice Carmen Anderson; and Endowments President Grant Oliphant.
In closing out the event, Mr. Oliphant noted a well-known admonition of the late children's television personality Fred Rogers. In a brief video clip, the host of the iconic "Mr. Rogers' Neighborhood" was shown encouraging individuals and the media "to look for the helpers."
"You are society's first responders. You are the helpers that society is turning to in this moment," Mr. Oliphant told participants. "It's up to us to be the model that Fred Rogers was talking about by actually personifying the notion that we want a society that bridges these divides, that will not tolerate hate, that will stand up for those who are vulnerable among us, and that believes in the sort of community that this neighborhood is now sadly but also wonderfully famous for."

Click here to view information from the 2017 Call to Moral Leadership Conference.
(Photo by Joshua Franzos)
Highlighted Grantee
Dress rehearsal with City of Asylum at New Hazlett Theater. (Image courtesy of CPAC)
The Greater Pittsburgh Arts Council
Establishing diversity, equity, accessibility and inclusion in the arts involves complex issues, and The Greater Pittsburgh Arts Council is leading the way through conversation, commitment and action. GPAC's "Accessibility in Arts and Culture Initiative" is a national model for increasing access to the arts for patrons, volunteers, employees, and artists with disabilities, and their "Pittsburgh Coalition for Racial Equity in the Arts" provides events, trainings, resources, and community-building around equity issues.
Learn more about both GPAC programs

Having informed conversations about equity and following up with meaningful action may seem daunting, but you don't have to do it alone. There are a myriad of resources available to help guide discussion, identify areas that need attention, and formulate a plan to achieve your equity goals. Click here for more information on equity resources.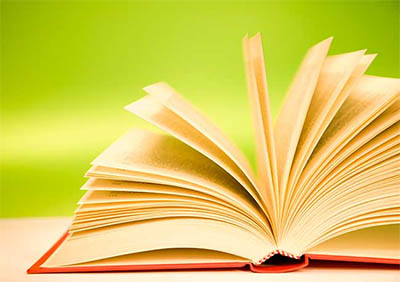 What We're Reading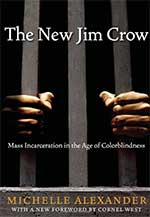 The New Jim Crow - Mass Incarceration in the Age of Colorblindness by Michelle Alexander - Praised by Harvard Law professor Lani Guinier as "brave and bold," this book directly challenges the notion that the election of Barack Obama signals a new era of colorblindness. Michelle Alexander argues that "we have not ended racial caste in America; we have merely redesigned it." By targeting black men through the War on Drugs and decimating communities of color, the U.S. criminal justice system functions as a contemporary system of racial control—relegating millions to a permanent second-class status—even as it formally adheres to the principle of colorblindness. In the words of Benjamin Todd Jealous, president and CEO of the NAACP, this book is a "call to action."
Buy the book
Program Staff