Equity & Research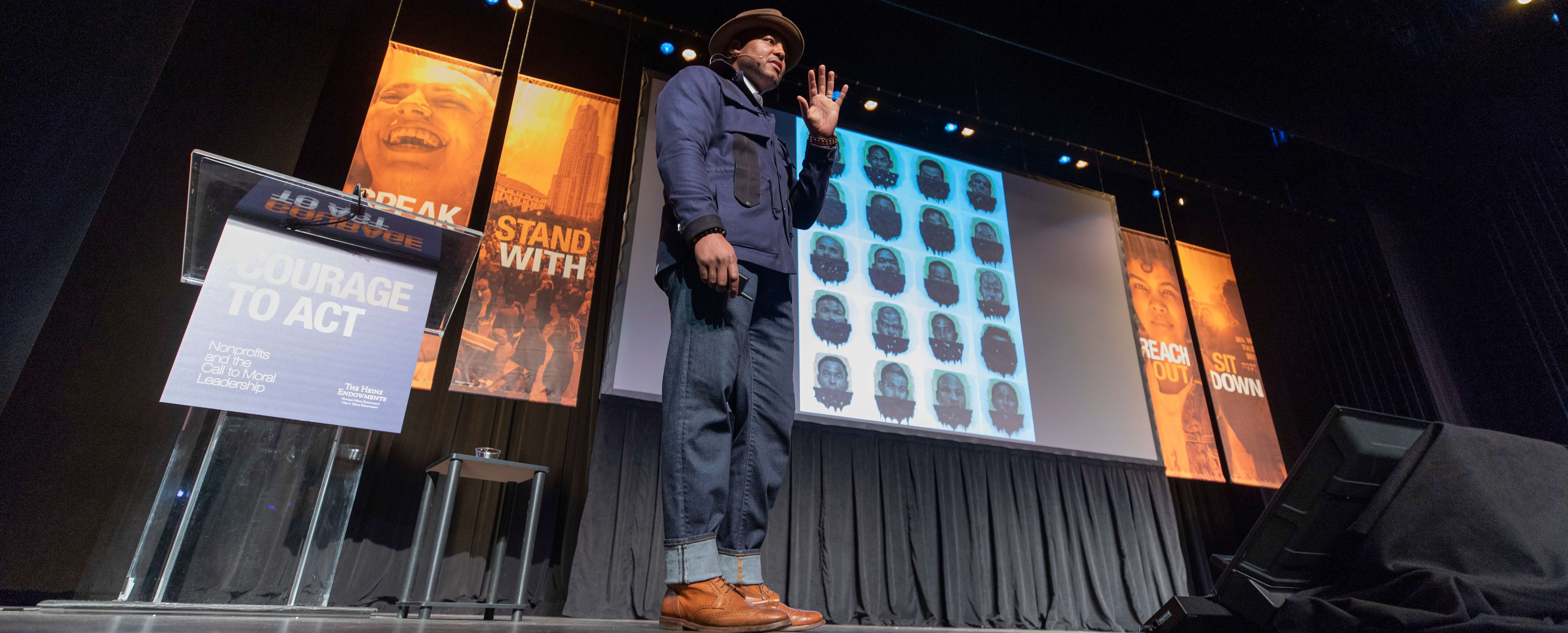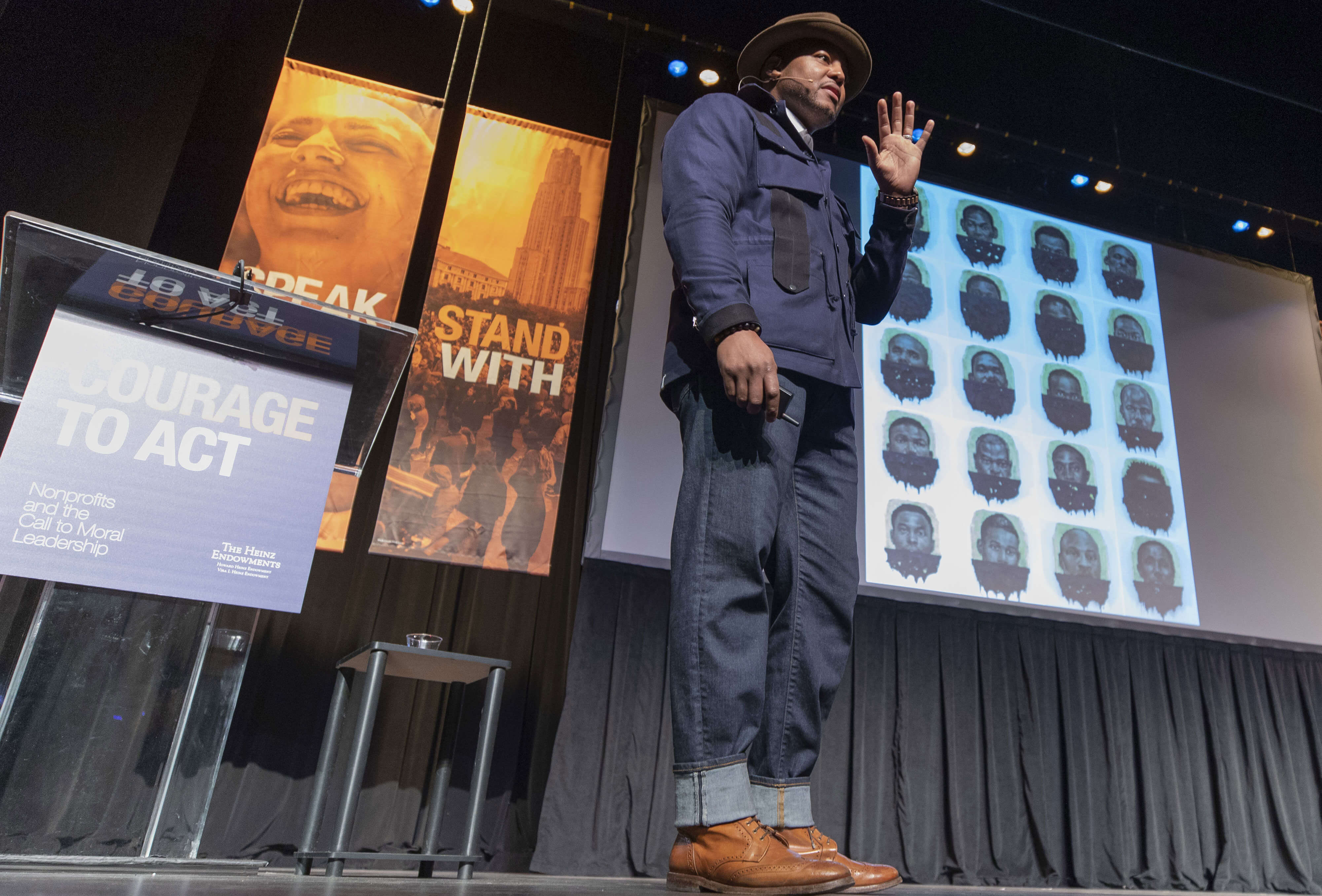 Photo by Joshua Franzos
Overview
Early in 2016, The Heinz Endowments introduced the concept of a "Just Pittsburgh" to the public as a term to describe some of the major challenges and aspirations for the Pittsburgh region. An unexpectedly widespread conversation was sparked about what the concept represents and our community's hopes and ambitions for the future.
From the Endowments' perspective, a Just Pittsburgh would be a place that is unafraid of difference and embraces all with an open heart and mind. It would be intolerant of hiding behind one Pittsburgh that is celebrated in "best of" lists while letting a second Pittsburgh languish in poverty and discrimination.
Today, we use "Just Pittsburgh" as an aspirational vision of the region, a Pittsburgh where everyone is treated with fairness, dignity and respect, and where everyone has an equitable opportunity to reach her or his fullest potential and to thrive.
The Endowments' equity agenda is an outgrowth of the Just Pittsburgh vision. It is an intentional, focused effort to address the historical structural barriers, disparities in opportunity, bias and racism that affect far too many.
To rectify these long-standing issues, we must work differently. Every sector must be transformed to become more open, inclusive and equitable, and to create environments that are healthy and sustainable. This includes how we at the Endowments use our resources; voice; convening power; and partnerships with grantees, government and community allies.
For our foundation, this effort also means that we must listen to and engage with community residents in ways that honor their understanding about the assets and resources in their communities, and respect their views about the needs to be addressed that will strengthen families and build security.
Our equity agenda explicitly integrates the goal of advancing a Just Pittsburgh into the Endowments' grantmaking as a guiding principle for all our work, although a core ethical commitment to equity has always been at the heart of the foundation's mission. We are working to create a just community, and we are doing that through our focus on the critical pathways of sustainability, creativity and learning.
Fall 2023 Programs: Race + Disability
PeoplesHub and FISA Foundation, The Heinz Endowments and The Pittsburgh Foundation are so excited to resume their series sponsorship for VIRTUAL programming of RACE + DISABILITY, a series of webinars as part of a broader effort to address the intersection of race and disability. Please join us as we learn to face our history and move forward together in more just, fair and inclusive ways. View past Race + Disability recordings
VIRTUAL Disability Inclusion and Intersectionality Webinar



This session addresses the relationship between race and disability and establishes a common language around intersectionality. You will walk away with insights into cultivating programs, practices, and an organizational culture that is grounded in racial justice, disability justice, and inclusion.

Bender Leadership Academy Digital Accessibility Initiative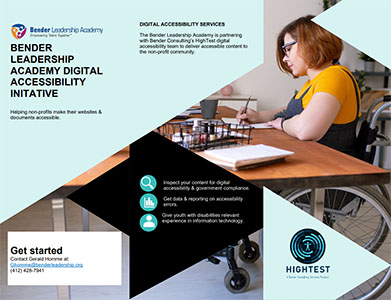 The Bender Leadership Academy is partnering with Bender Consulting's HighTest digital accessibility team to deliver accessible content to the nonprofit community. Reach out for help in making your website and documents accessible. Get started!
2021 State of Black America, The New Normal: Diverse, Equitable & Inclusive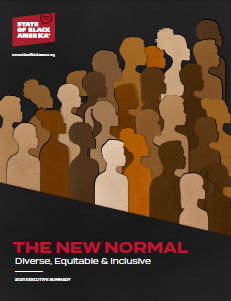 The State of Black America is the signature reporting of the National Urban League. The 2021 State of Black America, The New Normal: Diverse, Equitable & Inclusive, continues to build on the Urban League's COVID-19 reporting and asks: "Where do we go from here?" As the risk of infection and death plummets, there is an overwhelming desire to "get back to normal." Given the litany of disparities that defined our pre-pandemic "normal," we cannot—and must not—return to our inequitable status quo. We are called to reimagine and forge a new, diverse, equitable and inclusive normal.
Racial disparities in the Pittsburgh region
Reports on racial disparities in the Pittsburgh region by Ralph Bangs, Ph.D., depict persistently poor quality-of-life conditions for Black residents in areas such as employment, homeownership, education, and poverty and arrest rates. The findings are bleak, but they also can be motivation for equally persistent efforts to address inequity and injustice.
Current Education Data by Race in Pittsburgh, Ralph Bangs, PhD, Feb. 23, 2021
Pittsburgh's Deplorable Black Living Conditions, Ralph Bangs, PhD, Feb. 23, 2021
Black-White Disparities in Arrests in the City of Pittsburgh, Ralph Bangs, PhD, Feb. 23, 2021
Study finds life-without-parole sentence for second-degree murder costly & ineffective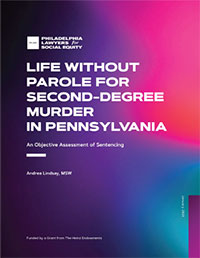 Mandatory life-without-parole sentences for second-degree murder in Pennsylvania ruin lives and cost taxpayers billions without improving safety, according to the report "Life Without Parole for Second-Degree Murder in Pennsylvania: An Objective Assessment of Sentencing." Philadelphia Lawyers for Social Equity (PLSE) conducted the sentencing study, which was commissioned by Lt. Gov. John Fetterman and funded by a grant from The Heinz Endowments.
Read the Life Without Parole for Second-Degree Murder in PA report
Webinar Series || Disability Inclusion & Access: Moving Forward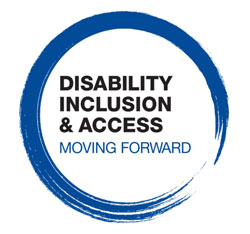 The Heinz Endowments and the FISA Foundation convened nearly 250 nonprofit and foundation leaders launched Disability Inclusion & Access: Moving Forward, an initiative aimed at encouraging foundations and nonprofit organizations to commit to basic accessibility improvements that would make programs and services more welcoming. The event was the first step in the foundations' efforts, which also include a directory of online resources, upcoming webinars (see below) and a small grants program in 2020.
FREE How-to Webinar Series - Short (one hour) webinars, free of charge, to address common accessibility issues:
Session 1: Disability 101: Understanding the Terms of Engagement
Cultural Factors and Considerations when Engaging with People with Disabilities
(Recording of Session 1)

Session 2: Website Accessibility: The Ramps and Rails of the Digital World
Why Basic Website Accessibility is Important for Your Organization
(Recording of Session 2)

Session 3: Document Accessibility: Can You Read This?
Creating Accessible Documents, Brochures, PDFs, Flyers, Reports and more
(Recording of Session 3)

Session 4: Social Media Accessibility: Our Network Depends on it
Accessible Social Media Posts and Campaigns
(Recording of Session 4)

Session 5: Disability Smart Events: Welcoming, Not Simply Accommodating
Accessible Planning for Conferences, Workshops, Galas, Staff Meetings and More
(Recording of Session 5)
Initiatives in the Pittsburgh Region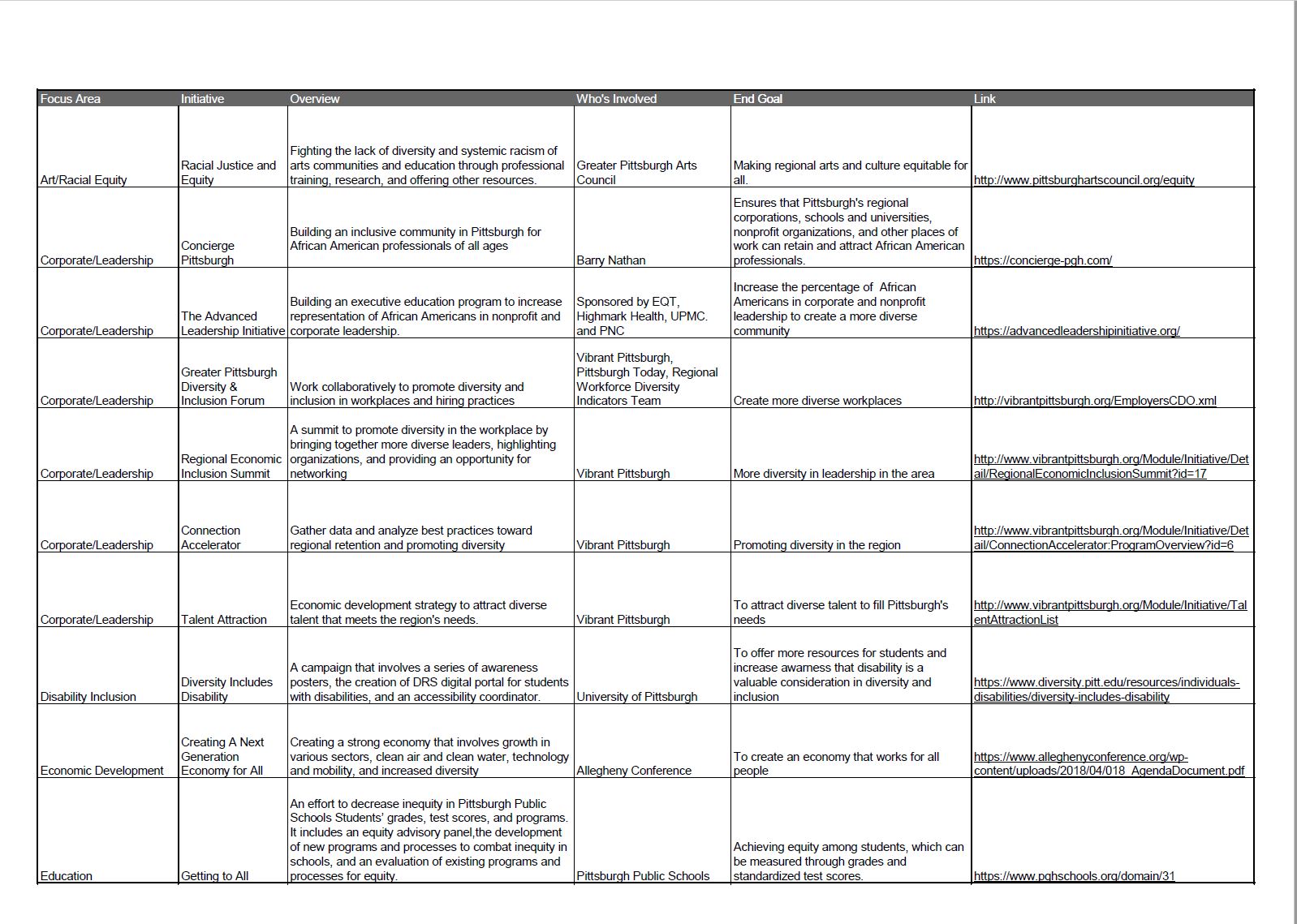 Despite the challenges in ensuring equity for all in our society, the encouraging news is that efforts to increase equity and address unfair practices and systems are underway in the Pittsburgh region and beyond. The Heinz Endowments is providing this list of ongoing equity initiatives in our region so that readers will be aware of what is happening locally and can engage in their areas of interest.

Having informed conversations about equity and following up with meaningful action may seem daunting, but you don't have to do it alone. There are a myriad of resources available to help guide discussion, identify areas that need attention, and formulate a plan to achieve your equity goals. Additional equity resources.