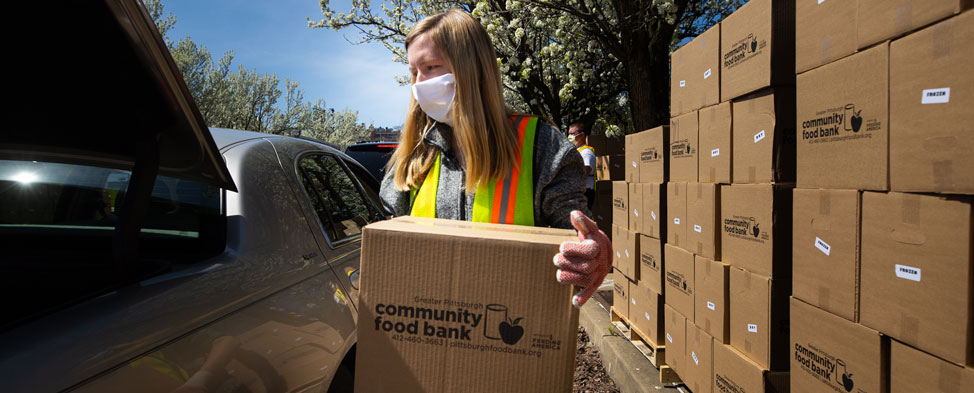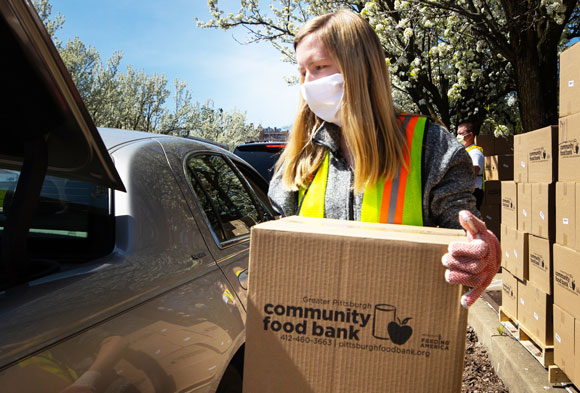 Greater Pittsburgh Community Food Bank drive-through food distribution on April 6. (Photo by Joshua Franzos)
Responding to Crisis - A Message from our President, Grant Oliphant
The term "unprecedented" has never felt more appropriate than it does now. It aptly describes the disruption and hardship that the COVID-19 pandemic has caused in communities like ours all across the country and world. It also describes, here and elsewhere, the extraordinary efforts by so many to bring relief, comfort and much-needed assistance to those families and individuals who are most vulnerable and suffering most.
In the face of this genuinely unique challenge, the Endowments is responding in multiple ways, guided by four fundamental commitments:
We will provide maximum flexibility. Many of our grantees are on the front lines in responding to this crisis. Others are doing what they can to continue their important missions despite unimaginable constraints and catastrophic drops in earned and contributed revenue. In this environment, organizations need maximum flexibility, so wherever feasible the Endowments has removed or postponed project deadlines and has moved to convert project funding to general operating support. We expressed this intention at the outset of the crisis in my first blog on the subject. As a signal to our field, we also signed on to a national pledge by foundations to provide this type of flexibility and support to our grantees through this crisis. If you are an existing grantee and wish to discuss your current grant, please be in touch with your program officer, who will respond promptly.

We will move substantial resources quickly. As this crisis unfolded, Pittsburgh's largest foundations immediately came together to launch an emergency response fund at the community foundation, which we each seeded with $1 million. To fund that commitment and other urgent needs, the Endowments' board has approved an initial $5 million appropriation to address four major priorities in our community: saving lives, meeting critical basic needs, focusing on the most vulnerable, and supporting core grantees. The Endowments has streamlined its grants approval process for organizations invited to apply for these special funds. The Endowments has also identified a set of values that are important to us in making these allocations and in guiding our behavior throughout this crisis. A current list of the grants made from these funds so far can be found here.

We will partner extensively. Since the outset, it has been clear that the scale of this challenge would massively outstrip philanthropy's resources, let alone one institution's best intentions. Recognizing that, Pittsburgh's major foundations immediately formed a working partnership that could identify gaps in giving and areas of greatest need, and bring our shared resources to bear on them. As an extension of that, we have deployed our staffs' expertise as another of our assets and joined with leaders in government and nonprofit organizations on multiple problem-solving teams working to address specific issues such as meeting crucial public health needs, helping frontline workers find child care, responding to shortages of personal protective equipment, and understanding and addressing the racial dimensions of this crisis.

We will adapt but stay steady. The Endowments manages its finances to buffer our giving against sudden economic and market fluctuations. As a result, despite the recent massive market downturns, our grantmaking budgets for each of our program areas this year will remain steady. We understand that many organizations are concerned about how their activities will fare with supporters in a post-COVID world. As we are still in the early stages of this crisis, none of us can forecast that with certainty, although we can predict there will be a need to rethink old models and assumptions as there always is during periods of disruption. However, what we can also say from the vantage point of today is that the Endowments views its priorities through a long-term lens, and that, in general, this crisis has only validated those priorities and the work we and our grantees do in partnership. As we consider our grantmaking in the year ahead, we will obviously be intensely focused on how we can help our community once again to overcome unexpected adversity. But, for a Pittsburgh foundation like ours, that has been the work almost since the beginning, and our core beliefs about how to do it will not change.

The Endowments is immensely grateful to all our partners in other foundations, government and, most importantly, nonprofit organizations for the work you are individually and collectively doing to offer a response as unprecedented as the challenges we all now face. On behalf of the board and staff at The Heinz Endowments, thank you. We are honored to work alongside you.