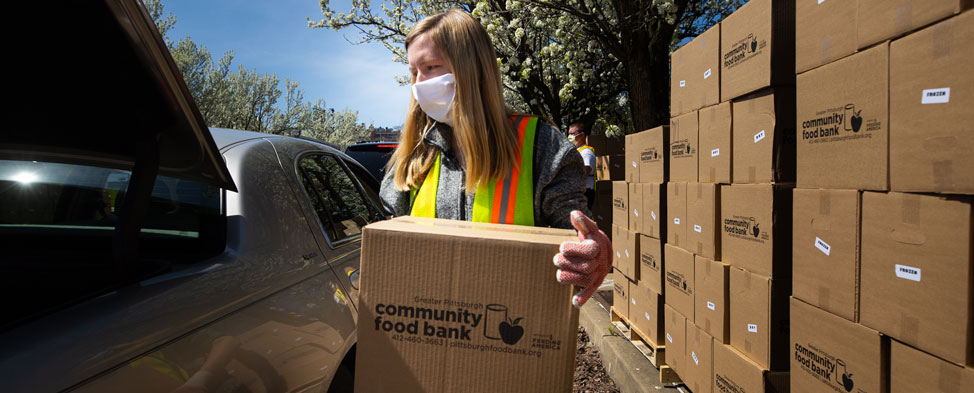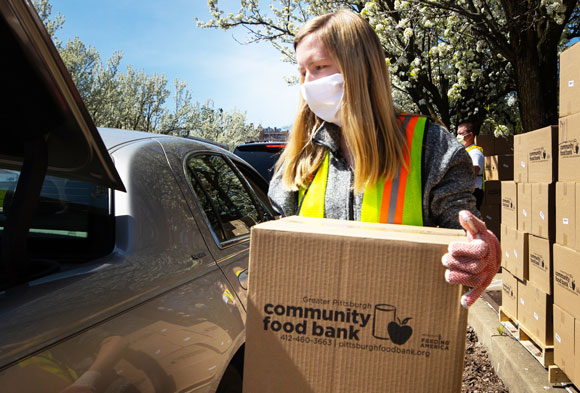 Greater Pittsburgh Community Food Bank drive-through food distribution on April 6. (Photo by Joshua Franzos)
Endowments' COVID-19 Emergency Fund Fully Distributed – Grantees directed to our grant application process
A special emergency fund created in April 2020 by The Heinz Endowments to respond to urgent community need caused by the COVID-19 pandemic has been fully distributed. We remain deeply concerned about the continuing impact of the pandemic, and nonprofit organizations seeking funding support for COVID-19 related programs should direct their requests first by completing a Letter of Inquiry / Share Your Idea form and then through the Endowments grant application process in the usual way. If you have any questions or need more information, please contact a member of our program staff.
In April this year, The Heinz Endowments responded quickly to address the severe health, social and economic impacts of the COVID-19 pandemic in our regional community. The organization refocused its grantmaking priorities to concentrate on areas of greatest need, and streamlined its grant application and approval processes to ensure that urgently-needed funding reached nonprofit organizations as quickly and efficiently as possible.
A special emergency fund was created that distributed more than 70 grants to local nonprofit organizations in four months, totaling $11.4 million, including a $1 million contribution towards the creation of a community Emergency Response Fund at The Pittsburgh Foundation. Many more grants have been awarded through the Endowments' grant application process that have helped to support nonprofits struggling to maintain vital services for those they serve.
While the Endowments emergency funding has been fully expended, we are alert to the continued devastating effect of the pandemic on our region's individuals and families, especially during the current surge of COVID-19 infections locally and nationally.
Below are details of funding and grant recipients of the Endowments emergency fund, and measures that were introduced in response to the COVID-19 pandemic to assist our region's nonprofit organizations.