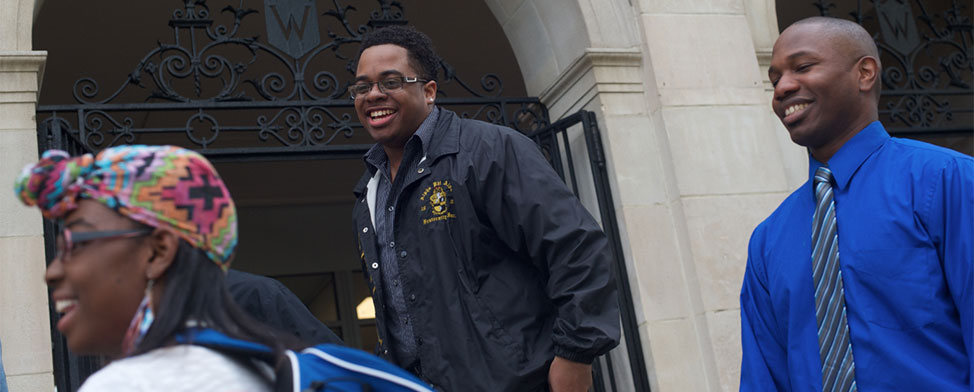 Heinz Fellows Cameron Cuttler and Paul Spradley greet students outside Westinghouse High School. Photo by Sean Means
The Heinz Fellows are selected based on their records of exceptional achievements in their academic and professional careers and in their communities. They are placed in high-needs high schools in the Pittsburgh school district to serve as mentors, tutors and role models. By investing themselves in this program, these men are tangible expressions of what is possible for black youth in Pittsburgh and other urban settings. They also help the students create pathways that can lead to academic success and better life outcomes in their communities and beyond.
The Heinz Endowments views the Fellows Program as an extraordinary opportunity for a group of black men to provide a significant community service. They also are helping to establish a formidable standard for transforming public education.

Bilal Abbey, Atlanta, GA, working at Pittsburgh Brashear High School

Ray Dickerson, Pittsburgh, PA, working at Pittsburgh Westinghouse 6-12

Cameron Cuttler, Pittsburgh, PA working at Pittsburgh Westinghouse 6-12

Lloyd Cheatom, Pittsburgh, PA, working at Pittsburgh Westinghouse 6-12

Christopher Giles, West Mifflin, PA, working at Pittsburgh Obama 6-12

Kevin McNair, Pittsburgh, PA, working at Pittsburgh Brashear High School

Samuel Morant, Pittsburgh, PA, working at Pittsburgh Obama 6-12

Tolulope Oladele, Bronx, NY, working at Pittsburgh Obama 6-12

Paul Spradley, Toledo, OH, working at Pittsburgh Westinghouse 6-12

Chance Wideman, Pittsburgh, PA, working at Pittsburgh Brashear High School

(Photos by Sean Means)