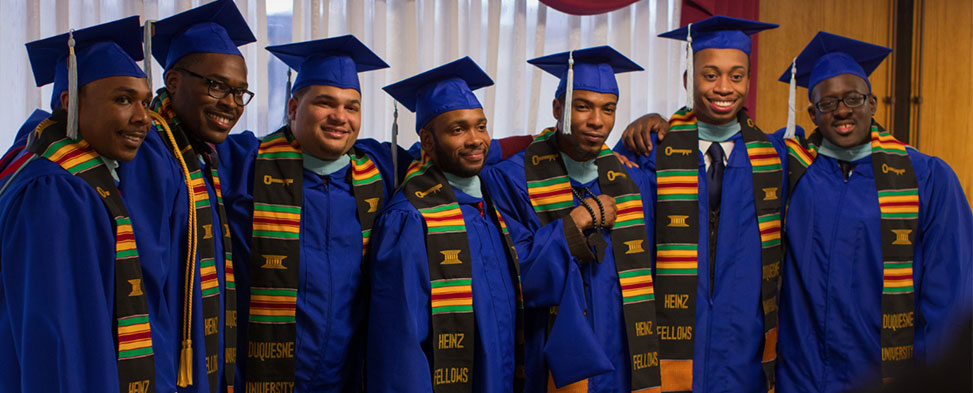 First cohort of Heinz Fellows graduate from Duquesne University. Photo by Joshua Franzos
In the fall of 2011, a project to embed a group of African American men – all college graduates on professional career paths – as mentors in a troubled urban school was an unprecedented foundation-city school district initiative. Pittsburgh Westinghouse 6-12 also was undergoing changes in curriculum and school leadership, and the transitions were not occurring smoothly. But The Heinz Endowments' two-year Heinz Fellows Program proved to be welcomed support for students during a confusing time. Each of the nine Fellows, selected from across the country, had a mentoring caseload of 25-30 students whom they tutored, counseled and provided big brother encouragement.
The Endowments also provided the men with salaries and benefits as well as covered the costs of their graduate studies in education at Duquesne University. This first class of Fellows experienced their share of challenges, but when the nine completed the program and received their master's degrees, they joined school officials and Endowments staff in heralding the initiative as a success. They also paved the way for the program to continue and to have future groups of Heinz Fellows placed in several Pittsburgh schools, including Westinghouse.

Emmanuel Kwame Afrifa, The Bronx, New York City

Shawn Bolden, Harlem, New York City

Travis Robinson, Baltimore, Maryland

Olavé Sebastien, Hometown: Brooklyn, New York City

James Sudduth, Wilkinsburg, Pennsylvania

Matthew Tansey, Philadelphia, Pennsylvania

Omar-Abdul Lawrence, Pittsburgh, Pennsylvania

Sean Means, Portland, Oregon

DeWayne Powell, East Detroit, Michigan
(Photos by Martha Rial)