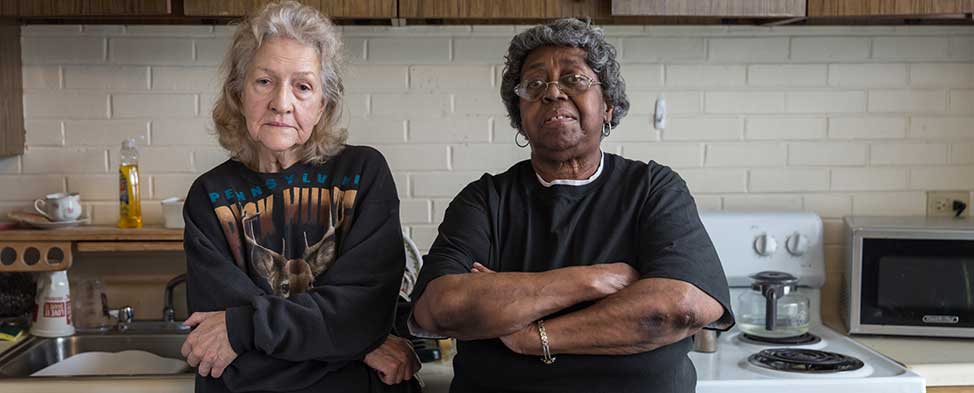 Mr. Vrabel's writing has documented the friendship of former Penn Plaza residents Mabel Duffy and Myrtle Stern as they searched for new housing. (Image courtesy of Maranie Rae Staab/Maranie Rae Photography)
Writer Jason Vrabel amplifies, gives agency to unheard voices
"A fabric gets ripped apart in this process, one that goes beyond the individual. It has an effect on the identity of the neighborhood and of the city." – Jason Vrabel, author "Game of Chance: Mass Eviction in Pittsburgh"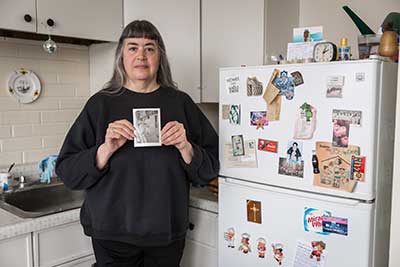 In the early wintry months of 2017, writer Jason Vrabel embedded with the last handful of residents of East Liberty's Penn Plaza apartment complex. They had been given 90-day notices of eviction in the lead-up to their building's demolition to make room for an as-yet-undetermined development. His 100 days with residents such as Mabel Duffy, Myrtle Stern and Vivian Campbell were chronicled with unwavering clarity in the recent Shelterforce magazine piece "Game of Chance: Mass Eviction in Pittsburgh." The article brought their voices to the forefront, telling loud and clear the personal impact the eviction had on their lives.
"Trust develops through time spent together," says Mr. Vrabel. "Listening, as opposed to telling what you want someone to think, is what gains trust."
This respectfully cultivated trust has allowed Mr. Vrabel to provide a platform to those who are often unheard, to tell stories of the human beings behind the statistics in the changes facing some of the city's oldest, most historic neighborhoods.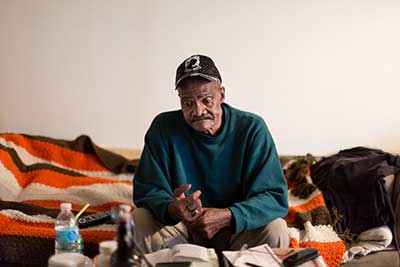 Mr. Vrabel has received Heinz Endowments support for his book "Voices from the East End," a still-in-development project with writing partner Jamar Thrasher that will feature oral histories of residents from rapidly changing Pittsburgh neighborhoods. With a degree in architecture and a minor in political science, his keen interest in how physical structures and community design affects those who live – or are unable to live – in a space is evident in his work. He approaches his work through this lens of the built environment.
As a conduit for the Penn Plaza residents' stories, Mr. Vrabel is careful to point out that the individuals who were willing to be interviewed and became de facto voices for others did so out of necessity and not out of a desire for publicity. "No one was out for attention," he says. "If they could have traded in all of the interviews and publicity for a secure apartment, they would have."
His empathy for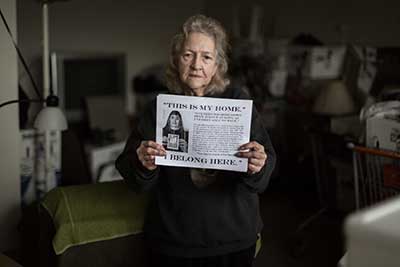 the now-former Penn Plaza residents is palpable. "I carry experiences with me, and they inform my writing," he says. "There was a sense of anger and fear - raw fear - that was present in those last days, and it was important that it was conveyed in what I wrote."
Mr. Vrabel witnessed the painful separation of family and longtime friends as residents sought new permanent or temporary housing as the surrounding buildings were demolished. While Mabel Duffy and Myrtle Stern's good-humored rapport made their eventual placement in the same Verona apartment complex a welcome high point in the Penn Plaza saga, even that came with a price. Seven miles from Penn Plaza, the commute from Verona to East Liberty involves two buses and takes an hour and 10 minutes. "My family, my doctors . . . they're all in East Liberty," says Ms. Stern.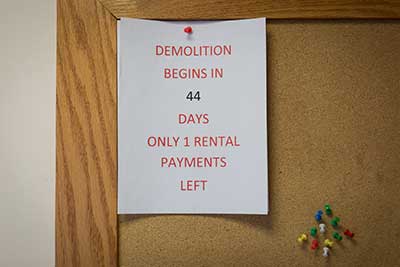 "A fabric gets ripped apart in this process, one that goes beyond the individual," says Mr. Vrabel. "It has an effect on the identity of the neighborhood and of who we are as a city."
The former Penn Plaza apartment site is now leveled, covered with the crushed bricks and concrete dust of its onetime buildings. As the broader debate about affordable housing that the site's demolition amplified continues, Mr. Vrabel has written a follow-up piece, "Displaced from Penn Plaza, Vivian Campbell now faces an uncertain future, for PublicSource, another Endowments grantee. The story follows the past year's journey for fifth-generation East Ender Vivian Campbell, whom Mr. Vrabel discovered holds a near-photographic memory of Pittsburgh Pirates games and players. While he found Ms. Campbell to be "sharp, articulate and animated when talking about her passions, especially music," in recent months the stress of her struggle for housing stability has been pervasive and "there is a lack of spark in the tone of her voice."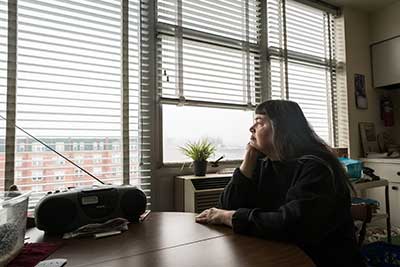 Mr. Vrabel has hope for progress in the realm of community development. He singles out the Endowments-supported Lawrenceville Community Land Trust and the p4 Pittsburgh conference-inspired "EcoInnovation District Plan," Pittsburgh's first city-adopted community plan now being utilized in Uptown, as having significant potential.
"There are contemporary solutions to contemporary community development problems," he says, "so long as the impacted communities are genuinely represented and engaged in a transparent process."
In addition to his continued work on "Voices from the East End," Mr. Vrabel is polishing an upcoming piece on a regional gem, the thriving artist collective in Lawrenceville's Radiant Hall Studios, also an Endowments grantee, and releases new work frequently on downstream.city. Whether his subject is those displaced by eviction or the neighborhood anchoring role of a well-considered, multi-artist studio space in a stately, repurposed building, Mr. Vrabel's writing amplifies and gives agency to those whose voices may otherwise go unheard.
---
All images courtesy of Maranie Rae Staab/Maranie Rae Photography
(1st image) Former Penn Plaza resident Vivian Campbell - the subject of Jason Vrabel's April 2018 Public Source piece that followed up on her life after displacement – holds image of relatives who lived in East Liberty; she was the fifth generation to call the neighborhood her home.
(2nd image) Vietnam veteran Geary Rivers in the living room of his former Penn Plaza apartment in 2017; Mr. Vrabel shared his story in a February 2018 Shelterforce magazine piece "Game of Chance: Mass Eviction in Pittsburgh."
(3rd image) Former Penn Plaza resident Vivian Campbell is featured on a flyer held by former Penn Plaza apartment resident Mabel Duffy.
(4th image) Mr. Vrabel spent 100 days with the last residents of the Penn Plaza apartment complex in Easy Liberty in 2017, and wrote about their experiences as the building's demolition date loomed.
(5th image) Jason Vrabel's Penn Plaza writing has focused on former residents of the apartment complex, including Vivian Campbell; she is featured in his April 2018 Public Source piece.