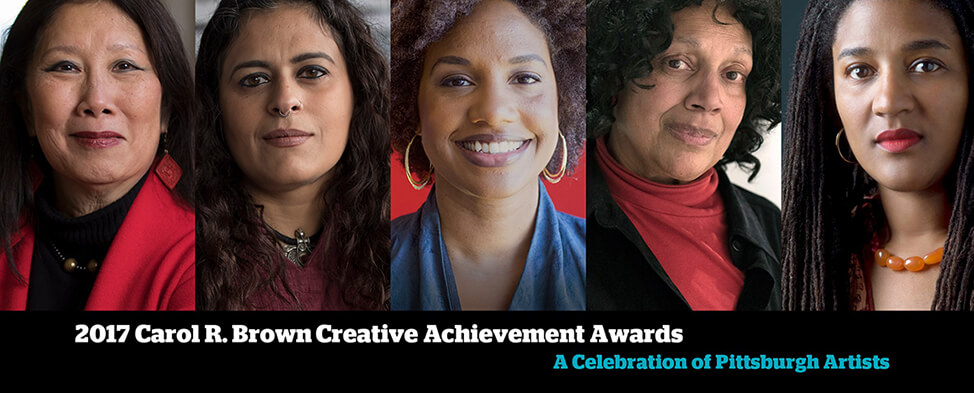 Established Artist awardee Susan Tsu, Emerging Artist Awardee Sarika Goulatia, photographer Latoya Ruby Frazier, photographer Sandra Gould Ford, playwright Lynn Nottage
The Investing in Professional Artists Program provides resources and other support to professional artists and cultural institutions, including the Carol R. Brown Creative Achievement Awards and creative development and residency funding.
Sponsored by The Heinz Endowments and The Pittsburgh Foundation, the Investing in Professional Artists Program is guided by the foundations' shared belief that artists are essential to the region's cultural vitality. The program provides resources to support professional artists for creative development; artist residency funds for cultural institutions; Artist Opportunity Grants through the Greater Pittsburgh Arts Council; and the Carol R. Brown Creative Achievement Awards recognizing established and emerging artists.
Creative Development Grants: Professional artists in any discipline / media and at any career stage may apply directly for grants up to $10,000 to further artistic and career goals.
Residencies at Arts Organizations: Arts organizations may apply for grants up to $35,000 to host a residency with local, national or international artists.
Carol R. Brown Creative Achievement Awards: Two awards of $15,000 will be given annually to an established artist and an emerging artist in recognition of exemplary artistic achievements and promist for future work. Candidates are considered by nomination only.
Read the complete 2018 program guidelines for more information.

Application submission: All applications and support materials must be submitted online via the program's SlideRoom page.
Deadline: All applications must be submitted by 11:59 p.m. on Tues., Jan. 16, 2018. All applicants will be notified of results in May 2018.
Questions: Marilyn Coleman, Project Consultant, artistsfund@pghfdn.org or 412.243.7070