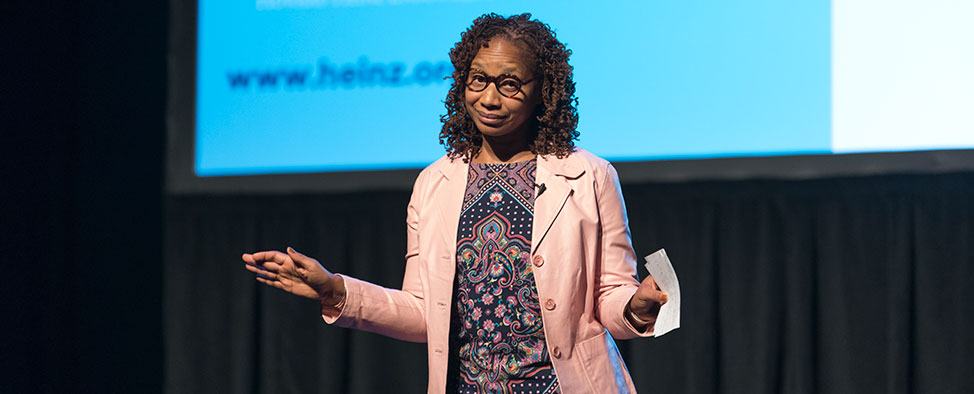 Joshua Franzos
Keynote Address
Sherece Y. West-Scantlebury is president and CEO of the Winthrop Rockefeller Foundation, a private, independent foundation whose mission is to improve the lives of all Arkansans in three interrelated areas: economic development; education; and economic, racial, and social justice.
Involved in philanthropy for 25 years, Dr. West-Scantlebury served as CEO at the Foundation for Louisiana and as a program associate at the Annie E. Casey Foundation. Her professional career includes nearly 30 years of experience in community development, public policy and advocacy, and public service.
In addition to running the Winthrop Rockefeller Foundation, Dr. West is active in a number of nonprofits and philanthropy organizations.
---
Ignite Presentation
Brian Schreiber joined the Jewish Community Center (JCC) of Greater Pittsburgh in 1999 as President & CEO.
Prior work experience includes Annual Fund Director at the Pittsburgh Jewish Federation; community service worker for Sherut L'Am in Ashkelon, Israel; and Field Examiner for the National Labor Relations Board in Newark, NJ.
Schreiber currently serves on the board of the Jewish Community Center Association of North America. He served two years as Advisory Board Chair of the Greater Pittsburgh Nonprofit Partnership and is a current board member of Standing Firm: The Business Case to End Gender Violence. Earlier volunteer experiences include suicide/crisis intervention specialist for Contact Pittsburgh and Big Brothers/Big Sisters of Baltimore.
He is a Licensed Social Worker and a credited Field Instructor through the University Of Pittsburgh School of Social Work and has a bachelor's degree in Economics/Business and History from Lafayette College. He and his wife are proud parents of 9th and 7th graders attending Pittsburgh Public Schools.
---
Ignite Presentation
Wasi Mohamed moved to Pittsburgh after growing up in Enola, PA. He is the Executive Director of the Islamic Center of Pittsburgh, Executive Director of Emgage PA, and a steering committee member of All for All, a county-wide immigrant inclusion initiative. He studied Neuroscience and Philosophy at the University of Pittsburgh, and helped to found an office of civic engagement entitled the Office of PittServes. Wasi's faith keeps him committed to building a more inclusive, just, and equitable Pittsburgh that does not leave any communities behind.
---
Natalie Ossenfort is the Director of Alliance for Justice's Texas office, where she works with nonprofit organizations and funders to strengthen their advocacy capacity and understanding of the rules of nonprofit advocacy and lobbying. She has more than a decade of experience in the nonprofit sector, working in the fields of public policy and criminal justice. She previously helped to create and run the Innocence Project of Texas (IPTX), a non-profit organization dedicated to freeing those wrongfully convicted of crimes in the state. At IPTX, Natalie held both Executive Director and Chief Staff Attorney positions, and she specialized in the litigation of cases involving the use of DNA evidence. She also worked with the organization to successfully advocate on behalf of reforms designed to reduce the number of wrongful convictions and assist those reentering society after lengthy terms of unjust confinement.
Natalie obtained her law degree from the Texas Wesleyan University School of Law in Fort Worth. During law school, she served as a Notes and Comments editor for the Texas Wesleyan Law Review. She earned her undergraduate B.A. from Trinity University in San Antonio, where she majored in Political Science and graduated cum laude.
---
Ignite Presentation
Michelle Naccarati-Chapkis is the Executive Director Women for a Healthy Environment. She has worked in the non-profit field for nearly 20 years gaining expertise in the fields of non-profit management, strategic planning, fundraising, communications, lobbying and grassroots initiatives.
Michelle is the first executive director of Women for a Healthy Environment (WHE). In this role she leads the organization's strategic activities, focusing on prevention of human health problems linked to environmental risk factors.
---
Ignite Presentation
Celeste C. Smith is the Chief Curator of Cultural and Strategic Initiatives for 1Hood Media, a collective of conscious Hip Hop artists and activists who utilize Hip Hop as a means of raising awareness around issues effecting oppressed people around the world. She is an Association of Performing Arts Presenter fellow and recently served as an Artist in Residence at the School of the Art Institute - Chicago. Additionally, she was named a Carol R. Brown Creative Achievement Awards nominee for her multi-disciplined artistry, is a published author and a Walker's Legacy Power 50 honoree. Celeste is the business partner and manager of artist/activist Jasiri X and oversees his day-to-day business affairs; while counseling Jasiri X on professional matters, long-term plans and personal decisions as necessary.
Celeste is a founding member of the Nefertiti Alliance, an organization dedicated to raising awareness around the importance of self care and protecting the cultural capital of Black women in the arts, and serves as the organizations chair. A member of the Heinz Endowments Transformative Arts Process Advisory Board, the Pittsburgh Symphony Community Advisory Council, and an independent arts and community engagement consultant; Celeste lives in Pittsburgh, Pennsylvania with her husband and their three children.
---
Moderator: Effective Communication in this Political Climate
Mila Sanina is the executive director of PublicSource, a nonprofit media organization delivering public-service journalism in the Pittsburgh region. Before joining PublicSource, Mila worked at the Pittsburgh Post-Gazette, PBS NewsHour and CNN International. She is an alumna of the Graduate School of Public & International Affairs (GSPIA) at the University of Pittsburgh.
---
Panelist: Effective Communication in this Political Climate
Andrew Ramsammy is a multi-platform leader having spent over 20 years in theater, radio, TV, events, and digital.
He is the founder of UnitedPublic Strategies, a consultancy committed to diversifying the public media landscape.
Prior to UP Strategies, he was the Director of Content Projects & Initiatives at Public Radio International. While at PRI he managed Across Women's Lives, a content vertical dedicated to global women's issues, and Global Nation – Education, a successful partnership initiative linking five stations across the country in producing both stories and events, related to America's changing classroom through the lens of immigration.
He executive produced The Daytripper, a program that highlighted Texas travel, culture, and cuisine, and aired nationally on PBS stations. He has also worked as a video and film producer, event planner and senior communications strategist.
Andrew is recognized leader in public media. He was a 2016 Next Generation Fellow, an editorial leadership program housed at WGBH, and is embedding with NPR and NPR's Code Switch Team. He was a previous fellow at the CPB/PBS Producers Academy and was an AIR New Voices Scholar.
He is a three-time Emmy award winner, a graduate of LaGuardia High School for the Arts, has a BFA from the School of Visual Arts in New York City, and currently resides in Austin, TX, with his wife Angela and their four year old son, Andrew-James.
---
Panalist: Effective Communication in this Political Climate
Jenni Monet is an award-winning journalist whose reporting from Indian Country and the Indigenous world has been published by the Center for Investigative Reporting, PBS NewsHour, the Columbia Journalism Review, Al Jazeera, PRI The World and more. Critically-acclaimed is her extensive coverage of the recent standoff at Standing Rock where she was arrested despite identifying herself as a journalist. Jenni is a tribal citizen of the Pueblo of Laguna, a tribal nation in New Mexico and based in Brooklyn, NY when not on assignment.
---
Reflections
Maxwell King's four-decade career includes the presidencies of two of the country's largest philanthropies and the editorship of one of its most influential daily newspapers.
King joined The Pittsburgh Foundation, with assets of more than $1 billion, in 2014 as president and CEO.
His strong advocacy for including vulnerable groups – at least 30 percent of the region's population – in the benefit streams of a resurgent Pittsburgh anchors a signature organizing principle, 100 Percent Pittsburgh. In addition, King is expanding the Foundation's investment in its Center for Philanthropy, which combines the charitable passions of donors with expert program staff and grantees to improve lives in the Pittsburgh region.
Before that, King served for two years as director of the Fred Rogers Center for Early Learning and Children's Media at Saint Vincent College in Latrobe, Westmoreland County.
As president of the Pittsburgh-based Heinz Endowments from 1999 to 2008, he led the disbursement of about $500 million in grants to projects, organizations and initiatives primarily in western Pennsylvania.
From 1990 to 1998, King was editor of the Philadelphia Inquirer. During that period, the Inquirer was recognized by Time magazine as one of the five best newspapers in America.
King has served on boards and committees for many national and regional organizations, including the national Council on Foundations which he led as the first chair of its Ethics and Practices Committee and then as chair of the full board from 2006 to 2008.