Just Pittsburgh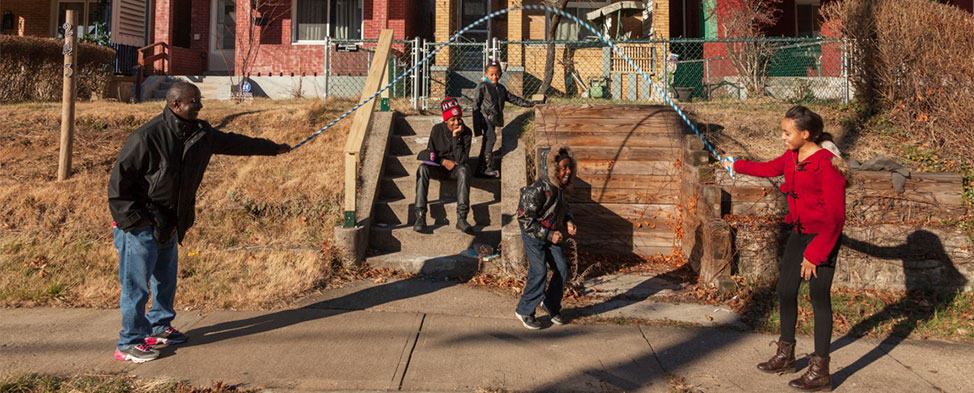 Photo by Tom Johnson
Overview
"Injustice anywhere is a threat to justice everywhere. We are caught in an inescapable network of mutuality, tied in a single garment of destiny. Whatever affects one directly affects all indirectly." -- "Letter from Birmingham City Jail" Rev. Dr. Martin Luther King Jr.
Early in 2016, The Heinz Endowments introduced the concept of a "Just Pittsburgh" to the public as a term to describe some of the major challenges and aspirations for the Pittsburgh region. An unexpectedly widespread conversation was sparked about what the concept represents and our community's hopes and ambitions for the future.
From the Endowments' perspective, a Just Pittsburgh would be a place that is unafraid of difference and embraces all with an open heart and mind. It would be intolerant of hiding behind one Pittsburgh that is celebrated in "best of" lists while letting a second Pittsburgh languish in poverty and discrimination. It would value creativity, care about public health, and be attentive to how its residents are faring regardless of race, ethnicity, religion, or sexual identity. And it would accept the pain and discomfort of difficult conversations with people whose emotions are raw and deep and real.
Since the concept was introduced, people across the region have been given opportunities to brainstorm more ideas about its meaning and how to put it into practice. Core to the notion of a just community is a willingness to listen and engage diverse voices, and so this process of engaging the community in an ongoing conversation about creating a more just future will continue.
Advancing a Just Pittsburgh also has been explicitly integrated into the Endowments' grantmaking as a guiding principle for all our work, although a core ethical commitment to equity has always been at the heart of the foundation's mission. We are working to create a just community, and we do that through our focus on the critical pathways of sustainability, creativity and learning.
A Just Pittsburgh is a long-term work in progress. As Endowments President Grant Oliphant said in a blog post, "If we are willing to dream of a Just Pittsburgh, we can create it — we simply have to want to try."
Just Discipline and the School-to-Prison Pipeline in Greater Pittsburgh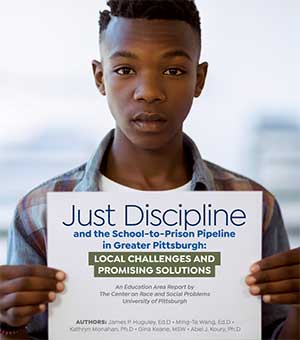 A Heinz Endowments-funded study by the University of Pittsburgh's Center on Race and Social Problems reveals severe racial disparities in out-of-school suspensions at Allegheny County schools. The report, "Just Discipline and the School-to-Prison Pipeline in Greater Pittsburgh: Local Challenges and Promising Solutions," found that countywide the suspension rate for black students was more than seven times the rate for their non-black peers. The study also offers solutions, including reforms that are being used successfully in the Woodland Hills School District. Read the full report.
Pittsburgh Equity Indicators
A Baseline Measurement for Enhancing Equity in Pittsburgh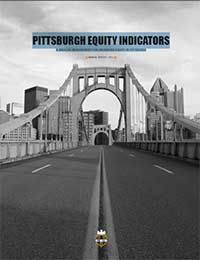 In July 2018, the City of Pittsburgh released its first annual Pittsburgh Equity Indicators report, an evaluation of disparities among local residents by race, gender or income in four domains. Using a set of 80 measures, the assessment looked at the broad areas of Health, Food, and Safety; Education, Workforce Development and Entrepreneurship; Housing, Transportation, Infrastructure and Environment; and Civic Engagement and Communications. The report, which provides a baseline for further study, reveals that Pittsburgh residents of different races, genders and incomes experience vastly different health, social, and economic outcomes and access to resources and opportunities.
The Equity Indicators project is part of the city's ONEPGH Resilience Strategy, which aims to dedicate about one-quarter of its initiatives to creating equal opportunity for all residents. The assessment tool was developed by Pittsburgh's Department of City Planning and the Rand Corporation in partnership with the CUNY Institute for State and Local Governance and the Rockefeller Foundation's 100 Resilient Cities program.
American Heroes: The Homewood Project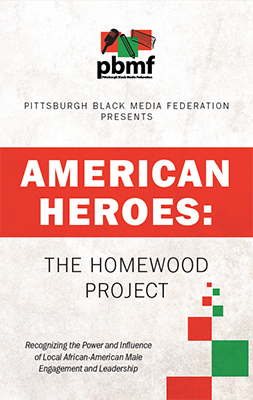 The Pittsburgh Black Media Federation's "American Heroes: The Homewood Project" connects African American men's involvement in one Pittsburgh neighborhood to the larger American story. The multimedia initiative uses photography, videography and narrative storytelling to highlight individuals who, despite the odds, contribute to the spiritual, economic and social uplift of a community. The 20 men honored represent the heroes not always recognized but always present in Homewood.
"American Heroes" was produced in conjunction with the National Association of Black Journalists (NABJ) and its Black Male Media Project, a 2017 initiative to help address the way black men are portrayed in stories and images in the news media and elsewhere in society. The Pittsburgh Black Media Federation is a NABJ affiliate, and its project was supported by The Heinz Endowments, the University of Pittsburgh Community Engagement Center and Pitt's Humanities Center.
Nonprofits and the Call to Moral Leadership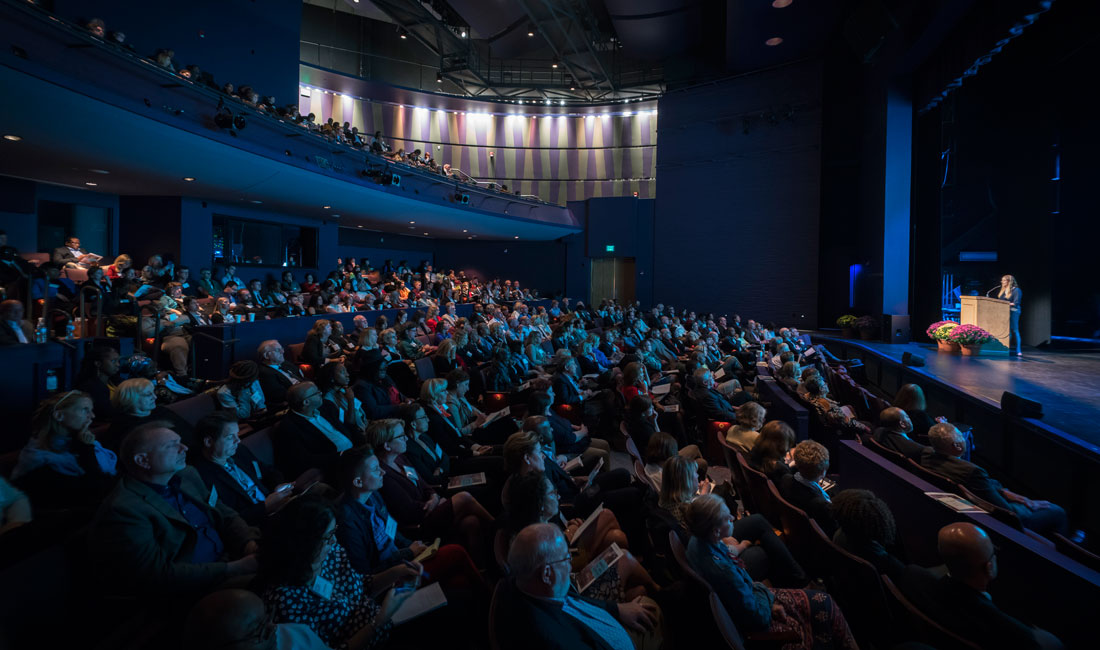 Photo by Joshua Franzos
Nearly 400 grantee partners of The Heinz Endowments gathered for a seminar hosted by the foundation, 'Nonprofits and the Call to Moral Leadership' at the August Wilson Center.
In the wake of Charlottesville, Pittsburgh regional nonprofits explored how to make their voices heard in defense of their organizations' values and missions, and in support of the individuals they serve. The event addressed critical issues of racial, social and economic equity in our region.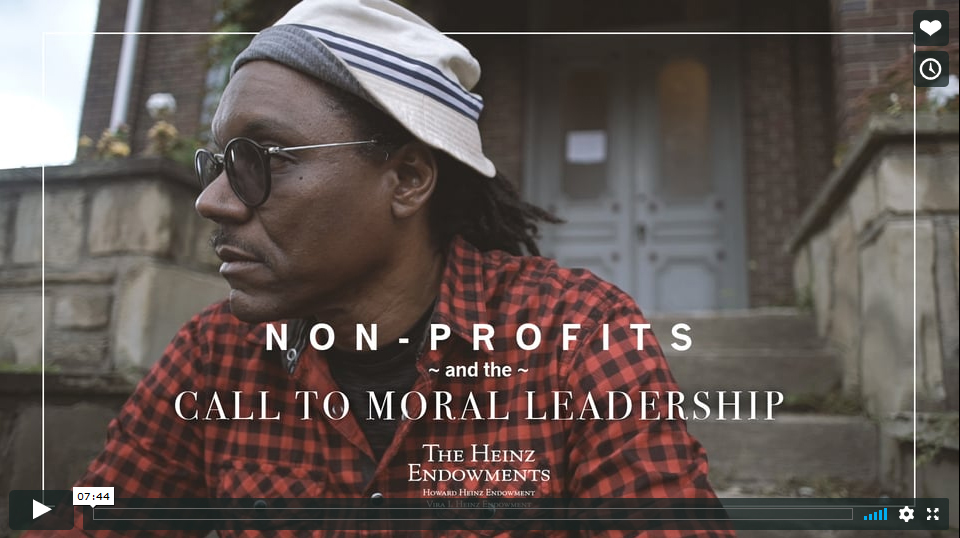 The seminar was introduced with a video, including interviews with and reflections by local nonprofit leaders. The video can be seen here.
Highlighted Grantee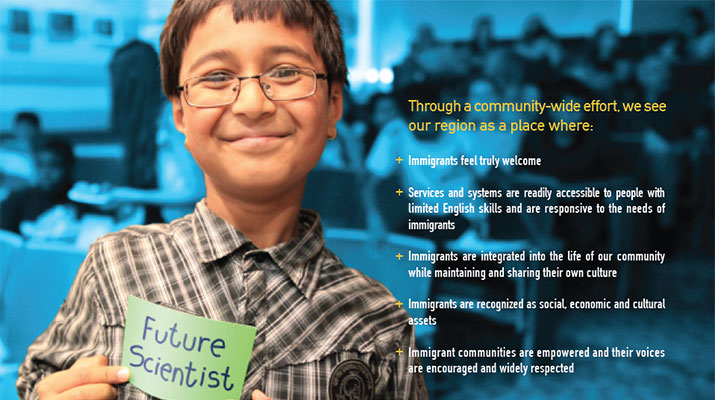 Allegheny County Department of Human Services Report, "A Community Blueprint - Helping Immigrants Thrive in Allegheny County."
Immigrant Community Blueprint
The Allegheny County Department of Human Services has developed an Immigrant Community Blueprint, which is a comprehensive strategy for helping immigrants become acclimated to the Pittsburgh region. The action plan provides guidance to organizations and institutions on offering programs that address issues such as language access, health and well-being, education, economic development, family support, and civic engagement.
Learn more about the Immigrant Community Blueprint
h Magazine - Just Pittsburgh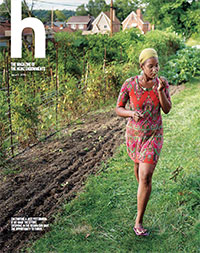 When The Heinz Endowments rolled out the concept of a Just Pittsburgh in 2016, it opened the door to conversations about the many ways in which commitments to equity and justice can enhance the quality of life for all local residents. We devoted an entire issue of h magazine to highlighting examples of what already is being done to help create a more just community.
Just Pittsburgh Blogs
We must remain an inclusive and welcoming city for all Endowments President Grant Oliphant describes how H. J. Heinz achieved the dream of many children of immigrants, founding a company that bore his name and creating wealth that benefitted the Pittsburgh region as well as later generations who endowed this foundation. Not every immigrant story is similar to that of the Heinz family, but Mr. Oliphant explains that many immigrants have achieved success not only for themselves but also for our country.
What does a Just Pittsburgh mean to you? The Heinz Endowments asks residents of the region this question and provides individuals with the chance to post their responses on social media using #justpgh. As part of the request, Endowments President Grant Oliphant elaborates on how a Just Pittsburgh — one that is open, inclusive and equitable — is a concept whose time has come.
Just Pittsburgh Heinz Endowments President Grant Oliphant introduces the idea of a "Just Pittsburgh" and asserts that the city has reached a "moment in time" when it can be a leader and model of inclusion, fairness, innovation and creativity. He gives his wish list of what Just Pittsburgh could be and urges others to envision the possibilities and help to make them a reality.
Just Pittsburgh Interviews
Grant Oliphant "The Business of Giving" interview
Heinz Endowments President Grant Oliphant has talked about the concept of a Just Pittsburgh in a variety of forums, including local and national media outlets such as "The Business of Giving" podcast, hosted in New York City by radio broadcaster Denver Frederick. During the conversation, Mr. Oliphant explained how Just Pittsburgh includes themes such as equity, justice and civility. He also described the Endowments' efforts to support these ideas through grantmaking in our three strategic areas and communications initiatives featuring opportunities to achieve these goals and encouraging others to get involved.
Grant Oliphant interview with Jon Delano
As part of The Heinz Endowments' efforts to promote the concept of a Just Pittsburgh, Endowments President Grant Oliphant talks with Jon Delano, host of KDKA-TV's Sunday Business Page, about expanding access to the city's promising future and helping Pittsburgh become more open, inclusive and equitable for all.