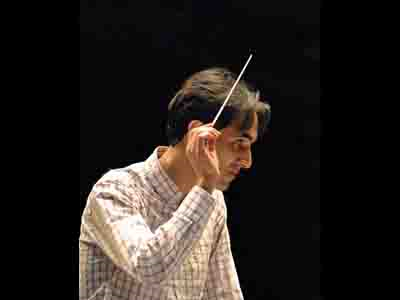 Federico Garcia-De Castro, Artistic Director &Co-founder, Alia Musica
Q&A with Federico Garcia-De Castro
By Taia Pandolfi
Endowments Communications Intern
Alia Musica, a new-music group in Pittsburgh, is internationally recognized for its success in performing contemporary works by orchestral composers. Recently the recipient of a grant from The Heinz Endowments and The Pittsburgh Foundation's Investing in Professional Artists Program, Alia Musica is planning its upcoming season and welcoming a new artist in residence to the ensemble. Federico Garcia-De Castro, the artistic director and co-founder of Alia Musica, describes the ensemble's recent collaborations and performance successes in the past year.
Q. What was your organization's biggest triumph of the past year?
A. We were featured as a guest ensemble in two important festivals in the past year: "Beyond: Microtonal Music Festival," presented at the Andy Warhol Museum by the University of Pittsburgh's Music on the Edge, and the MusicArte Festival in Panama City, our first international engagement.
These were important, curated new-music events that featured other ensembles of national and international renown, from Mantra Percussion and Flexus Quartet to Ensemble Dal Niente and the Soundscape Trio. Our performances enjoyed great success with audiences and with the festival curators. They showcased Alia Musica's high performance quality, as well as its versatility of style, repertory and logistic capabilities.
These engagements represent one aspect of a general triumph of that season: Alia Musica's establishment as a player in the national and international scenes was evidenced by the number and significance of the artists that we presented and with whom we collaborated. They included New York's esteemed percussion and piano quartet Yarn/Wire, Italian flutist Luisa Sello and legendary American composer-pianist Frederic Rzewski.
Q. What was the biggest trial?
A. Alia Musica's local audience reach lags behind the impact and notoriety we are achieving among our peers. Audience numbers are still good, but the growing richness of our collaborations, as outlined above, created in 2014-15 a density of events — at one point with public concerts every two weeks between February and May. However, audience engagement is a steadier, organically growing variable, and, at present, it is below the artistic and professional level we have achieved.
Q. What issue or event has had the most impact – positive or negative – on your organization in the past year and how have you responded?
A. In view of what was said above, it was Alia Musica's participation in and great success at the Microtonal Festival that had the biggest impact on the organization in the last year. The festival itself had great local visibility and offered Alia Musica a chance to reach new audiences. Presented by two legacy organizations in the city — the Warhol Museum and Music on the Edge — the invitation to participate has an aspect of institutional trust and acceptance, especially since Alia Musica was founded mostly by a group of students of Mathew Rosenblum and Eric Moe, the directors of Music on the Edge. By all accounts, Alia Musica performed at an extremely high level, honoring that trust and serving as a worthy representative of Pittsburgh's music scene in the context of the festival.
Q. What new initiatives have been started?
A. Alia Musica was recently awarded one of three residency grants in the Investing in Professional Artists program of The Pittsburgh Foundation and The Heinz Endowments. This is an extremely significant grant, and it is an achievement of our ensemble, which joins such esteemed organizations as Pittsburgh Filmmakers and City of Asylum, the other recipients in 2015.
The project consists of a year-long residency with California composer and vocalist Ken Ueno, one of the most relevant new music artists alive, and a former recipient of the Frederic A. Julliard/Walter Damrosch Rome Prize and the American Academy in Berlin's Berlin Prize. Alia Musica will perform Mr. Ueno's concerto for overtone singer and orchestra, with him as the soloist, and commission a new work to be premiered in the spring of 2016. We join ensembles of national stature, such as the Boston Modern Orchestra Project, Newsband, also known as Harry Partch Instrument, and Alarm Will Sound, in collaborating with Mr. Ueno.
Q. As head of this organization, what goals do you have for it next year?
A. I will continue working on the artistic and organizational merit of an organization that has now found a place in the larger scene of new music in the U.S., while at the same time I will increase efforts to enhance our visibility and relevance for the Pittsburgh audience and cultural scene.
Q. So if your organization were a person, what type of personality would you say it had?
A. Alia Musica has the personality of a sports player, combining the childlike love of playing a game, the committed ambition to be the best, and the loyalty toward his fans, his club and his city.
Q. What's one of the biggest misconceptions about your organization?
A. Some believe we are a closed circle of composers who perform our own works. This was indeed the way the group started, nine years ago, because back then that's all we had. Naturally, at first we had no clout— or money — to attract the caliber of musicians that we would have wanted, so we had to play our own music. It was always a goal not only to put together an ensemble of excellent performers, but also to offer music by external composers — both other local composers and works of the universal repertory of modern music — and through the years, we have built great success in both areas.
Q. Can you share a short story about an incident or event that illustrates the impact you believe your organization is having on your local community or the region?
A. At the spring 2015 concert, we featured Robert Dick, the world-famous flutist. We played at the Bricolage Theater Downtown, and the venue was full. After the concert, I was approached by an audience member who had been a loyal supporter of ours in the early times, but whom I hadn't seen in our most recent events — perhaps it was the high profile of our soloist that intrigued him about this particular concert. In any case, this is what he said: "When did you guys become so good?"
In fact, that was a good concert. Not only was it well played, but the pieces we chose went well together. One of those pieces was by Eastman School of Music composer Ricardo Zohn-Muldoon, a Pulitzer Prize finalist in 2011. Ricardo drove down from Rochester to attend what was the first U.S. performance of this piece. He was thoroughly impressed, to the point that the following winter Ricardo brokered a collaboration with the Eastman School, and we ended up taking his opera "Comala"on a four-state tour.
Alia Musica is placing Pittsburgh on the map of new music. This means not only expanded opportunities for our own new-music professionals, but also the chance for audiences to see and experience the most relevant artists and creations in music today. The region is becoming both a source and a destination for new music.
Q. Could you share a short story about an individual's experience that captures what your organization is meant to be to the community?
A. The following is a message that was left on Alia Musica's Facebook page after the Pittsburgh Festival of New Music on Memorial Day weekend last year. The festival, the first of its kind in the Pittsburgh region, was organized and hosted by Alia Musica through the creative collaboration of myself with our Operations Manager at the time, Deidre Huckabay. This message comes from composer Curtis Rumrill, who had moved to Pittsburgh for his job (not music related) that previous December, and was getting to know the cultural and musical climate of the city. Both as an audience member and as a colleague, his testimony captures the kind of impact we intend to have:
"Congratulations to Federico Garcia and Deidre Huckabay on the incredible inaugural edition of the Pittsburgh Festival of New Music. I can't even begin to say how thankful I am to you and everyone else who worked so hard to make this happen. It was truly amazing, and makes me proud to call Pittsburgh my new home. I've met so many incredible new people in the last four days (too many even to begin to name), and seen so many top notch concerts... I can't wait to see what happens next..."