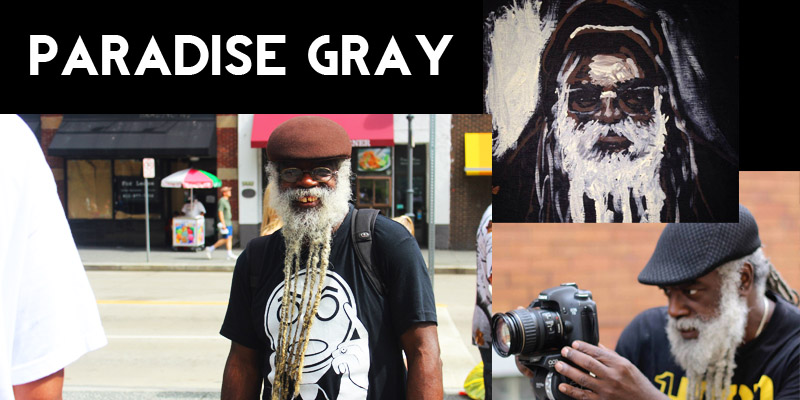 Paradise Gray - Advisor Emeritus
Paradise Gray was raised in The South Bronx during the days of Reaganomics, the trickle down theory was in full effect. With live entertainment being financially inaccessible, the young people began to create their own forms of entertainment.
This raw, new music scene crafted in the inner cities of New York is now affectionately known as "Hip-hop". The voice of the ghetto that has grown to become a Multi-Billion Dollar industry that has in recent years out-sold all other forms of music in America.
Paradise was a young street D.J. mentored by some of Hip-hop's Legendary founding DJ's: Disco King Mario (R.I.P.), Pete DJ Jones, The Grand Imperial J.C., and D.J. C.C. Howard. Paradise earned street credibility as a D.J., Rapper and Break-dancer. Paradise jokes: "I never liked getting paint on my hands and clothes, so I was a horrible Graffiti artist".
Paradise is also a writer and photographer with articles and photographs appearing in The Source Magazine, XXL, Right On! Magazine, YO!, Wax Poetics, Big Red News, VH1′s 30 Years Of Hip-hop History TV Special, "It's Like That" (Run-DMC's Autobiography) by Bill Adler and many early Hip-hop magazines including The Hip-hop Hit-list and Rap Masters.
An archivist and Hip-hop Historian with a great Hip-hop memorabilia collection: (The Paradise Collection), Paradise has been a photographer, writer, producer, promoter, artist, activist, and manager of entertainment for The Legendary Hip-hop Club "The Latin Quarters".
The Latin Quarters was the incubator of "The Golden Era" Of Hip-hop where Over 80% of the legendary artists honed their skills and made their connections. Some of those artists include: Rakim, Big Daddy Kane, KRS 1, Public Enemy, Nice & Smooth, Salt & Pepa, De La Soul, A Tribe Called Quest, Queen Latifah, Chris Rock, Slick Rick, Heavy D & The Boys, EPMD, LL Cool J, X-Clan and many others..
In 1987-88 Paradise and Lumumba Carson formed The BlackWatch Movement that spawned the groups: The X-Clan, ISIS, Queen Mother Rage, Unique & Dashan and Professor X himself as an artist. The BlackWatch Movement was critical to the grassroots consciousness of New York City's youth and was instrumental in changing the face of Hip-hop to one of Black Pride in the late 80′s to early 90′s. Both of The X-Clan's albums: "To The East Blackwards" and "XODUS" are considered Classics and are a must listen to for anyone into Black Conscious music. Dubbed "The Grand Arkitech Traxtitioner Paradise" Mr. Gray was a member of the groups production team that included Jason Hunter (The Grand Verbalizer Funkin-Lesson Brother J), Anthony Hardin (The Rhythm Provider Sugar Shaft), And Lumumba Carson (Professor X The Overseer). The X-Clan were nominated for an NAACP Image Award.
From 1999-2003 Paradise Gray was the executive director of urban music at the infamous Internet music company MP3.COM, the company that invented the Online Music Revolution and was last big IPO in the Dot.com boom era.