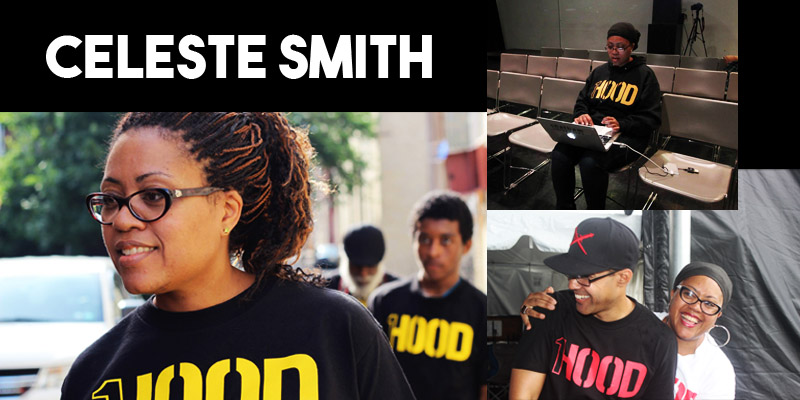 Celeste Smith - CEO
Celeste C. Smith is the chief executive officer for 1Hood Media. 1Hood Media is a collective of conscious Hip Hop artists and activists who utilize Hip Hop as a means of raising awareness around issues effecting oppressed people around the world. Celeste facilitates all staff management, marketing, budget management, public relations, fundraising, and program development for 1Hood Media. She is a writer, an artist, a photographer, a filmmaker, a fashion blogger, a stylist, a foodie, a mother, a wife, and a student. Beyond her responsibilities at 1Hood Media, Celeste sits as an advisory board member of the transformative arts program at the Heinz Endowments. Her work with the advisory board consists of project management, documentation, and providing strategic advice along with other board members.
Celeste has presented at conferences on topics surrounding arts and activism, collaborative processes and successful after school programming. Celeste is also the business partner and manager of artist/activist Jasiri X. Celeste oversees the day-to-day business affairs of Jasiri X; while advising and counseling Jasiri X on professional matters, long-term plans and personal decisions as necessary.
Prior to her work with 1Hood Media, Celeste worked with Citizenship and Immigration Services, in a number of positions ranging from clerical to Officer Corp in Chicago, Illinois and Pittsburgh, Pennsylvania. During this time Celeste also served as a equal employment opportunity counselor and a special emphasis program manger specializing in disabilities. A Chicago native, Celeste received her bachelor's degree in Arts Management and Film and Design Technology from Chatham University. Celeste's tutorial surrounded theories of Black Masculinity with a special focus on tropes and historical occurrences. Graduating cum laude is one of Celeste's proudest achievements.