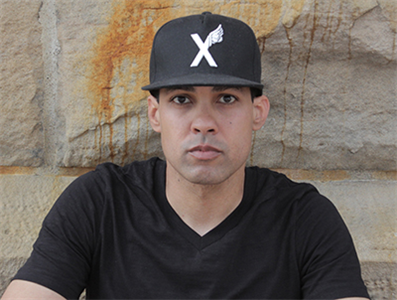 1Hood Media Founder and community activist, Jasiri X
Q&A with Jasiri X, Emcee and community activist, 1Hood Media
By Courtney Tolmer
Endowments Communications Assistant
1Hood Media is an organization that helps talented and gifted young artists learn more about using their creativity to share feelings and ideas in ways that will make an impact on audiences of all sizes. Through the encouragement of positive portrayals of African American youth in the media, the nonprofit teaches its students that how you say something can affect how your message is perceived. Jasiri X, one of the group's founding artists, describes 1Hood's work and how many different art forms — including poetry, spoken word, photography, videography and song — allow youth to present their messages effectively.
Q: What was your Organizations biggest triumph of the past year?
A: I would definitely say 1Hood Day, which actually was a two-day, two-venue conference that we produced at The Alloy Studios and at Pennley Park. On Day One, the event was at The Alloy Studios, where we commemorated the 25th Anniversary of X Clan's legendary album "To The East, Blackwards." A large crowd filled the venue to hear from X Clan members Brother J and Paradise Gray about the making of the album. Paradise displayed parts of his collection of memorabilia that specifically focused on X Clan. The following day we set up a stage right in the middle of Pennley Park, where we had a lineup of socially conscious hip-hop artists including X Clan, Sa-Roc and Tef Poe. In addition, all 1Hood students got a chance to perform for the community. Our neighbors came out in droves. We fed them, and it was just a beautiful, positive and uplifting experience. There was an overwhelming feeling of love and support.
Putting this event together was a difficult task because a lot of people said that no one wanted to hear socially conscious music or participate in socially conscious activities in our community. Successfully launching this event really showed that the idea that popular culture only wants to hear negative messaging or topics related to sex, money and murder is false. All of the artists who performed said something meaningful that the community supported.
Q:As an Organization what was the biggest trial?
A: Matching our growth to our capacity is our biggest trial. We are growing rapidly and have a lot of new students in our Media Academy. We are trying to make sure that as we grow and bring more students into the program, we provide every student with what they need to succeed so they can make the most of the opportunities they are provided as they grow as artists.
Q: What issue or event has had the most impact positive or negative on your organization in the past year? And how have you responded?
A: The recent killings of black teenagers, black men and women at the hands of the police has had the biggest impact on us because we are an organization that focuses on how media negatively portrays African Americans and how we can change that perception. We feel that this type of negative media portrayal leads to us being treated badly, specifically by law enforcement.
When these killings took place and no one was held accountable, it caused us to begin having deep impactful conversations with our students and asking questions about what we should do when things like this happen. How should we respond properly? How should we channel this anger and rage into something constructive and positive that can get the outcome that we desire?
After having these sincere truthful conversations with our students, we made music focusing on this subject matter. We also created a mural with the Andy Warhol museum titled "Don't Let Them Get Away with Murder," accompanied by a performance piece. And so we are trying to use these horrific situations as teachable moments, not only for our students but for the community at large — to show the students that we can be activists with our music, to speak out against what is happening and to organize against what is going on so it does not happen again.
Q: What new initiatives have been started?
A: The biggest thing that we have done as 1Hood is we have opened it up to young women. Traditionally 1Hood was a place where young men came to learn about Media Arts and how to share their talents. Now we have young women coming into the program, adding another voice to the conversation about the issue of gender inequality and how women are often misrepresented in media. This is a change for the better, bringing a new energy and balance to our Media Academy that we were lacking.
Q: As head of this Organization what goals do you have for it next year?
A: I am not the head of 1Hood. Celeste Smith is the CEO of the organization. I am an artist, emcee and community activist working with 1Hood. Collectively, we have produced some individual projects this past year including Abhallow's "illLucidity," Tyhir Frost's "I.D.O.L." and Blak Rapp Madusa's "Still Waters Run Deep." We have worked on a wide variety of projects with emcees and producers. This year we're really looking to have a collaborative 1Hood project where we have our emcees and our singers paired together to work on incredible collaborations in a short period of time. We hope to have a 1Hood project that we can display on our website very shortly.
Celeste would like for the organization to expand upon the hip-hop apogee that was achieved with 1Hood Media. Conversations with different schools throughout the Greater Pittsburgh Area have been happening to set up new programs with them. A lot of people have reached out to us about workshops and things of that nature, so we really hope to see hip-hop taught within schools as a means to explore the culture and to talk about social justice and issues impacting young black people here in Pittsburgh and beyond.
Q: if your organization were a person, what type of personality would you say it had?
A: I would say it is family oriented. When you work with 1Hood, you are a part of a family. We are concerned more about you as an individual than just what artistic brilliance you can lend to us. So I would say that if 1Hood was a person, it would be a very loving, caring, concerned person, wanting what is best for its students and the world at large.
We are also outspoken, because we speak out about a lot about issues that affect oppressed people throughout the world.
Q: What is the biggest misconception about your organization?
A: There are several misconceptions about 1Hood. One is that we do not include women. Another is that the organization is run by a man, when in fact the CEO is a woman. The biggest misconception may be that you have to be a conscious artist to be associated with 1Hood. We do teach media literacy and social consciousness, but students and artists don't have to be pro-black, socially conscious artists to be a part of the 1Hood family. We have artists that aren't in that mold. We simply want our students to speak their own truth, being truthful and honest about themselves and their music. We don't want artists talking about violence and wearing diamonds to get attention. We want honesty about artistic expression.
Q: Can you share a short story about an incident or event which illustrates the impact that you believe your organization is having on your local community or the region?
A: One incident stands out in my mind. When the last series of police killings took place and many of the officers were not being indicted or charged with murder in the killings of black people, we felt we needed to address our students. There were public protests that were happening in Pittsburgh and people were justifiably upset, but many were not sure what to do to help the situation. So one of the things we did was to open up our class and talk about this. We had food, invited the community to come out, and we talked about what should happen next. We sat and broke bread, and people expressed their pain and frustration but then really started talking about some constructive things we could do as a community. Who could we support? Instead of going to Walmart, we could go to Sankofa Village and shop there. Let's support our community. Our youth got a chance to talk; the community got a chance to talk. It became a time for healing.
It encapsulated what we do at 1Hood. In the midst of all these horrible, negative things, we get angry, we get upset, frustrated. Sometimes we want to be able to have a place where we can share our voice. We try to make our classrooms a place where the students can come to class, eat and be themselves. They can be their true and authentic self, and they understand when they share their poetry, spoken word, photography, videography or songs, nobody will be there to judge them or put them down. We embrace them, embrace their truth and just help them be their best self.
Q: Can you share a short story about an individual's experience that captures what your organization is meant to be to the community?
A: There was an incident that happened in Pittsburgh when a young man was shot and killed in front of his mother on the way to school. I remember it was one of those incidents that got a lot of media attention. When we had class, we talked to our students about what happened, and I asked what the schools had been talking to them about. I was surprised when our students' response was that it was not really being discussed at school, even though a lot of them were upset because they knew the victim and they knew some of the circumstances that led to what happened. So, we had this real intense conversation about young artists who make violent rap videos and the negative consequences from this type of "art."
One of our students who has been with us for a few years, rap artist Tyhir Frost, considered the victim a friend. As a result of his grief, he wrote a song called "No Change" in which he shared how he felt instead of going out and doing something negative. Tyhir not only recorded the song but also created a video. He performed the piece a lot, and it was something which people really connected with. Because he put his honest, real emotions out there, it felt even more powerful because it was personal to him. It wasn't a quote from a community leader or some polished pastor. I think that is what 1Hood is about. We want to give young people a platform and an opportunity to tell their story and share their voice.
At the end of one of Tyhir's performances of "No Change," Brandi Fischer from the Alliance for Police Accountability spoke up, and not just as a community person, but as a mom. She asked the audience to listen carefully to the powerful words that these young people are speaking to us through their music.