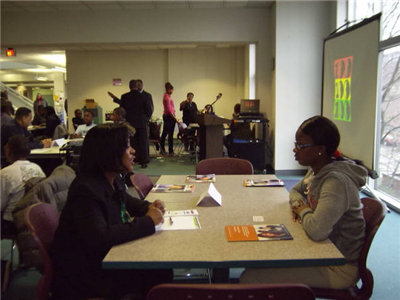 "100" 2012 National Mentoring Month Event
The mission of the "100" is to improve the quality of life of our citizens and enhance educational opportunities for African-Americans and minorities, with a particular emphasis on young African American Males.
Through a collaboration with the Community College of Allegheny County (CCAC), 100 Black Men of Western PA., celebrated National Mentoring Month Event entitled "Expanding your Network to improve your Networth" on Saturday, February 4, 2012. More than ten (10) local African American entrepreneurs, business professionals and educators met with students in a round table discussion and provided information regarding their business technics for a successful career. Approximately thirty (30) students attended the event.
The picture below features one of the mentors who attended the event, Ms. Francine Cameron, President & CEO of Cameron Professional Services Group, LLC sharing business technics with one of the students. Currently, the "100" has thirty-seven (37) active students, 29 males and 8 females