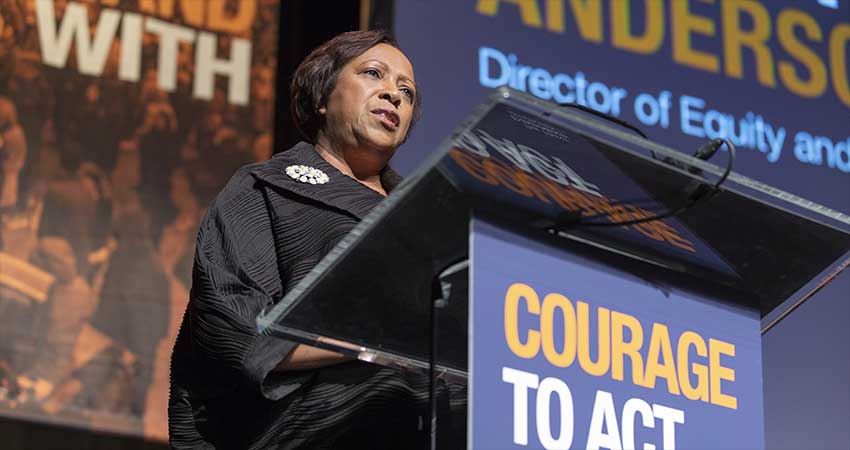 Today, we gather as a nonprofit community to consider our collective work; to revisit and rethink previous opportunities and those now before us; and to consider the collective investment we are called to make in the well-being and just society of the city, county and region we serve.
We are in a moment of significant crisis in our country. As we experience a natural disaster of global proportions that underlies the wildfires, hurricanes, and tsunamis of previously unseen strength, nationally and locally we are experiencing a social tenor of incivility that renders violence inevitable.
This week, the FBI released the 2017 Hate Crimes Report. The report indicated that overall hate crimes are up 17 percent. We know that these types of crimes are underreported. That said, religion-based hate rose 23 percent, with a 37 percent spike in anti-Semitic acts. LGBTQ people experienced more hate than the previous year and anti-Arab hate crimes doubled.
We are divided.
As I was considering these remarks, it occurred to me that in many ways we define our success in economic terms. In the last decade, we have seen the catastrophic economic impact of the Great Recession and an ensuing recovery. The majority of us are faring better, but there are still millions of Americans bypassed by this progress, especially households of color.
This period of economic success has been punctuated by civil unrest throughout the country in the wake of a series of high-profile African American deaths at the hands of police. It has been overshadowed by hate-filled rhetoric and actions that challenge our civility. We have seen efforts to diminish the ability of minorities, the poor and students to choose government representatives and the policies they support. We have seen travel restrictions in our country put in place on the basis of race, ethnicity, nationality and religion. And with a little less than 50 days left in 2018, there have been 308 mass shootings in the United States.
And yet, we still have a choice. We as individuals, still have a choice. We as leaders, still have a choice. The opportunity to chart a different course is still within our control.
America, a nation born of struggle, has seen such challenges before and risen to the occasion. The Pittsburgh community has wrestled with challenges and overcome. Progress has enabled our economy and resources to lead the world, and we have come to rely on them to address a broad range of challenges. We have come to rely locally on public and private resources.
Yes, we need resources, and we are challenged to rethink how best to use what we have. In reality, there will never be enough money, nor is it the answer to many of the challenges confronting us.
So, what is the response for this moment in time? How do we work differently? How do we work smarter? How do we use our collective voice, our influence our positions of power?
On October 27, 2018, I received a text about the Tree of Life Synagogue attack that needlessly claimed 11 souls. In an unfortunate irony, I was sitting with one of our community elders as she shared her profound sorrow over the death of her grandson who had been shot in the back two weeks earlier. In near disbelief, she shared that the doctors had done all they could do, and now he was gone.
As I listened, the immense pain, the fear, the devastation of tragically and prematurely losing a child was enveloping her countenance, and I knew that less than two miles from where this young man had been shot, the Squirrel Hill Community would very soon be experiencing a similar sorrow — the profound loss, shock and devastation based on a cowardly assault on their families, their house of worship and their community as a whole.
While we as a city and a region are heartbroken over the tragedy, it forces us to wrestle with the truth that "injustice anywhere is a threat to freedom everywhere." And make no mistake, we are not free when fear and hatred drive such destruction and terror.
So, when do we say to the white nationalist, "Your rhetoric, your hate filled philosophy and beliefs around supremacy will no longer be a part of Pittsburgh's future?" When do we acknowledge that we all lose when we allow people who are different for any reason to be marginalized, separated and treated as inferior? When do we say that black and brown children have a right to be children? When do we decide that all of our children deserve to be nurtured and cherished?
Today as we gather, we have the opportunity to talk about what is hard: the bigotry, racism and hatred in all of its forms that impact the communities we as a nonprofit community serve. We also have the opportunity to hope together.
We will hear from leaders, advocates and experts from a number of sectors. They are intended to inspire us, challenge what we believe, remind us that we need each other, and charge us to act.
Today as leaders — regardless of the assault or where it occurs — we must consider our connectedness. We are all impacted, directly or indirectly. We are only doing as well as the least among us.
This will be the day when we consider all of our communities as beloved and worthy of the same out pouring of support.
The day when we develop meaningful relationships based on the need for social change and justice.
The day when our collective service and our collective voice say a resounding, "We will not be silent about what matters in our communities."
The day when we will not tolerate inhumane treatment of any of our families or those in search of refuge.
The day when you hurt, I hurt alongside with you, and when we celebrate, we do so together.
This will be the day we take an important step towards our goal of a just and thriving city, county and region for our children and our grandchildren.
As we begin this day of collective introspection, I thank you in advance for rising to meet the challenge now before us. Let us each have the resolve to ensure that the memory of the Tree of Life worshippers, that the memory of the countless other victims of senseless violence, bigotry and injustice may be for a blessing.
---

Written by:



Carmen Anderson
Director of Equity and Social Justice