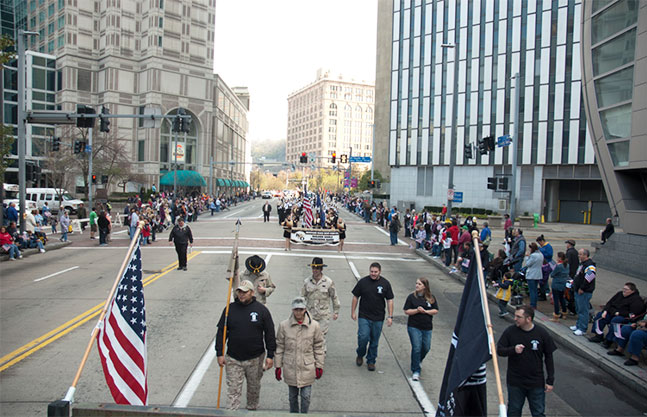 Surveys of veterans in the Pittsburgh region have shown that their major issues of concern include underemployment and challenges trying to navigate the roughly 180 local nonprofit organizations that focus exclusively on military service members. PAServes launched in October 2015 to connect veterans, service members and their families to appropriate resources that meet their needs. Pittsburgh Mercy Health System was selected to host the initiative's coordination center, which currently collaborates with 42 service providers. Service coordinators work with clients to determine their eligibility for different programs based on discharge status, income level, combat experience, disability level or urgency of need.
During its first year, PAServes aided 933 veterans and their families, and made 1,615 referrals to services in areas such as employment, housing, education, legal services and connecting with volunteer opportunities. Many PAServes staff members are veterans themselves and have a unique understanding of how difficult it can be to transition from military to civilian life. Behind the growing number of clients are stories of people serving people who have served, illustrated in the following accounts by PAServes intake specialists David Roudabush and Michaela Diallo.
David Roudabush, Army National Guard, 2001-2009
"This first year at PAServes has been such an eye-opening experience. My previous employment history was in the social service field, but working with veterans has a very different feel because, like the military, the veteran community in Pittsburgh is a very close group. I also was unaware of how many great services are out there for veterans, and the quality of work being provided is incredible. Although the programs differ, the visions seem to be the same: providing the correct services to meet veterans' needs. PAServes coordinates the process to make sure veterans are connected to the appropriate providers, and to increase the speed and accuracy of addressing their requests, which is crucial because time is always of the essence. It is extremely important for us to reach out to the men and women who are still serving or have left active duty so that they know there are services out there available to them.
"I worked with a young man who had returned to Pittsburgh after seven years of active duty in the Air Force. He wasn't sure what to do since his military service was complete. Unstructured civilian life was challenging for him because he wasn't used to it, but he had the discipline and motivation to push through. I met with him quite frequently and connected him with a number of services that helped him to consider the different opportunities he could pursue. After meeting with several providers in our network, he chose to go to college. We assisted him with the application process, and he was accepted at Robert Morris University, where he started this fall.
"It can be difficult to navigate through all of the programs due to the number available, but having many services shouldn't be viewed as a problem. Helping veterans navigate these resources through the PAServes network has been rewarding for me, and I have had the opportunity to meet some incredible veterans over this past year." (To reach David, visit www.pittsburgh.americaserves.org or call 1.855.838.7744.)
Michaela Diallo, Air Force Reserves, 2001 to the present
"One of the highlights of my work with PAServes has been going to Veterans Court to meet with veterans who are involved in the justice system but are working to get their life on track. Most often when I go to court, I talk with the veterans about how PAServes can connect them to services that can help them reach their goals. Most of the veterans I have met in Veterans Court express interest in education, employment, assistance with transportation to find employment, and mental health or addiction services as most of them find themselves in the court system due to drug-related charges.
"I met one veteran at Veterans Court who was unemployed and still struggling with his drug addiction. He had been ordered by the court to get into rehab and requested my help finding treatment. I was able to call a local rehab center where he could go because he was not eligible for health care through the Department of Veterans Affairs. After working with this veteran through Veterans Court during the past year, I'm happy to report that he is sober, employed and his family life is more stable.
"Another veteran I met through Veterans Court is a single mother who also is in recovery from drug addiction. She is receiving treatment through the VA and has been sober for a year. She requested PAServes' assistance with child care options due to financial hardship. I was able to connect her with an Early Head Start program for her youngest child and the free City of Pittsburgh summer camps for her other child who is school age. She was grateful for this help.
"As a female veteran, I especially enjoy working with women veterans, since they are a smaller percentage of the military. But I feel honored to be a positive part of each veteran's journey and to help connect them to programs that ease the civilian and military divide." (To reach Michaela, visit www.pittsburgh.americaserves.org or call 1.855.838.7744.)
---

Written by: